There are so many veggies out there that I love but NEVER get. Asparagus is one of them.
Well they were on sale recently so I grabbed a bundle of them, and a few days later I decided to eat like 85% of them because why not. (The awkward effect is just as bad whether you eat one bite or 10 stalks. I'm just saying. TMI, I know. Let's move on.)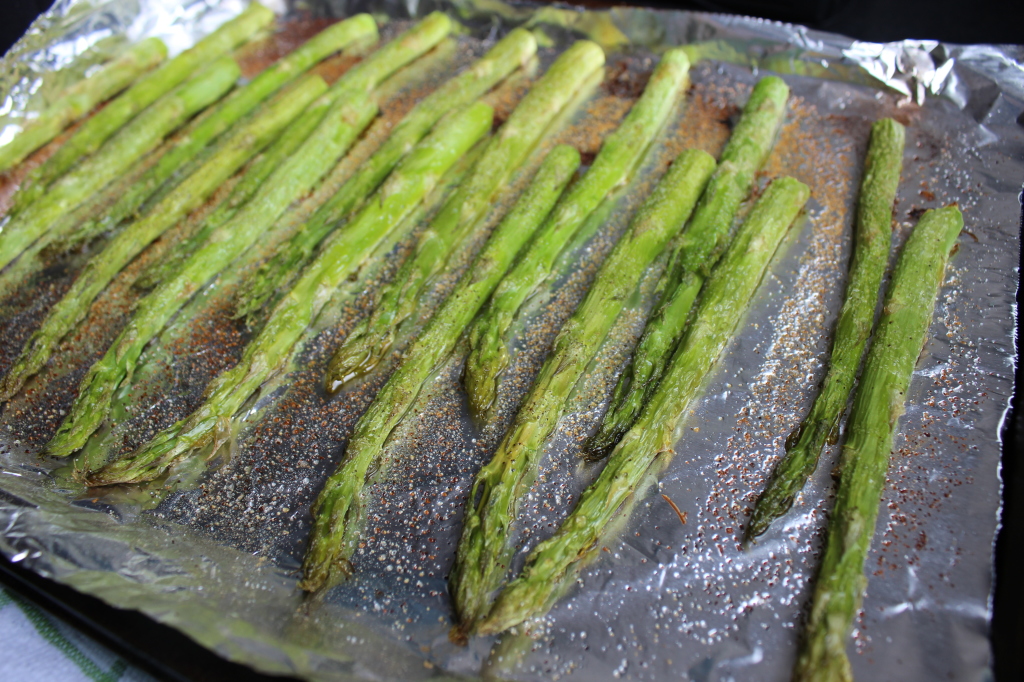 When I cook up some veggies, whether it's asparagus, brussel sprouts, mushrooms (okay, fungus – whatever), or something else, I pretty much ALWAYS cook them the same way: I drizzle the biddies in olive oil, sprinkle some randomness on them, and bake them for awhile. See below:
Ingredients:
Asparagus
Olive oil
Salt and pepper
Instructions:
Rinse asparagus and cut woody ends off. Place on baking sheet lined with aluminum foil.
Drizzle with olive oil and toss until coated. Sprinkle with seasonings of choice.
Bake at 425 degrees for 15 to 20 minutes.*
Serve!
Notes:
*You want to bake them until you can pierce them with a fork without much effort.
Recipe from GettinMyHealthyOn.com
This simple cooking method never ceases to amaze me. It is SO simple, yet the veggies are always DELICIOUS. This left the asparagus cooked, but with a little bit of the crunch left. They were divine. I sprinkled salt, pepper, onion powder, and garlic powder on them, but I just say…follow your heart. Seasonings are the best. Get crazy. Experiment. And enjoy!
How do you like to cook your veggies? Or are you all about the raw?