Layer plain Greek yogurt with granola, sliced almonds, and fresh raspberries and a drizzle of pure maple syrup for a healthy snack that satisfies your sweet tooth like it's dessert.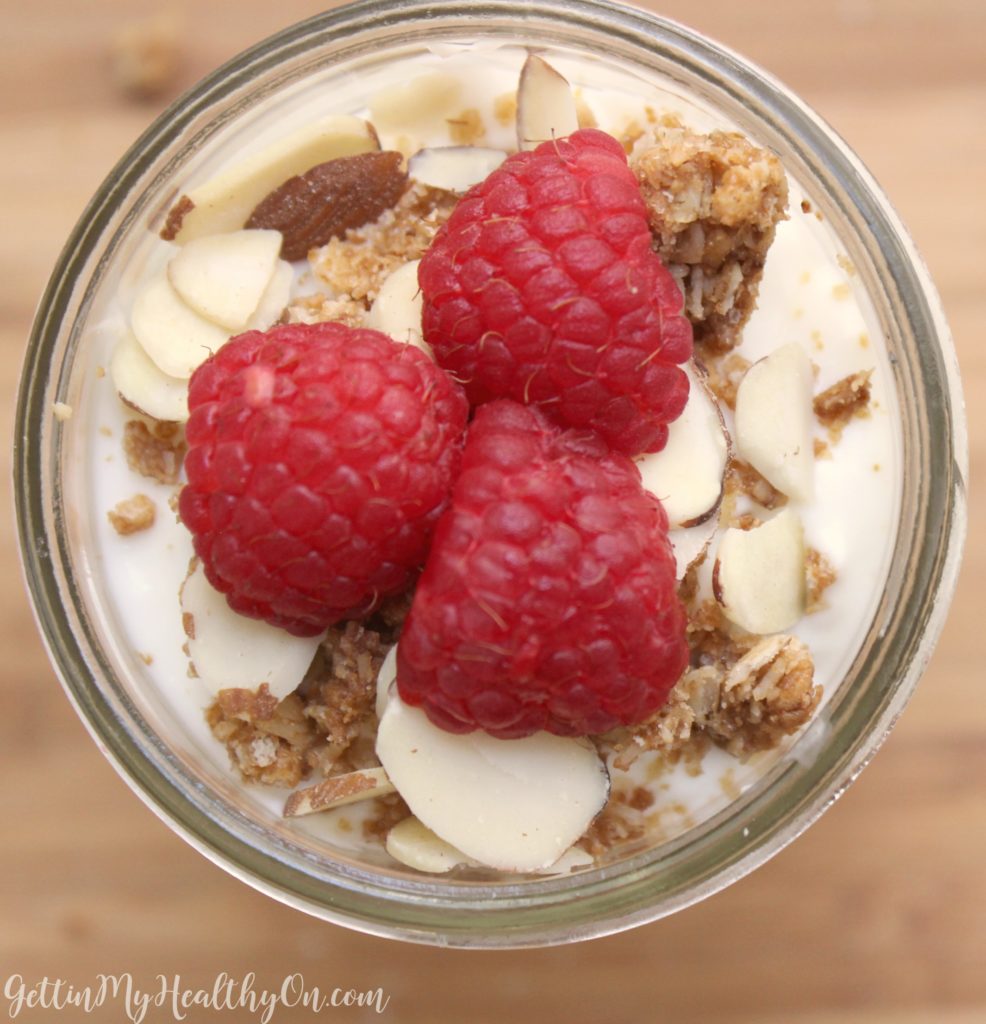 On some trips to the grocery store, I get specific ingredients to make a certain recipe. Other times, like on Saturday, I get what feels right and come up with recipes based on these spontaneous purchases. Most recently? This was raspberries because they were on sale. I don't know if it's because the Fourth of July is coming up, or if they're just super extra in season, but I'm not questioning it. I very rarely buy blackberries or raspberries because they're so pricey, so this was quite the treat.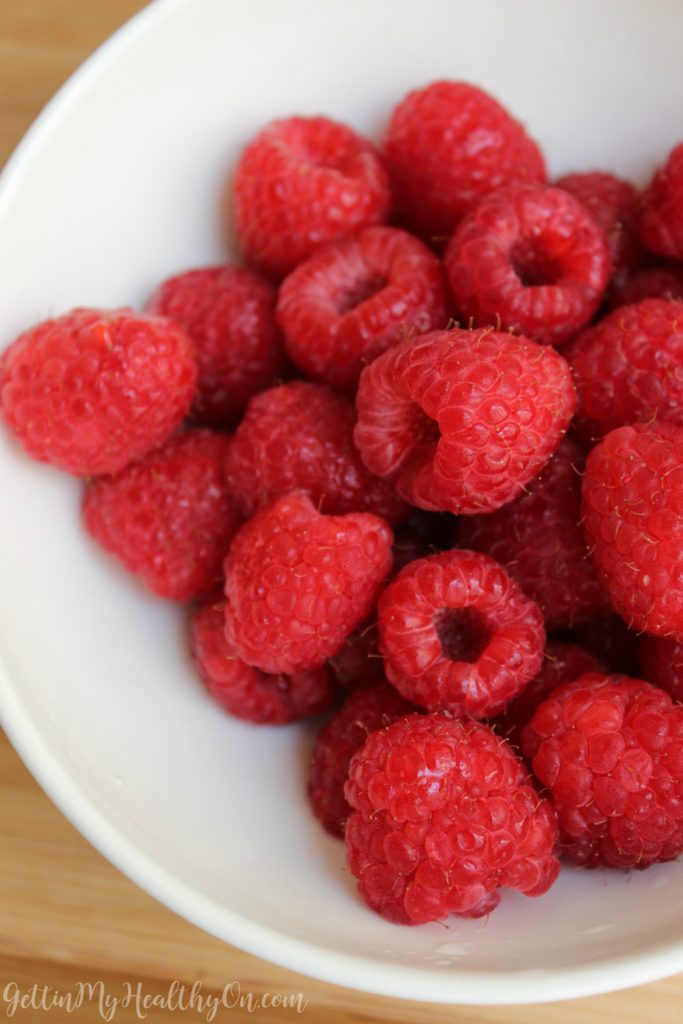 Are these not gorgeous!?
I've been trying to use the oven as little as possible since it's been so hot lately, so I opted to use these beautiful berries to make some parfait magic. I always keep plain Greek yogurt on hand, since it's so versatile, hence why this acted as the base for my parfait. When thinking about what to pair with the raspberries, I went with some store-bought granola, as well as some sliced almonds and a touch of pure maple syrup.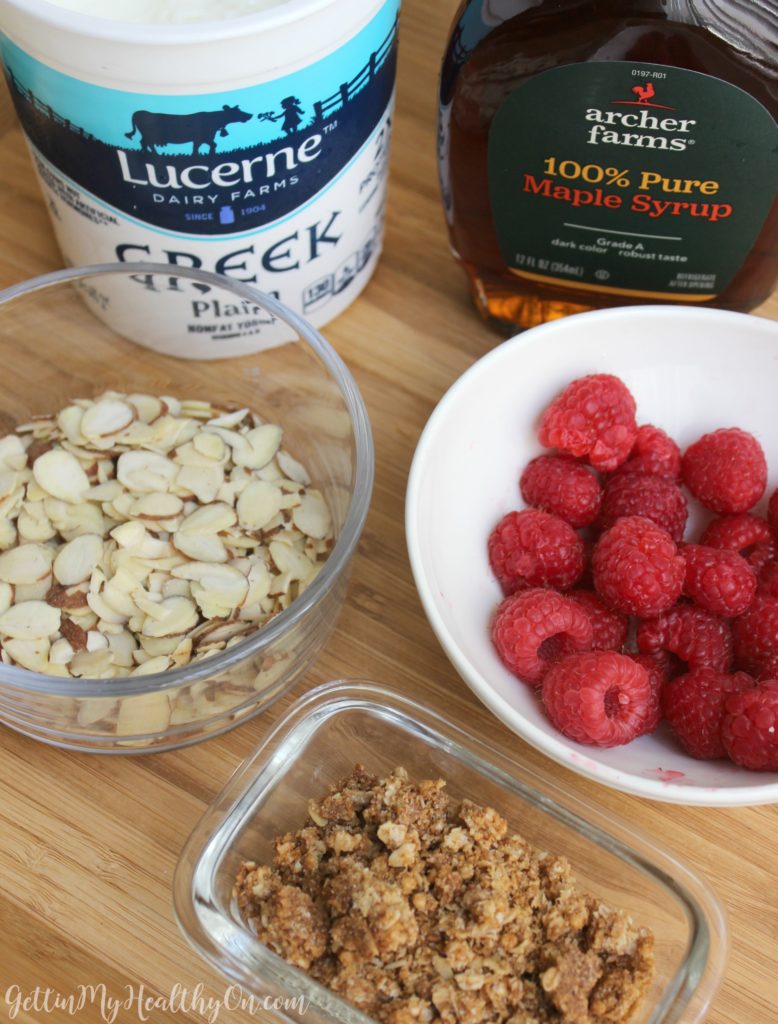 There are so many different parfait variations out there, and with ingredients like these, you just know it'll turn out well. There wasn't a question in my mind. But layering it all pretty and drizzling that bit of maple syrup on top is what made this such a treat. Plus, I wouldn't usually go to this much trouble to make a snack. Now, I'm thinking I might need to put some more effort into snack time because ya…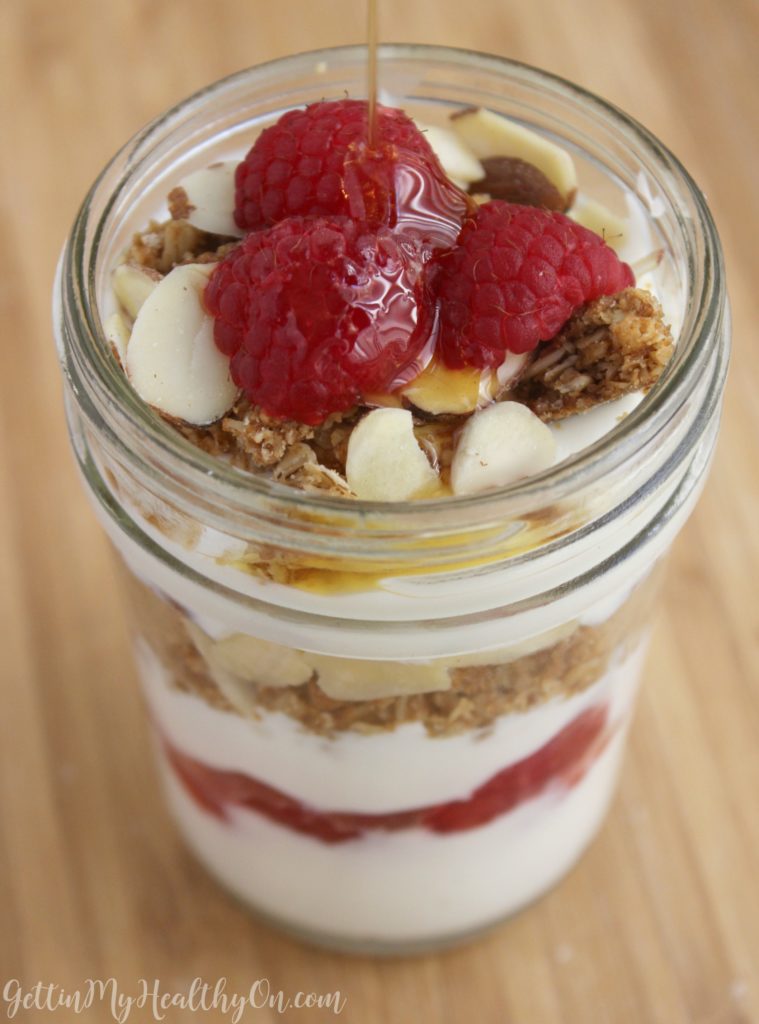 I'm all about the action shots lately.
Something noteworthy about this recipe: the plain Greek yogurt. Usually, I can't handle the taste of plain, non-fat Greek yogurt. It's sour and just needs some help from good ol' sugar. Honey is my go-to sweetener to make it a palatable option, but with the sweetness of the granola, berries, and maple syrup on top, this parfait really doesn't need anything else. If you'd prefer using vanilla yogurt, though, go for it!
Here's how I assembled this very uncomplicated mason jar of deliciousness:
Raspberry Almond Greek Yogurt Parfait
Ingredients:
1 cup plain Greek yogurt
1/3 cup fresh raspberries
1/4 cup granola
1/4 cup sliced almonds
1 Tbs pure maple syrup
Instructions:
In a clear jar, layer 1/3rd of yogurt onto bottom. Top with most of raspberries.
Gently add half of the leftover yogurt to the top of the raspberries. Top with half of the almonds and granola.
Pour rest of yogurt on top. Then sprinkle remainder of almonds and granola on top. Garnish with a few raspberries.
Drizzle with syrup.
Serve immediately or refrigerate for later.
Recipe from GettinMyHealthyOn.com
Enjoy!