I've got something real special for you guys today.
Popchips – if you have not tasted the delicious, healthier chip alternative, then I declare it time to do so. I'm not usually a big fan of chips, which I'm actually very okay with, but I have a few exceptions – Popchips being one of them. If I had my way, our cabinet would be fully stocked with every Popchips variety all the time. Unfortunately, that is not the case. HOWEVER, you can live that dream…at least for a little while. More details after I throw some information at you.
Popchips…
Has introduced their new, larger bags that hold 15% more of the good stuff, which could be the extra push people need to share their chips with others. Not sure if I'm ready for that yet. Chips in general, especially Popchips, are addicting, and that is a fact.
Still has only half the fat of regular chips that are fried. That means you can eat twice as much. Or…I'd like to believe that logic. I just made it up though.
Are still the same price despite getting 15% more. It's like every day is your birthday, assuming every year on your birthday you get 15% more of everything for free.
The Flavors
Popchips come in about 14 different flavors, including potato, tortilla, and veggie options. Among the awesome flavors are sea salt, barbeque potato, and nacho cheese tortilla. I've personally got my eyes on the nacho cheese situation.
The Healthy Facts
Instead of using oils to fry them into crunchy chips, they're popped. There is no trans fat or saturated fat. And they're gluten-free, which I know a lot of people appreciate.
As summer is in full swing, Popchips are a great snack to bring on a road trip, add to a BBQ, or just munch on when you're craving something delicious. To learn more, make sure to check out the Popchips website!
The Giveaway
Now, let's get down to business…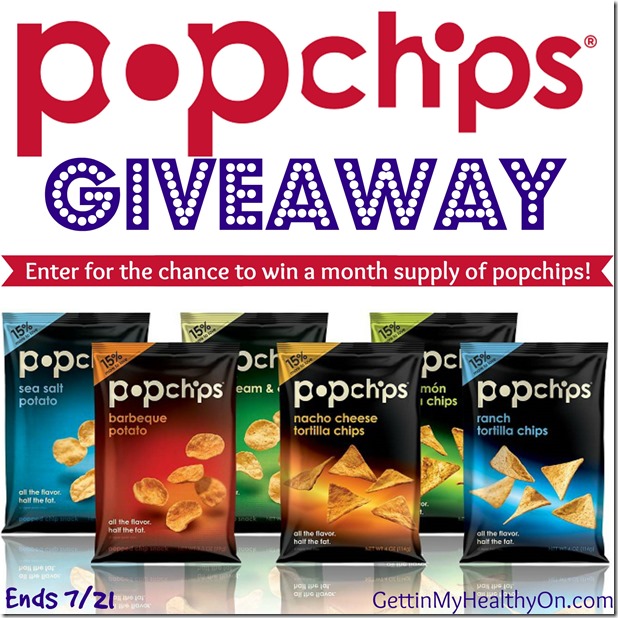 The kind people over at Popchips have offered to give one lucky Gettin' My Healthy On reader a month's worth of Popchips. To enter please follow the rules below:
Disclaimer: This giveaway was sponsored by Popchips; all opinions are my own.