As mentioned on Friday in my San Diego Bucket List, we went paddle boarding this weekend! Shout out to GroupOn for making it hella cheap and my birthday week for giving us a reason to go again (even though living by the water is reason enough).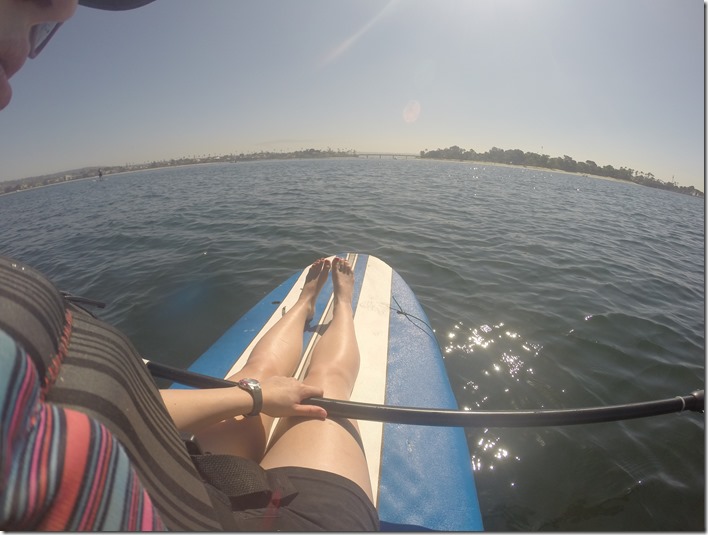 It's been quite toasty here in San Diego lately, which made hanging out on the water quite pleasant (or in the water if you're Matt when he fell, but in his defense, he was trying to be nice and return some kids' football…which didn't go well since he was kind of standing on an uneven surface out in the bay…oops). We also borrowed a coworker's GoPro to document our excursion, which was SO AWESOME. We were throwing it to each other throughout the morning since 1. it was in a waterproof case and 2. it floated. As someone who tends to break nice things, this felt so wrong.
Stand up paddle boarding (SUP) adventure #2 for me was a success! I had forgotten how tiring standing on a board and paddling for a couple hours can be though. 'Cus DAMN, my arms are still sore. Curse you, wind, for making our trip back so difficult!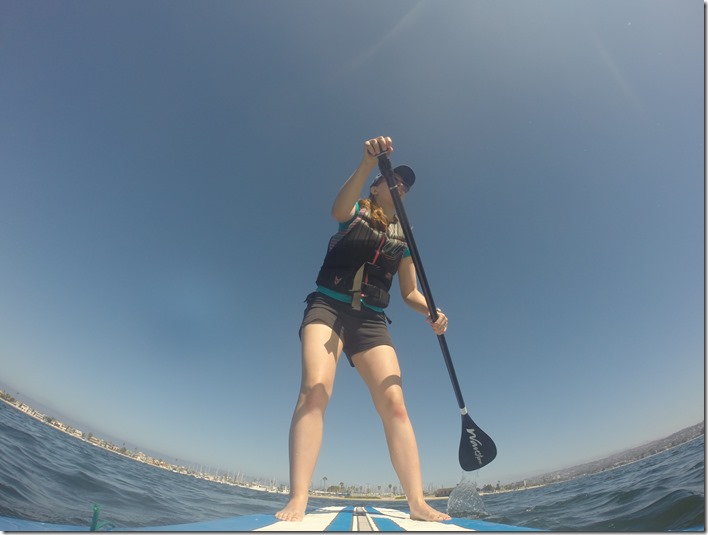 In true Katie fashion, I layered up because my skin does not react well to the sun. Ever since the beginning of college, I break out in these absolutely miserable rashes anytime I get burnt, so I do not risk it. Also, skin damage, cancer, and all that good stuff—I'm okay with being pale these days.
Even though it's technically "Stand Up Paddle Boarding", we spent a lot of time chillaxing and sitting down on our boards to take breaks and kill some time. This is when I demanded selfies.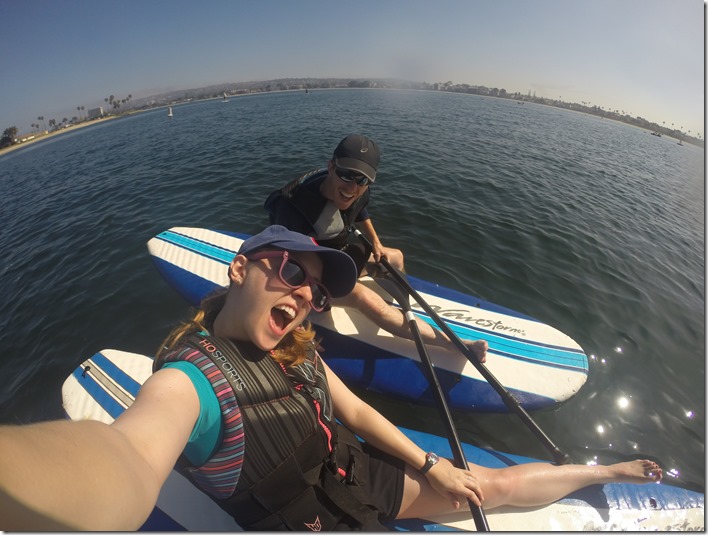 I really like paddle boarding, but I'm usually over it by about the 2- to 3-hour mark. Renting them usually gives us 4 hours, though, so we try to take as much time as possible. As a result, I don't feel the need to go paddle boarding for awhile, BUT it was definitely a great way to end my birthday week!
While gallivanting across Mission Bay, I was excited to try out a new sunscreen I was asked to review–yes, I get excited about sunscreen. I received the following Block Island Organics Sunscreen with an SPF of 30, and covered my freakishly sensitive skin before we set out on our adventure.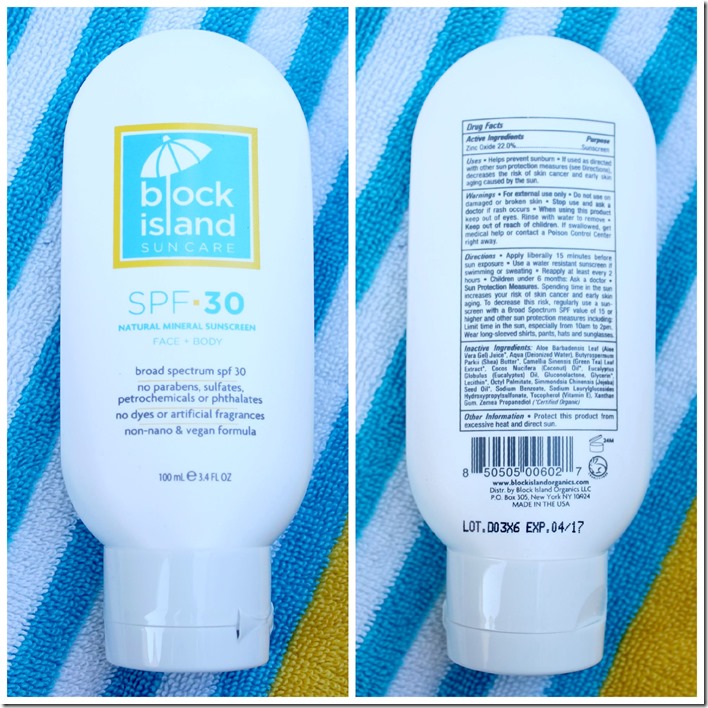 I really appreciated the ingredient details of this sun block because it doesn't have the chemicals and crap that a lot of others have (though I use them anyways). It doesn't have any artificial fragrance or dyes, and it's free of parabens, sulfates, petrochemicals, and phthalates.
When I used it, I was caught off-guard because it's surprisingly thin. It didn't feel greasy like most sunscreens do, so that was a pro. However, it left a white residue in some areas, probably due to the mineral base, so that's something to get used to. If anything, that helps you see where you missed. This worked well since it was water resistant, but I definitely should have reapplied since we were out so long (you're supposed to reapply after 80 minutes). Also, since I'm used to using spray sunscreen, I definitely missed some places with this, so I've got quite the weird sunburn on my arms and lower back. Here's hoping my skin doesn't flip out.
Would I recommend it? For sure! It seems like a much better (and natural) formula to spread on your skin compared to most brands. The consistency is a bit different, but it's nothing you can't get used to. Oh, and if you're interested, you can use the coupon code katien for 15% off the entire site through Sunday, August 2nd (can't be combined with other codes, but it works on top of the current 10% off store-wide discount)
Is there a water sport you particularly love or want to try?