Before I get into my Vegas recap, I just wanted to encourage everyone to keep the families and victims of the Boston Marathon bombings in your prayers. I know some of the bloggers I read were running in it, so I'm praying they're all okay. I'm anxious to hear what they have to say about it.
If you know someone who ran and want to know if they're okay, check out Google Person Finder.
If you ran in the marathon, please register so others know you're okay: The Red Cross Safe and Well.
---
As you may know, Matt and I went to Las Vegas this past weekend for a relay race he was doing. It turned out to be a pretty fun weekend! He did awesome in his leg. Something pretty scary did happen though.
I rode in the follow vehicle to offer the runners water during their legs and track times, and the first runner passed out mid-run. I am so thankful it happened at the way end of his run because I honestly wouldn't know what to do to help him. He started running really funky in the last quarter to half mile of his leg, and we were yelling at him to walk—he kept refusing until he finally fell. He ended up being air-lifted to a hospital. Turns out he was suffering from heat exhaustion, dehydration, low blood sugar, and possibly (but unlikely) something heart-related. We were told he went to one hospital, so we went there. He wasn't there. So we finally got ahold of people who told us where he was located. By about 11:30pm we finally found him. He was doing just fine, but they kept him overnight for observation.
It was quite scary not knowing what happened to him let alone where he was. It all turned out okay though. I saw another guy from another team right after he passed out mid-run too, and he was flailing his arms on the ground. It was hard to watch. The heat of the dessert proved to be too intense for some people. I was so happy Matt didn't run till about 6pm as the sun was going down.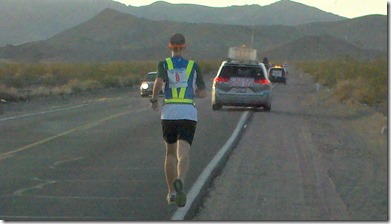 All of this taught me that we runners really need to pay attention to hydrating for runs and not pushing ourselves past what we can handle. It's not worth it.
There's my intense story from the weekend. Besides that, everything went pretty smoothly. We got back from the running business at about 1am Sunday morning. Sunday and today were both spent enjoying Vegas.
Vegas Recap
We stayed on the old strip, so we spent most of the time there, but were able to venture over to the new (and more exciting) strip thanks to the Monorail–it actually worked really well. I'd recommend it if you're on the old strip and want to go to the new strip without paying for a taxi. However, it's $5 one way, so if you really think about it, it's pretty expensive, but we thought it might be cheaper than a taxi.
Here are some of the things we did…
Lost a few dollas on some slot machines (I'm all about the penny slots). I lost about $20 total, and Matt won $30. My strategy was only put in $1 at a time. I'm a big spender.
We had a few fun drinks,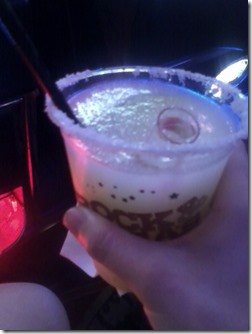 Went to the new strip with some people,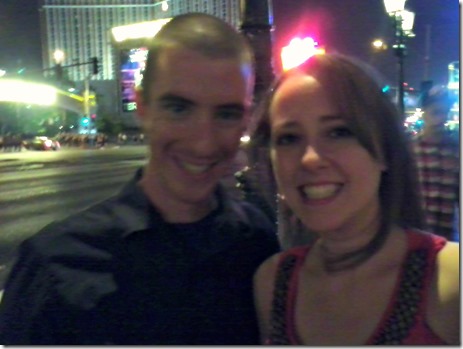 And took some blurry pictures.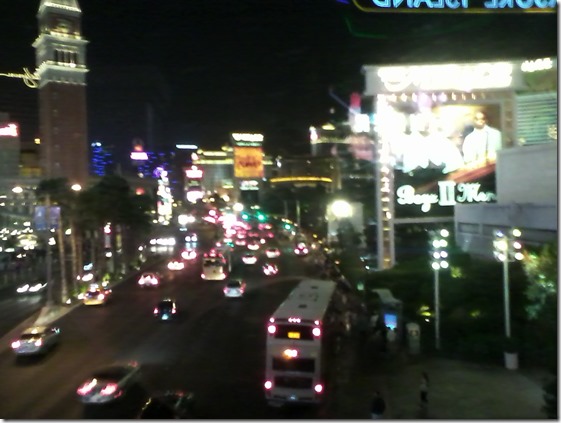 Monday morning while we wasted time before out late flight we did a bit of exploring and did touristy things.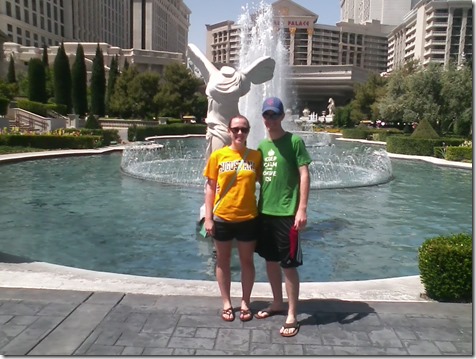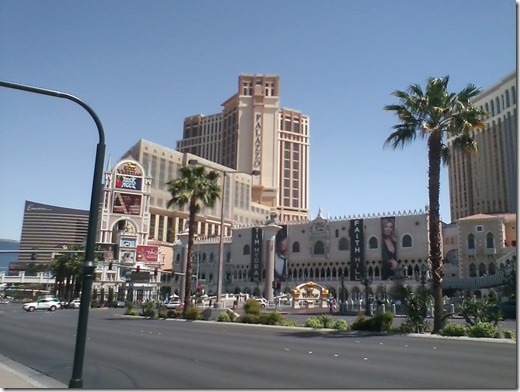 It was a good weekend, but we're both pretty anxious to get home.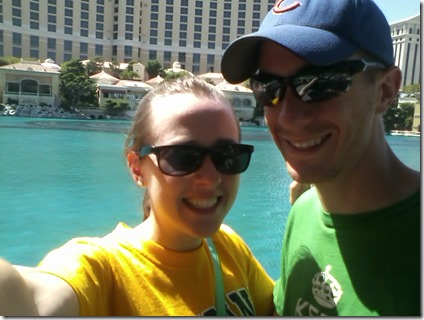 One thing I'll be working on this next week is finding some recipes to help use up my 12 3/4 lbs. of yogurt.
If you follow me on Twitter or Facebook, you may already be aware of the awesome package I received Thursday: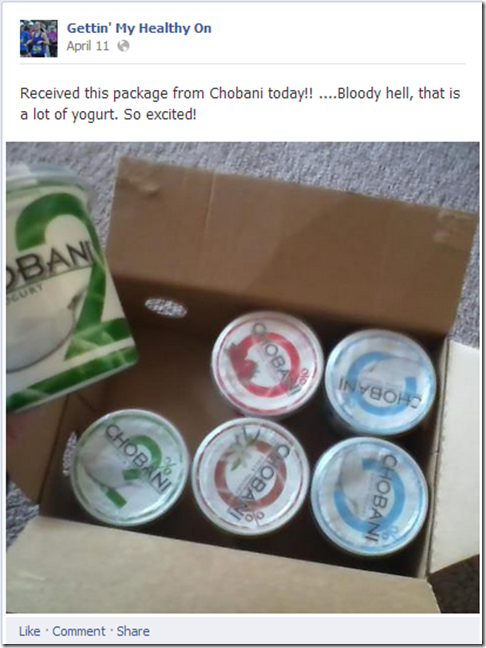 It's funny because I had an unopened large container of the 0% in the fridge already. You could say I'm stocked up for awhile…
Thanks so much, wonderful people at Chobani!
P.S. I wrote a blog post for FitKit's blog over the weekend, and it's up if you're interested! It's my Top 5 Tips for Working Out.
Some questions for you:
Have you ever been to Vegas? What was your favorite part?
I enjoy the alcohol to-go thing. I didn't even take advantage of it this year, but it's kind of exciting to me for some reason.
What's the scariest thing you've seen during a race?
Know any good yogurt recipes?