My entire past weekend was spent preparing for the next 90 days.
Starting today, Matt and I are beginning the P90X fitness system, and we are beyond stoked. I spent a ridiculous amount of time the past few days researching it, creating a meal plan for this first week, and preparing some food. It's a bit frightening how much time I've spent on P90X so far, considering we haven't even started it yet.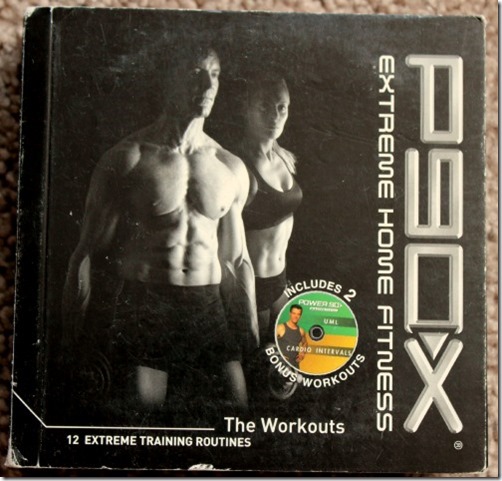 If you aren't aware, P90X is a workout plan that includes workouts DVDs to do in your living room as well as nutrition guidance. The combination of strategic, healthy eating and intense workouts have proven to help people get in "the best shape of their life." I've always been sucked in by their infomercials, but then again, I get sucked in by most workout infomercials/shows because I love watching people workout because I'm a creeper and find it inspiring.
The at-home fitness regimen entails doing workouts every day for a total of 90 days, with routines that focus on cardio, weight lifting, yoga, and/or stretching. The fact that we workout every single day for 90 days intimidates me, but I've heard the stretching sessions are amazing, so I suppose those are just active rest days.
I basically can't stop talking about P90X lately because I'm so excited, so I'm glad Matt and I are doing it together so he won't get sick of me. Maybe.
P90X Workouts
The minimum pieces of equipment needed are dumbbells and a pull-up bar. At this point, we have a pull-up bar and a set of 5-lb. and 10-lb. dumbbells for both of us, so we're currently working on acquiring heavier weights. We don't exactly want to drop a bunch of moolah on this, so we might end up borrowing some weights from a friend for awhile. We'll see. I'm super excited for the challenge of the program; although, I am a bit concerned about the time commitment, since I usually only spend 30 minutes to an hour on workouts every day. I've heard these average an hour to an hour and half. I think the fact that Matt and I are doing this together will really help though.
We even took before pictures last night and took our measurements. I think it'll be really fun to see our progress every month. I'm assuming I'll have a very defined 8-pack in no time. Sure, let's go with that.
Nutrition
No matter how difficult the workouts are, I think sticking to the nutrition plan will be the most difficult. This is a huge part of the program, though, because diet can make or break your results. According to my findings, there are 3 phases to the 3-month program:
Phase 1: Fat Shredder – emphasis on protein; helps you shed fat fast while building muscle strength.
Phase 2: Energy Booster – mix of carbs and protein with lower fat; designed to provide extra energy for better performance.
Phase 3: Endurance Maximizer – focuses on complex carbs and lean proteins.
Like any healthy eating schedule, I've found that people suggest leaving some space for enjoyment within the somewhat strict eating guidelines. I'm planning to have 1 cheat meal a week to help me stay sane. This will most likely be pizza on Sundays.
After doing lots of research on the diet plan for P90X, I decided we're going to do our best to follow it with a relaxed mind. I don't want to spend the time and energy to count calories, measure protein/carb/fat amounts in my meals, and so on. While some people can do this (and I know it would get easier over time), I just hate doing this. Instead, we're going to follow the general guidelines as well as we can, focusing on healthy eating and using P90X meal plans as inspiration for ours. Right now, we're in phase 1 and are focusing on protein.
Since I'm most likely going to be tweaking our menu throughout the week, I plan to share our weekly menus later once I've finalized them. As for today, we'll be having protein shakes for breakfast, yogurt and string cheese for snacks, tuna/veggie/egg-filled salads for lunch, and chicken kabobs over brown rice for dinner.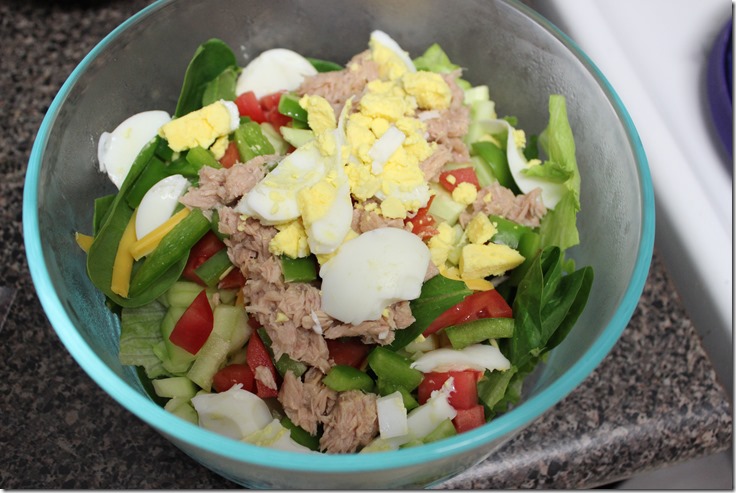 It'll definitely be a long period of clean, healthy eating (much more than we're used to), so I'm hoping I can find a lot of tasty recipes so we don't get too bored! Also, I've decided to give up coffee (caffeinated, at least), so I'm going to be very sad for awhile.
Have you ever done P90X? What are your thoughts on the program?
Does anyone else get sucked into workout infomercials/shows like I do?
What's your favorite toppings for salads? I need exciting ideas!