Combine the classic breakfast dishes of fluffy waffles and hearty oatmeal for one, oat-filled waffle recipe.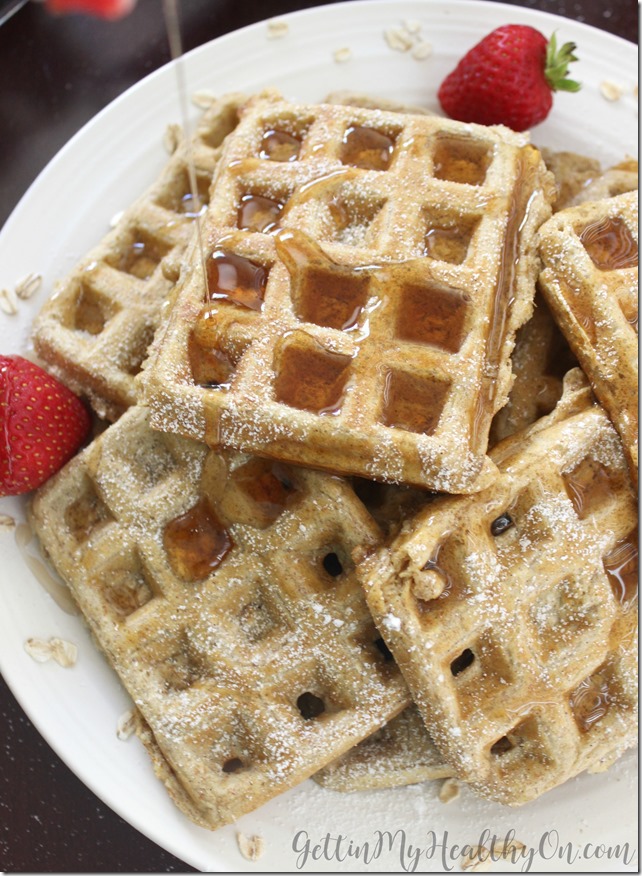 Although I'm all about experimenting with new breakfast recipes (especially because I want to follow a breakfastism diet), I like having a collection of go-to recipes on deck that don't require me to think. They can just be thrown together, and I don't have to wonder how they'll turn out.
Pancakes are one of my frequently made weekend morning dishes. Every once in awhile, though, I like to mix things up and whip out the waffle iron to make…well…pancakes with abs. I don't really have a go-to waffle recipe, so I thought it was time I get one in the books on the blog.
Since I like to put my own spin on most classic dishes (I'm lookin' at you, Greek yogurt pancakes), I wanted to do something a little different. Oats were the special ingredient I decided to use for my default waffle recipe.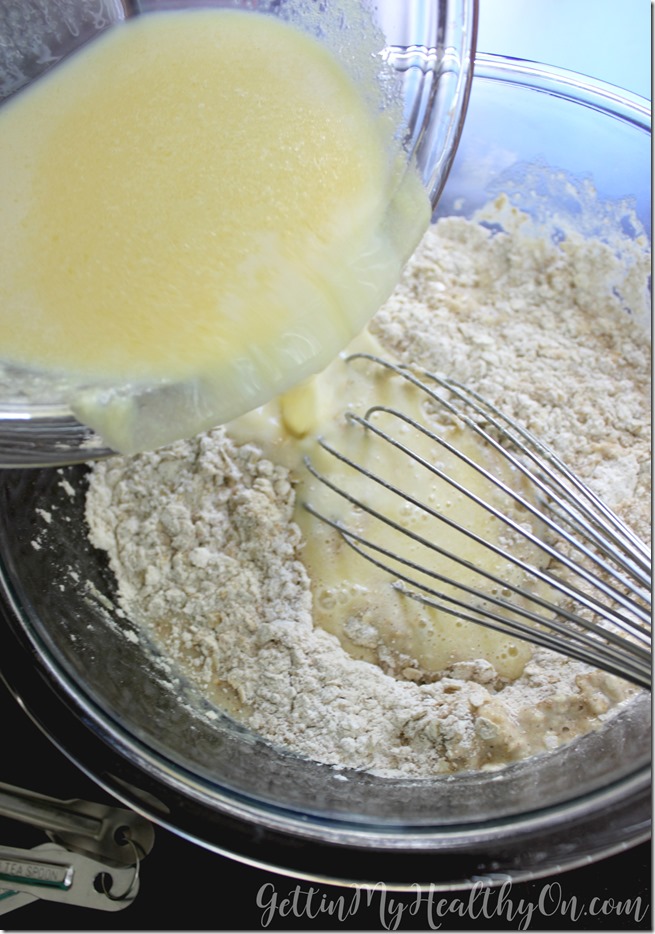 Quick-cook oats are used in this recipe in place of part of the flour. I also used part whole wheat flour to increase the nutrient content. I was surprised at how well the oats incorporated into the batter without creating an obvious texture imbalance (as old-fashioned, aka rolled, oats would do). Using quick-cook oats allowed for a healthier recipe that created more of an actually-keep-you-full vibe (anyone else love waffles/pancakes but know the empty carbs means you'll be hungry soon after? no me gusta).
To make the waffle batter, I whisked the wet ingredients (2 eggs, 1 1/2 cups milk, 6 tablespoons melted butter, 1 teaspoon vanilla, and 1 tablespoon brown sugar) into the dry mixture (1 cup flour, 1/2 cup whole wheat flour, 1 cup quick-cook oats, 2 teaspoon baking powder, 1 teaspoon baking soda, and 1/2 teaspoon cinnamon).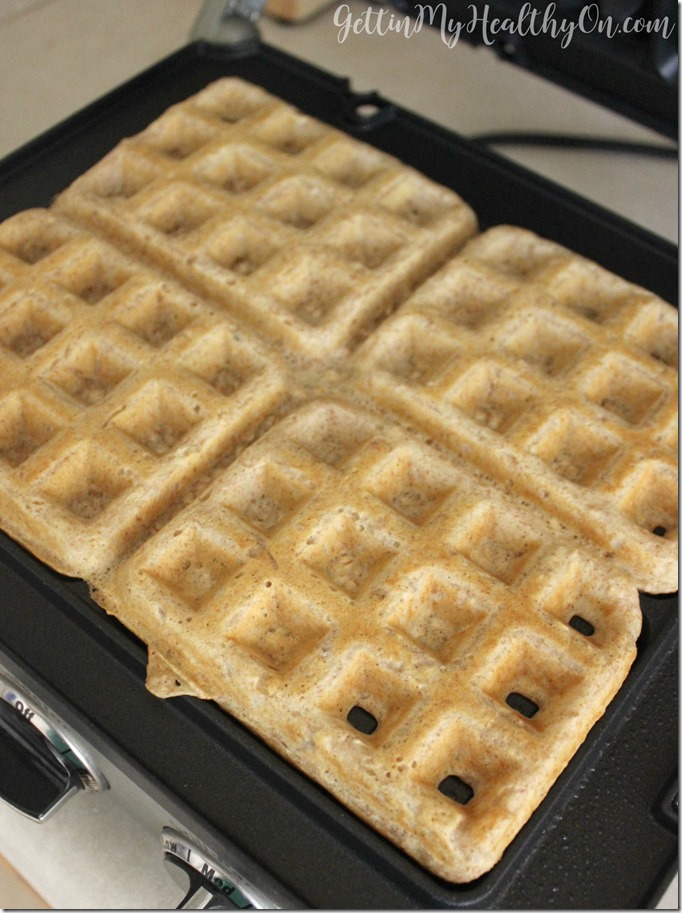 After preheating our waffle iron, I sprayed it with non-stick cooking spray and scooped the appropriate amount of batter across the four sections, then closed the lid. (Depending on the type of waffle iron you have, and how large it is, the amount of batter and time will obviously vary.) Once the waffles had a nicely golden brown, I moved them over to a plate. Then repeated until I was left with a mountain of glorious waffles, ready to be devoured.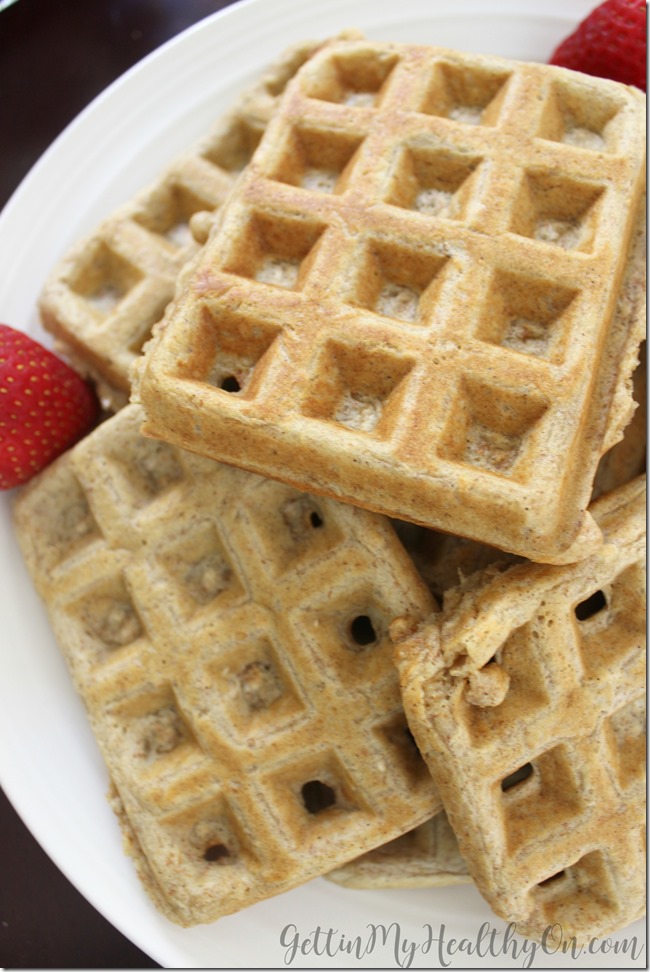 Since there are only two of us, we enjoyed the waffles before work for a couple days last week, which was definitely a treat.
Ingredients:
1 cups all-purpose flour
1/2 cups whole wheat flour
1 cup quick cooking oats
2 tsp baking powder
1 tsp baking soda
1/2 tsp cinnamon
2 eggs
1 1/2 cups milk
6 Tbs salted butter, melted and slightly cooled
1 tsp vanilla extract
1 Tbs brown sugar
Instructions:
In a large bowl, combine flours, oats, baking powder, soda, and cinnamon.
In a small bowl, whisk eggs, milk, butter, vanilla, and brown sugar together. Add to flour mixture; stir until just combined.
Pour batter into pre-heated, greased waffle iron. Close lid, and cook until golden brown.
Use fork to remove waffle. Top with your favorite fixings.
Recipe from GettinMyHealthyOn.com
I topped my waffles with a drizzle of 100% maple syrup and a sprinkle of powdered sugar. They were more hearty than traditional waffles, but they've still got that fluff I need.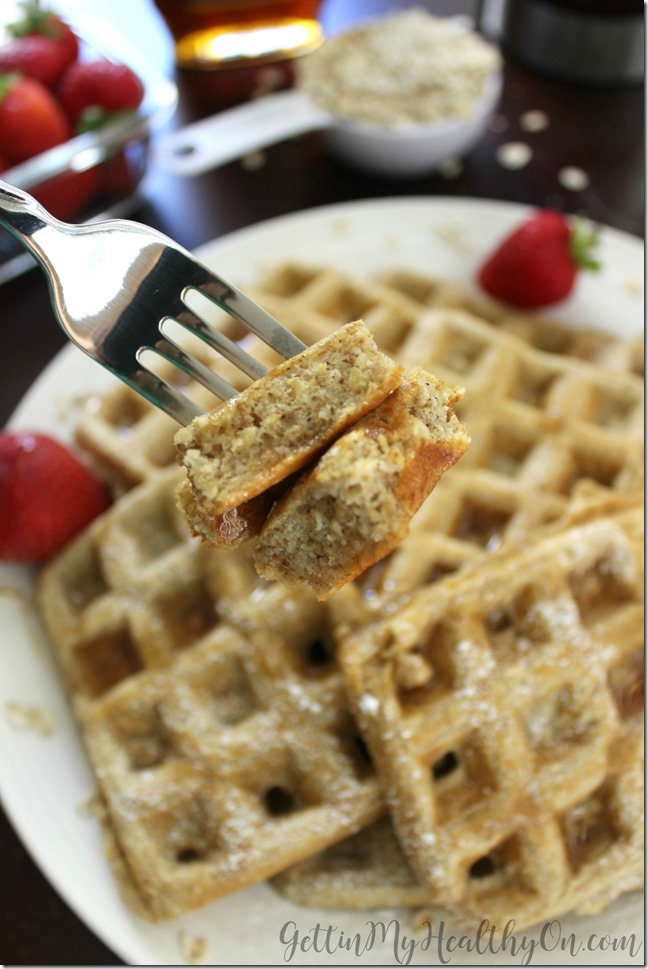 Which do you prefer: waffles or pancakes? I think I prefer waffles just because I'm too lazy to make them most of the time. However, pancakes are always good in my book.
What's one breakfast dish you could never get sick of? Cinnamon rolls. I could eat cinnamon rolls every day for the rest of my life.