These raw chocolate chip cookies are filled with almond and coconut flavors for a healthy dessert you can't get enough of!
Confession: If I know a dessert is legit healthy, I don't view it as a dessert–I see it as more of a snack. That's my beef with today's recipe. I made a no-bake version of spruced up chocolate chip cookies, and they're so guilt-free I've been eating them as snacks all week. Healthy cookies? Whaaaa?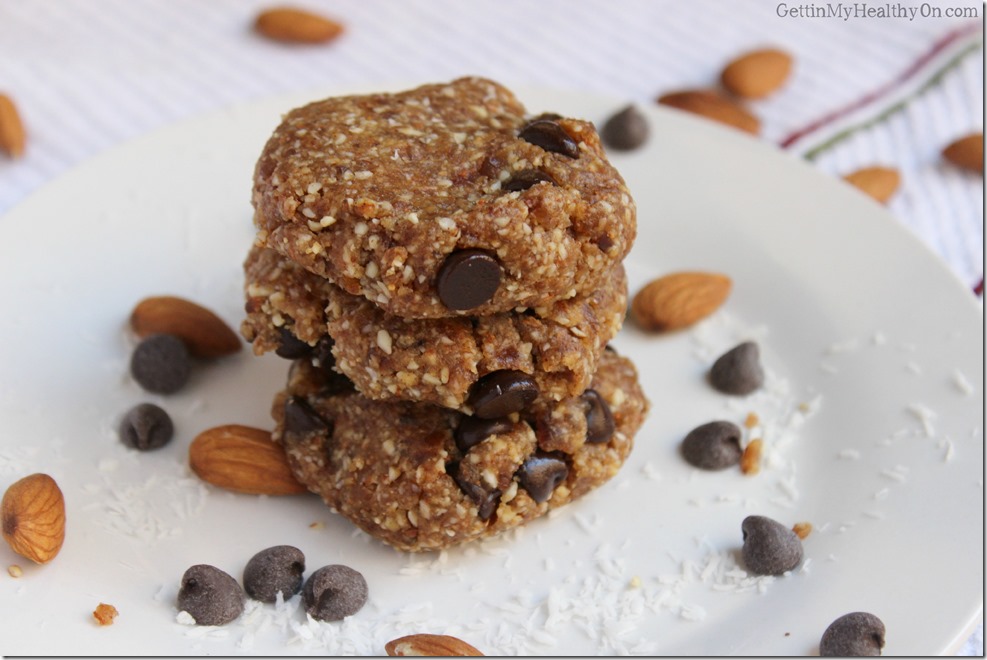 This is a new type of cookie for me–I've never made a no-bake version before. I was pleasantly surprised with how good they were, despite the lack of butter and sugar. These tasty bites are filled with almonds (and almond butter), along with some other flavorful goodness (I'm lookin' at you, coconut and vanilla). Add in some chocolate chips, and BAM! You've got a pseudo-chocolate chip cookie situation in your hands.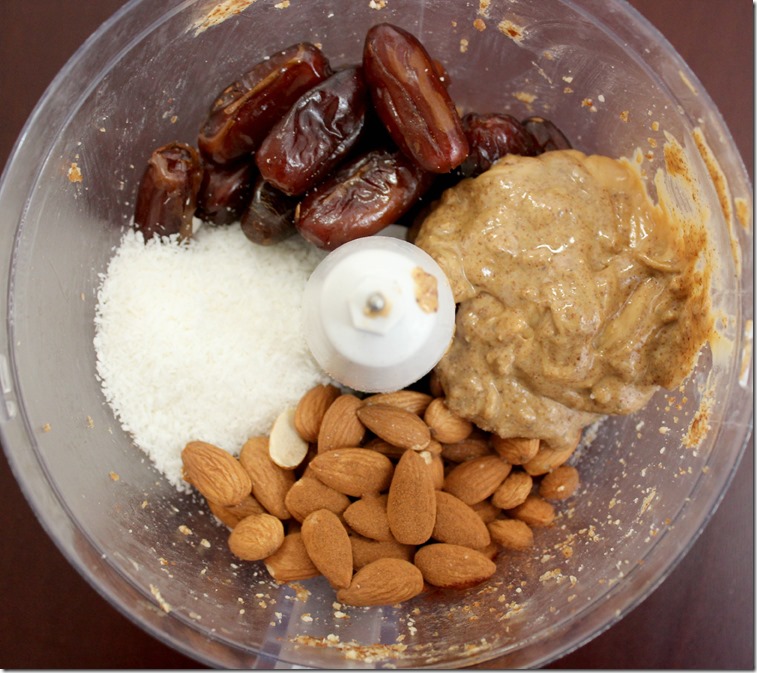 I dug out my handy dandy food processor and poured in 3/4 cup raw almonds, 1 cup Medjool pitted dates, 1/3 cup unsweetened coconut flakes, 1/2 tsp cinnamon, and a dash of salt. Then I poured in some wet ingredients which involved: 1/2 cup almond butter (mine was part peanut butter because I've been hard on my almond butter supply lately), 1 teaspoon vanilla extract, and 1 tablespoon coconut oil. After turning the processor on for about a minute or two, the mixture was pretty finely chopped, which was perfecto. It was still a bit crumbly, though, so I added a tablespoon of water, turned it on again, and then ended up adding a second tablespoon. At this point, I pinched the dough, and it stuck together nicely, so I declared it done.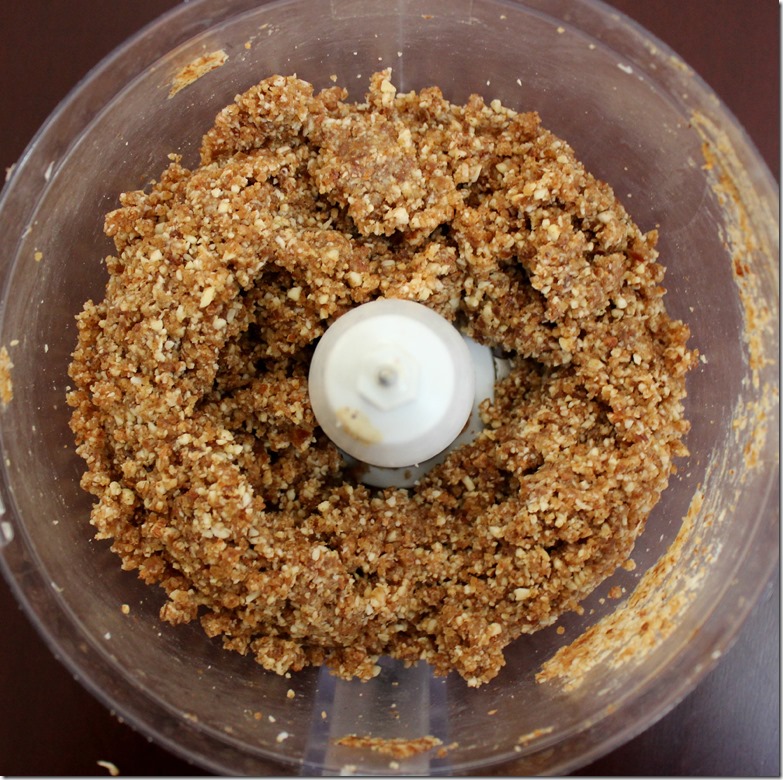 Once you've got the right dough consistency, pour it into a medium-sized bowl, and mix in the 1/4 cup chocolate chips (I used semi-sweet because it's what I had on hand). Then roll handfuls of the mixture in your hands (you might need to smash it a bit to make sure it sticks together)–mine were about 1.5 inches in diameter. Now smash them into a cookie-like shape. Repeat this until the rest of the dough is gone!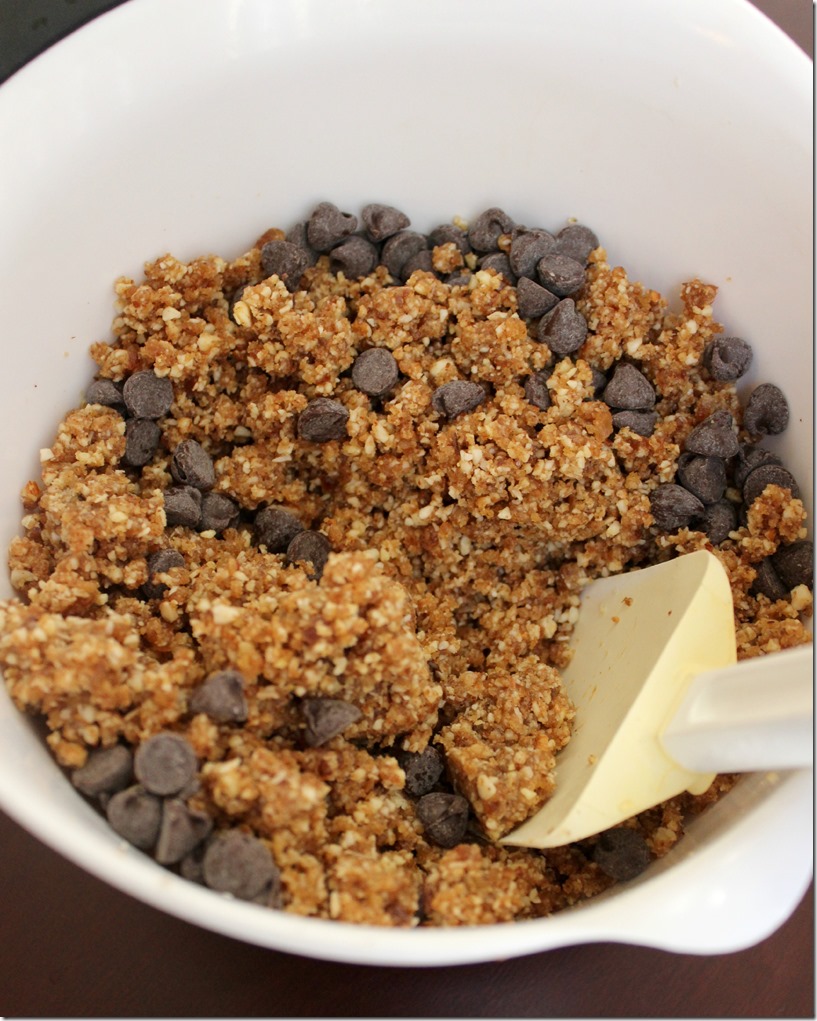 Enjoy immediately, or you can refrigerate them for later. They hold together much better when cold, so I highly recommend saving some for later!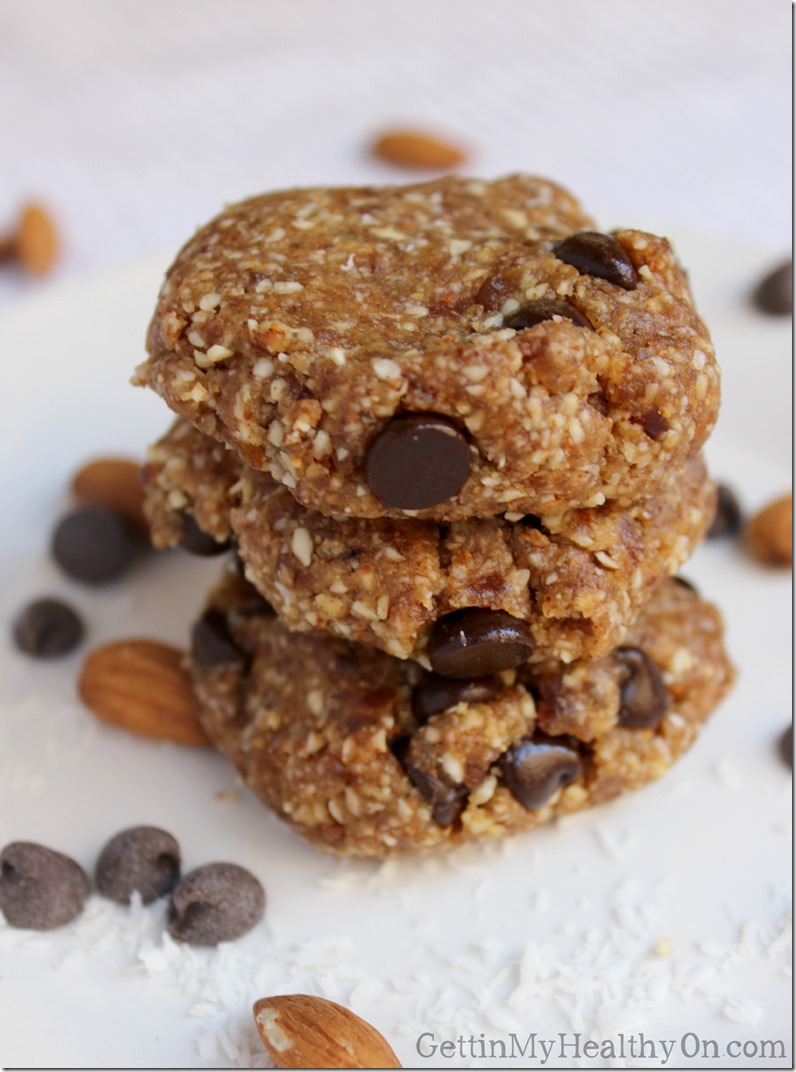 No-Bake Chocolate Chip Cookies with Almond and Coconut
Ingredients:
3/4 cup almonds
1 cup pitted dates
1/3 cup coconut flakes
1/2 cup almond butter (or any nut butter)
1 tsp vanilla extract
1 Tbs coconut oil
1/8 tsp salt
1/2 tsp cinnamon
1-2 Tbs water
1/4 cup chocolate chips
Instructions:
In a food processor, combine all ingredients except water and chocolate chips. Process until the mixture is finely chopped.
Add water 1 tablespoon at a time, until the mixture sticks together when pinched. (May need 1 or 2 Tbs.)
Pour mixture into a medium bowl, and stir in the chocolate chips.
Roll the dough into about 1.5-inch balls. Then smash into cookie shapes. Repeat until dough is gone.
Enjoy right away or refrigerate for later.
Recipe from GettinMyHealthyOn.com
Since these don't have all the bad (yet so good) ingredients as traditional chocolate chip cookies, they make for a pretty healthy dessert. They taste just as good–though different–so I've been eating them as snacks midday. But eat them as you please! Hope you enjoy. 🙂