So it recently occurred to me that I should probably start thinking about getting in shape for my wedding, since it's about 9 months away. If I looked exactly how I do right now for it, I'd be perfectly happy, but I mean…why not strive for being a buff bride, am I right?
To be honest, I don't want to change my general size, and the main reason for that is because my dress miraculously fits already. Since I'm content, it's just easier to not lose weight. Haha. But what I would love is to get more toned. Plus, actually being healthier is a goal of mine, if you haven't picked up on that yet. Since I don't want any drastic changes, I'm not going to make any crazy lifestyle changes, but I figured why not use this wedding thing as motivation? So here are some steps I'm going to take to kick my exercise and nutrition goals into gear…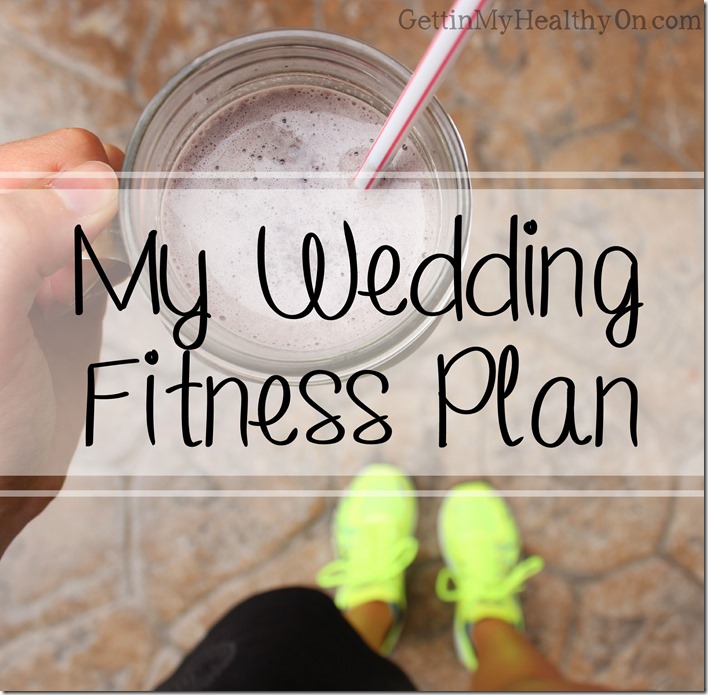 1. Workout 5-6 Days a Week
Okay, so this one is super complicated right now. It seems like there is always something getting in the way of my ability to workout. Currently, my body is being taken over by a sun-induced rash, and simply functioning normally is difficult (reapply your sunscreen, kids). As a result, I'm going to be pretty relaxed about this goal for a little while. I'll do my best to follow this with no excuses, but if I physically can't, I don't see the point in stressing over it.
2. Put the Intensity Back into Exercise
Beyond just making exercise a routine, I know I need to put more umph into it. While the intensity isn't usually a problem, I sometimes will just go through the motions without giving my all, which kind of defeats the point—plus, that feeling after a great workout is priceless. Although they can't all be perfect, this is definitely something I want to work on.
3. Drink 1 Gallon of Water Every Day
I've been on-and-off tracking my water intake lately, and it's interesting. I've been using either my phone's S Health app or FitBit tracker to document my ounces, and it's been a great reminder for me to drink up. FYI: a gallon of water is 16 glasses that are 8 ounces each. It's actually not as hard as I thought it would be originally. Reaching 16 glasses requires me to be conscious of my water intake, but it's definitely attainable. Compared to other health-related goals, I've found this one to be especially realistic. You're not changing anything crazy or cutting things out—you're just drinking more water. Easy as pie chugging a glass right now.
4. Meal Plan & Prep Like a Boss
When I spend time on the weekend meal planning and prepping, I eat so much healthier all week. I haven't put much effort into this for awhile, so I figured there's no better time than the present! From prepping snacks and lunches for the week to cooking dinner the night before (dat crock pot hack), it's amazing what a couple hours of planning ahead can do. I've found this to be one of the easiest ways to set myself up for success.
5. Be Smarter About Snacking
Snacking seems to always be an area I need to work on. This goes back to planning ahead, which I don't usually do much for snacking between meals. I've been making more of an effort to keep protein-packed snacks on-hand, and it really makes a huge difference. Shout out to Jack Link's jerky for filling my desk at work with turkey and chicken jerky—it's been such an easy snack to grab really quickly. While beef jerky's my #1, I've surprisingly enjoyed the poultry side of things.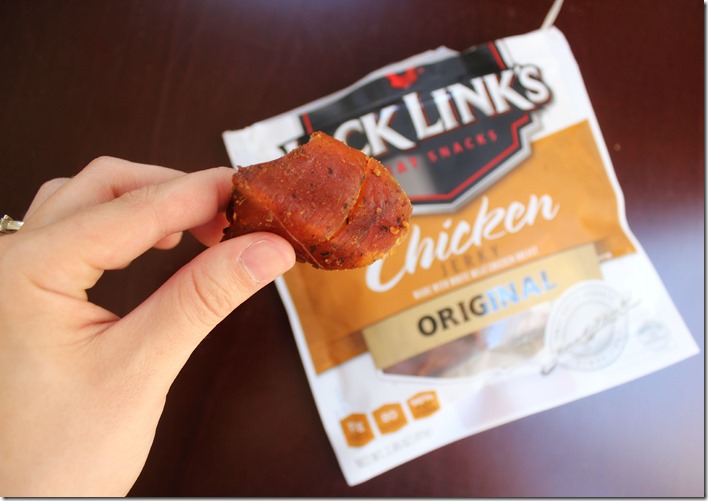 Chicken is Jack Link's newest jerky, and I've grown quite fond of it. It's made from chicken breast meat, and the flavor is a marriage of pepper and sweet/savory spices (see what I did there?). It has 11 g of protein and 80 calories per serving and is 98% fat free. So basically, I don't feel guilty for indulging in one of my favorite snacks, and that is how I'd like to keep things going.
As I begin this wedding fitness/nutrition plan, I want to be focused without putting too much pressure on myself. After all, getting healthy is what your body deserves—it shouldn't feel like a punishment! So here's to enjoying the ride.
Jack Link's Giveaway
If you want to be twins with me and enjoy some jerky and Jack Link's merch, then I've got a giveaway for you.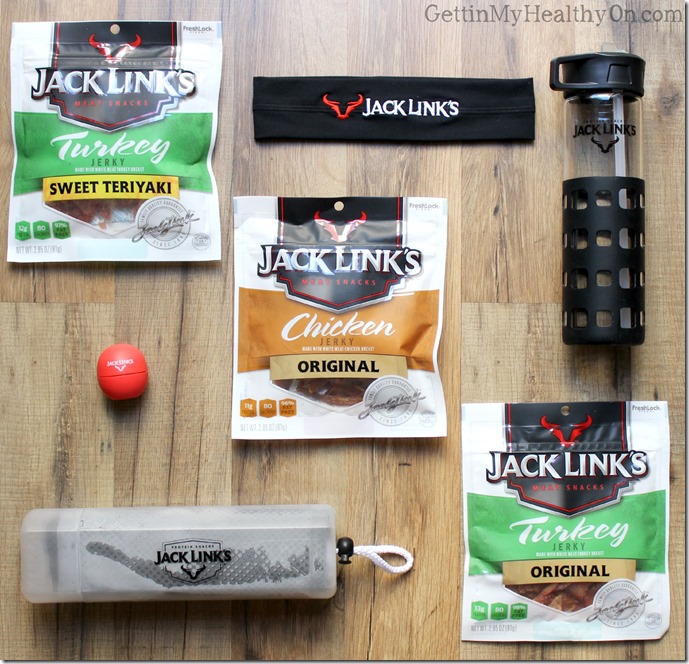 First of all, I love the water bottle above—it's so much easier to drink 128 ounces (aka a gallon, I Googled it) of water when you have a fancy bottle like this one. Goal #3: check! In addition to the bottle, you can enter for the chance to win the following: Jack Link's original sweet teriyaki turkey jerky, original chicken jerky, original turkey jerky, a headband, EOS lip balm, and a sweat towel (which I thought was pretty cool, literally). If you like free things, enter the gift pack contest below:
a Rafflecopter giveawayThe giveaway ends August 10th at midnight. Good luck! This post is sponsored by FitFluential on behalf of Jack Link's.