So as you may or may not know, I'm getting married soon. Like really soon. In a month soon. Due to the wedding being in my homeland of Illinois and us living in California, I haven't been able to have a wedding shower. Part of me doesn't care; the other part is a wee bit sad that I don't get to have that traditional component of my wedding.
To be fair, this was subconsciously my choice, in a way, because I chose to fly home for a week and take time off work to meet my baby niece a few months ago. Definitely worth it, by the way. Despite this decision, my sister knew I was still a little disappointed that I wouldn't have a wedding shower with friends and family. Little did I know that she was actually planning a sort of "virtual" shower for me (because she is so insanely thoughtful and sweet).
About a month ago, we started getting packages in the mail from our registries. We had opened a few, and some mentioned a "shower" in the accompanied note, so I asked her if something was going on. This is when she revealed the virtual event. I was informed we had to wait until Saturday, March 26th at noon to open them so it was more like a real shower experience, getting them all at once. Our downstairs was gradually trashed because of all the boxes we received – a great problem to have, especially since I wasn't expecting any of these gifts in the first place.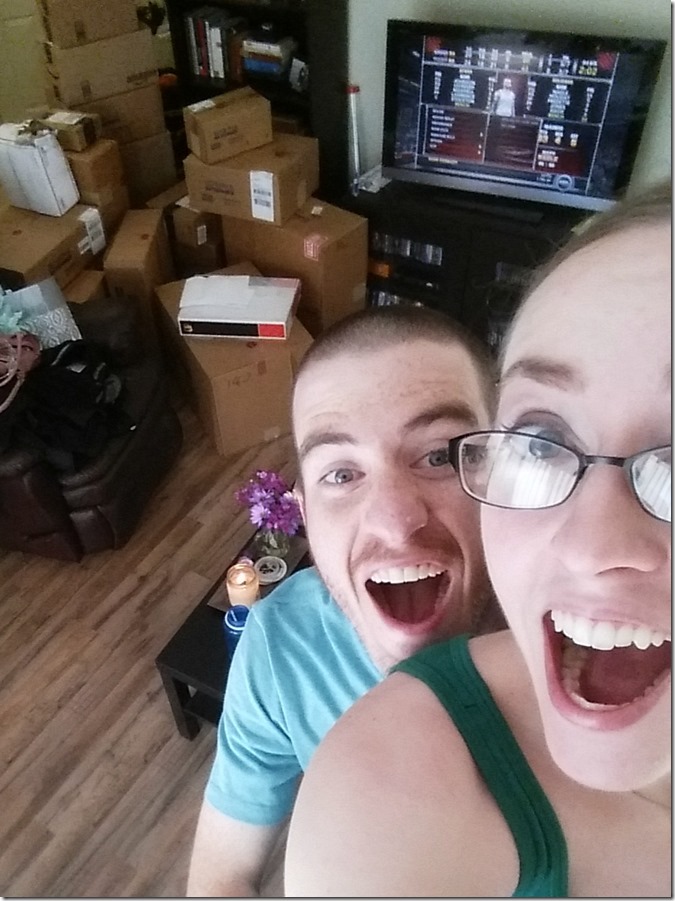 The night before that Saturday, Matt and I discussed going to brunch in the morning for something fun to do while we awaited the proper gift opening time. He told me to be ready by 9:30 a.m. so we would have enough time to drive to the place for our reservation. Once the time arrived, Matt spontaneously got a work call so we had to push brunch off a bit. Then he came downstairs, and the doorbell rang. He answered the door, saying it was probably another package, then told me I "had to see this." That little liar was stalling by faking a phone call because two of my friends had arrived to kidnap me for a bridal shower brunch.
I can't remember the last time I was this shocked and confused. Haha. They crowned me and gave me a sash to wear. We got in the car and headed to the mysterious location. (Apparently Matt told them we had to go to brunch because I get really excited when brunch is promised.) We arrived at Snooze (aka the best place ever for pancakes).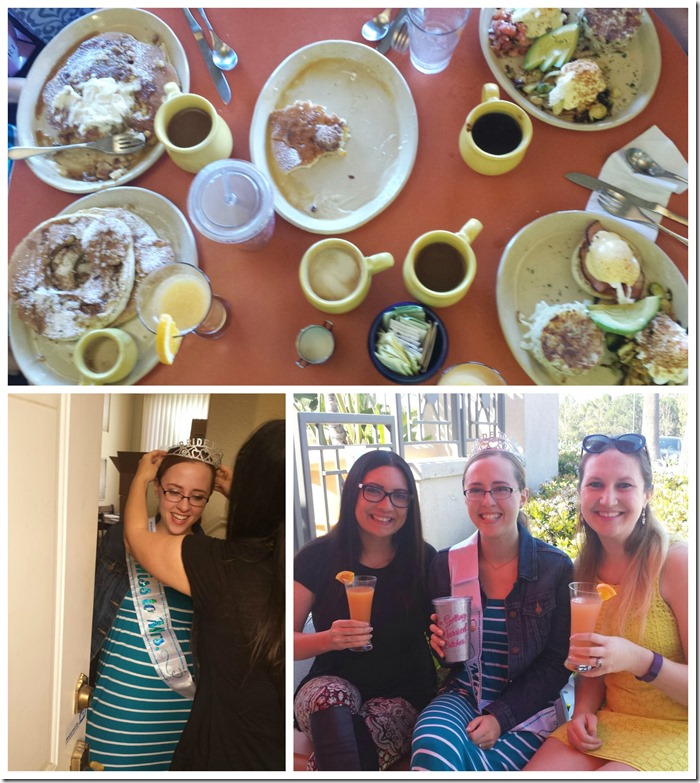 They both gave me gifts to start off my bridal shower day, and the staff was also really awesome in helping us celebrate. I got a total of two free mimosas and a birthday pancake (not sure if there was a miscommunication but I didn't question it). I highly encourage Snooze as a celebratory brunch location. Good food and good service, for sure – just be prepared for a wait because they're usually a popular place. Oh, and important to add: they were playing a lot of 90s music throughout the time we were there. It couldn't have been more perfect.
After brunch, my peeps dropped me off at home, and Matt and I got the O.K. to start opening our boxes. 🙂
I was overwhelmed with all the love and how out of the way everyone went to make me feel like a bride-to-be. So many friends and family sent us gifts – both homemade and from our registries – and I wish I could give them all hugs to let them know how much I appreciated their kindness.
So a big THANK YOU to Ashley, May, Cassie, Matt, and all of the other friends and family who made the 26th so special. You really know how to make a girl feel loved. 🙂