As of today, I have officially been blogging at Gettin' My Healthy On for two years!
I had no idea if this little blog would even make it past a couple months, but somehow I just keep on keepin' on. I know if I stopped blogging, I'd have withdrawals because I always think of topics I want to write about. Whether people actually read the end result is not important right now…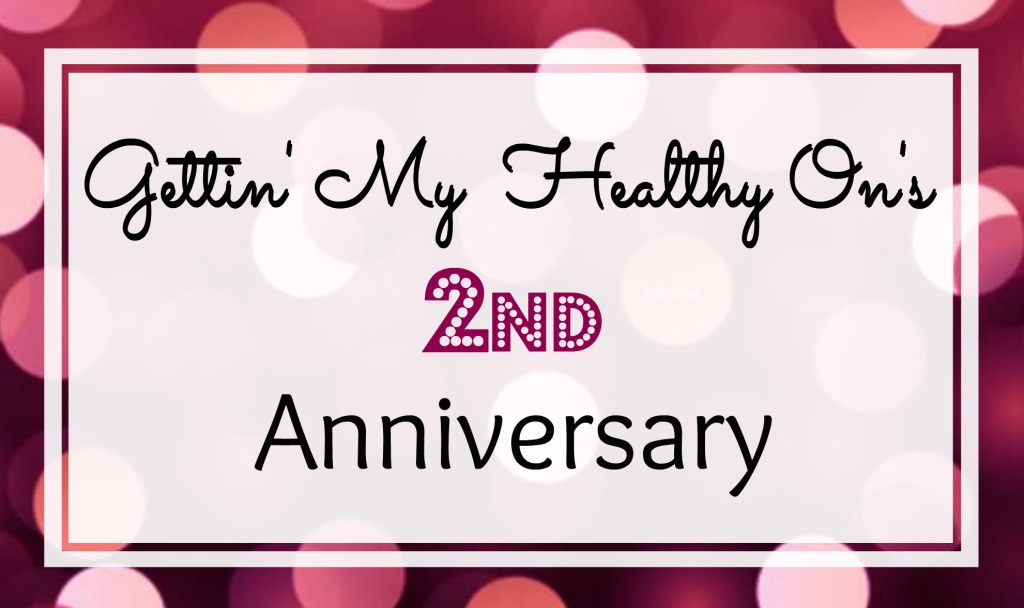 Last year, in my one-year blogging anniversary post, I talked about a lot of numbers because it's just an easy way to gauge progress. I figured I would continue with that today to see how far I've come within this past year:
Social Media Totals
Confession: I'm not a big social media person. I appreciate the concept and am very interested in the details of it all, but I have to force myself to post things most of the time. It doesn't help that I don't have a smart phone / it's actually refreshing to not be able to go on social media anytime I want.
Top 5 Recipes
Top 5 Posts
What the top posts tell me is 1. People like workouts/challenges and 2. People want meal ideas for eating healthier. It's kind of awesome thinking that I might be inspiring people to be healthier! That's the goal, after all.
A new discovery of mine, especially within the past two months, is how wonderful it is to communicate with other bloggers. As an ambassador for Sweat Pink, FitFluential, and Girls Gone Sporty, I have a lot of outlets to get and give feedback and just reach out to bloggers in general. Social media makes this 10x easier. I guess I never realized before how cool fellow bloggers are.
An awesome thing about documenting parts of your life in a blog is you can look back and remember the good stuff. Here are a few things I wrote about between August 2013 and today:
Yay new adventures/progress/I can eat chocolate soon!
Enough about this past year. Let's look to the future. Since there are always a million things I want to do to improve my blog, be healthier, or be less lame, I've compiled a list of goals as I enter this THIRD year of blogging.
Goals for Year 3
Continue posting healthy recipes on a regular basis.
Keep striving for consistently clean eating.
Read and comment on more blogs / be less lazy because people are interesting,
Be more active on social media, which includes getting a smartphone so I can actually post on my new Instagram account.
Find the time and energy to change the design for GMHO because I am sooo over it.
Connect with more readers and bloggers.
Run another half marathon? Maybe? Eeee
Acquire a six pack because that seems fun (abs or beer, you decide).
That about sums it up, I suppose. Have a great weekend, all, and thank you so much for stopping by! Blogging would be super boring without your responses.
For those of you who like the occasional blog post in here: what would you like to see more of?
Fellow bloggers: when did you first start your blog?
Anyone: what should Matt and I eat for our celebratory post-P90X meal? I'm thinking mac 'n cheese – a large vat of it.
P.S. Stay tuned for Monday's post when I'll talk about OUR P90X FINAL RESULTS WHAAA I'M SO EXCITED.