Workouts
Thursday: 26 pushups + 1-mile walk
Today: Possibly my Keep It Light Treadmill Run plus 28 pushups.
This weekend: Last day of my pushup challenge is tomorrow! So, I'll be doing 30 pushups and possibly circuit workout.
---
Warning: This post is going to be link-a-licious. Why? Because I'm excited and will get carried away. And that is because it's…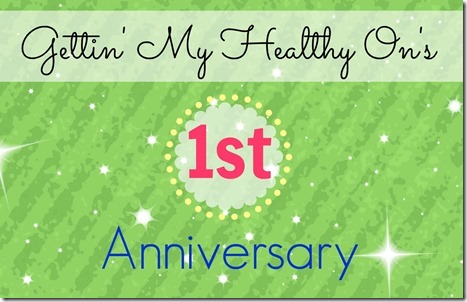 Over the last 366 days (okay, so my blogiversary was technically yesterday), I have published 182 bitchin' posts–or so I like to think they are. During this time, a lot has happened–I have…
Needless to say, it has been one of the best years yet, and I'm pretty excited for what is yet to come.
Blogging has definitely been different from what I first expected, as it's quite time-consuming. The work is definitely worth it though, and I've found blogging to be more rewarding than I ever thought possible. It took me awhile to find my voice because I struggled with being too formal, but now I have more fun with it and use ellipses like it's my job…Now my blog has become more of a conversation–I try to write how I talk. As a result, it's more fun to work on all the time.
At first I was skeptical as to how long I'd keep up with it, but at this point, I can't imagine stopping. I guess I like telling a bunch of strangers about my life? It's nice to know some people care though. Over the past year, I've tried to become more active on the social media–yes, "the"–and now have…
I like to think people are astounded by my endless "wisdom" and random musings. Regardless of these or any other numbers, though, I definitely have some goals for this next year, regarding blogging, fitness, and overall healthy living.
Bless the world with more of my hit

-or-miss

recipes
Read and comment on other blogs more often, especially smaller blogs
Create more groundbreaking workouts
Engage more readers in my posts
Enhance my blog design so I like it for more than a week
Run more races (and convince myself running is fun more than 30% of the time)
Clean up my eating habits (while remaining sane)
Here's a little recap from the last year of my favorite products as well as my top-viewed posts and recipes.
Favorite Products I Have Reviewed

Top 5 Posts

Top 5 Recipes

Questions for you:
What do you look for in blogs? Workouts? Recipes? Humorous anecdotes?
Fellow bloggers: How long have you been blogging for? What's your favorite part of it?
---
P.S. The winner of my Easy Canvas Prints giveaway was Rod! Thank you everyone who participated. 🙂