Sometimes I think that if I wasn't a healthy living blogger, I'd be a beauty blogger. Then I remember I don't know anything about the beauty world, so I stick to what I know how to do. HOWEVER, today is an exception. I'm branching outside of my usual blogging themes of food and fitness to focus on hair, and I'm kind of really excited about it.
One of my favorite ways to waste time get inspired is to go on Pinterest and browse through various categories – one of my most visited sections being Hair & Beauty. My name is Katie, and I'm slightly obsessed with hair styles and hair color. There are just so many possibilities, and I find it to be a lot of fun – this coming from a girl who has barely ever colored her hair and rarely ever styles it in any way (that's beside the point).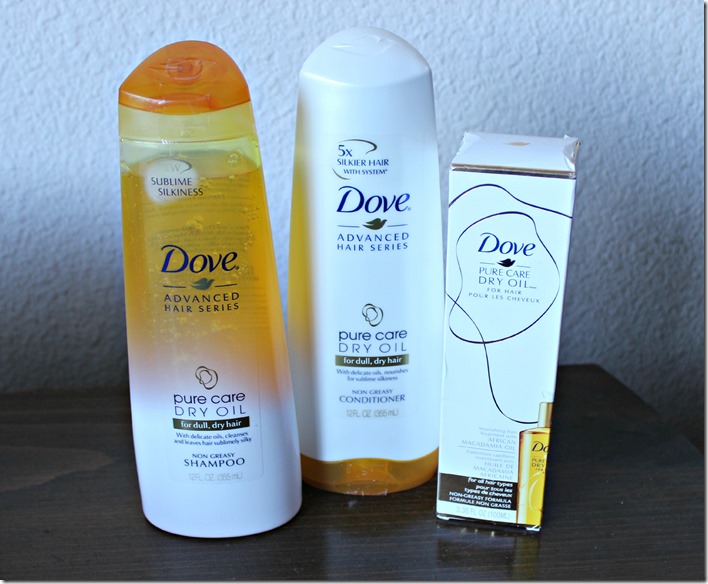 I recently got the chance to try out the Dove Pure Care Dry Oil collection, and I'm going to show you my experience with the products through some hair styling I've been doing this past week. I like to think I'm decent at doing my own hair – I don't do anything too fancy, but I still like to have fun with it and try things from time to time. Below are some of the ways I like to spruce up my otherwise boring hair situation – each "style" used the products pictured above.
Get ready for some awkward selfie action.
Curly/Wavy Hair
This is how my hair is naturally. I let it air dry and put some gel in it to tame the frizz. For this picture, though, I used the Pure Care Dry Oil product instead.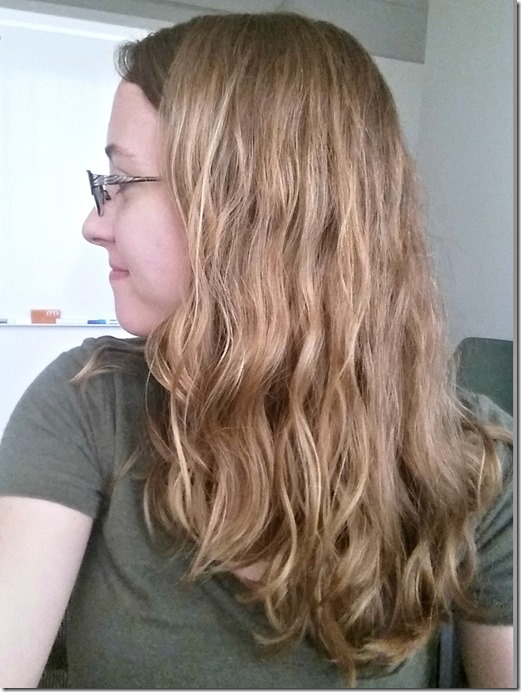 Straight-ish Hair
I straighten my hair about once every 2 to 3 months – it's that rare, people. Having straight hair is awesome because it's so easy to deal with, but I definitely notice the damage it causes my hair, so I usually just refrain, unless I have something exciting going on…like this blog post.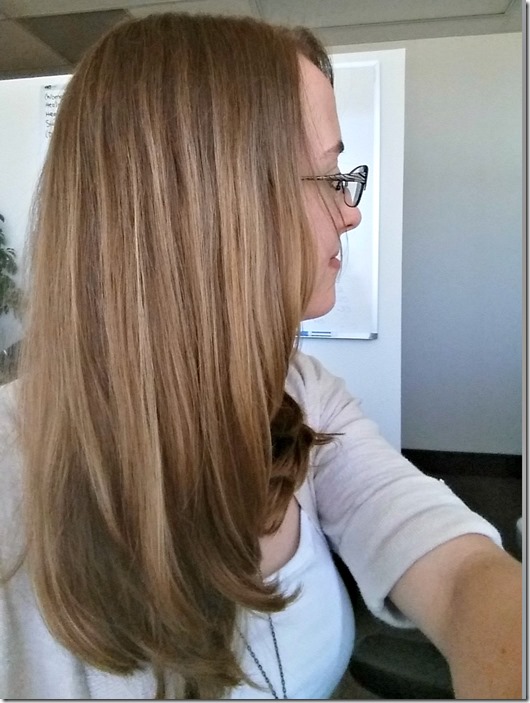 Hair Bun
While I haven't perfected the sock bun, which is probably way easier than a real bun, one of my favorite ways to style my hair the day after washing it is with a bun because 1. it looks nice (or so I like to think) and 2. I don't have to deal with my crazy hair because it's up and out of the way.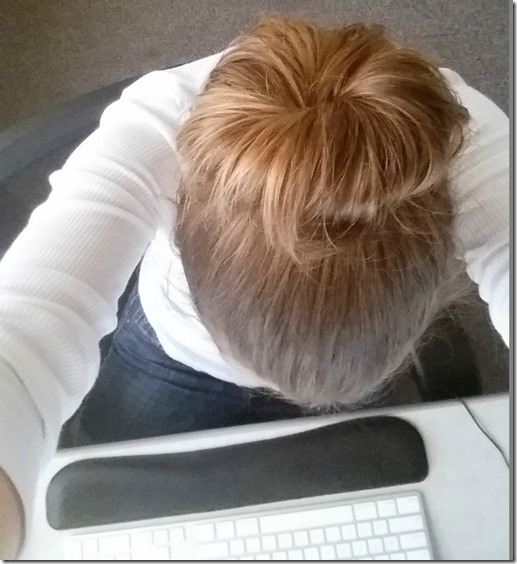 Side Braid
This is also one of my favorite second-day hairstyles. French braid one side of the front of your hair for something different. Plus, it works super well if you're trying to grow out bangs – I know this from my own experience with trying to make bangs work and failing at it.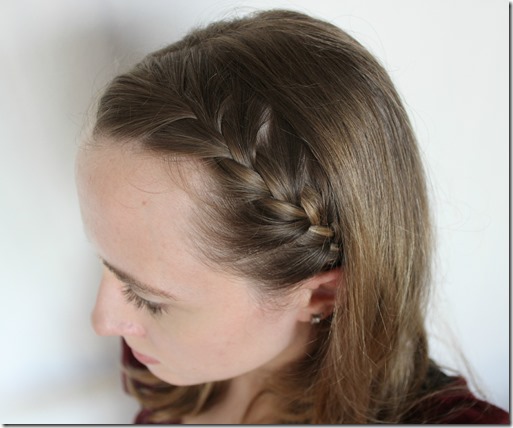 Loosely Curled Hair
I very rarely curl my hair because I like to avoid using heat since it dries my hair out like woa. I tried to make loose curls here, but I after finishing the curling process, I realized that it just looks like a neater version of how my hair naturally goes.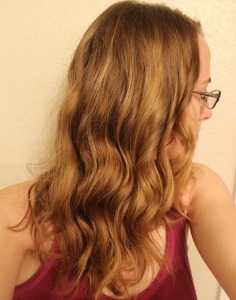 Dove Pure Care Dry Oil Review
Although my hair can often have a mind of its own, I found the collection of Dove hair products to help my mission of gaining control. After just one wash and use of the nourishing oil (as seen on the right of the image below), I could tell my hair was silkier, which made it way easier to style. My favorite part was probably how the products not only helped tame the frizz but didn't weigh my hair down in the process. My hair tends to be really flat and blah, despite the natural waviness, so I appreciated how my hair felt light, without the products affecting the natural wave/curl situation.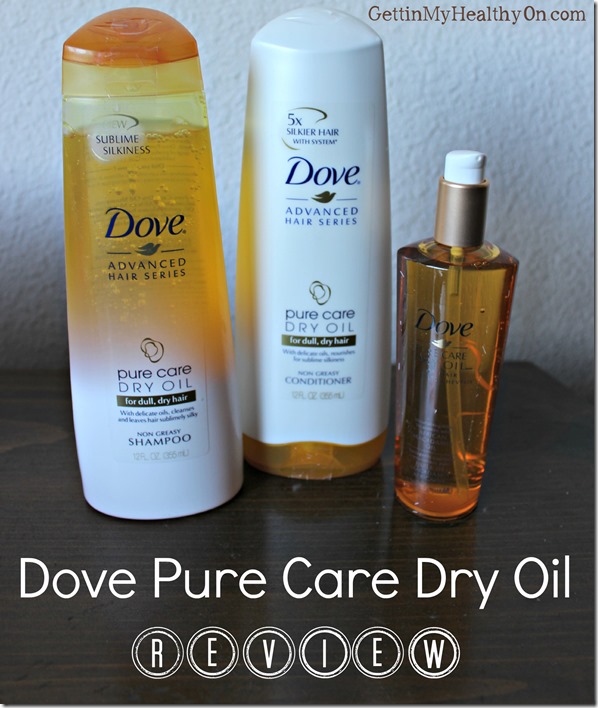 The new Dove collection works on all hair types – straight, curly, or weird (like mine). It was designed to treat dull, dry hair and transform it into silky smoothness. Using all three products together just elevates their effectiveness. If you're interested in trying out the system, I encourage you to participate in…
The Dove Silky Hair Dare
Dove Hair is daring women to try the Dove Pure Care Dry Oil system, going on through December 31, 2014, risk-free. To participate in the dare, just share your results on the social media outlet of your choice, using the hashtag #silkyhairdare. You can also share your results using the hashtag #silkyhairdaresweeps for the chance to win $20,000 in prizes. For more information, visit Dove.com. You can purchase the products at mass, food, and drug retail stores.
If you are not completely satisfied with the Dove Advanced Hair Series Pure Care Dry Oil system, Dove will refund your purchase (from 9/21 – 12/31). Visit hairmoneyback.com for details. For Official Rules, visit http://www.dove.us/Products/Hair/Advanced-Hair-Series/rules.aspx.
I was selected for this opportunity as a member of Clever Girls Collective, and the content and opinions expressed here are all my own.