Remember that one time I mentioned I like cutting my own hair? Well guess what I did last night…besides taking an awkward selfie.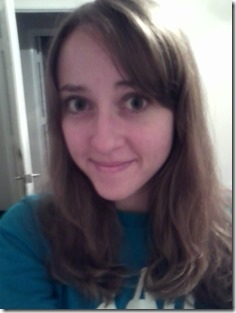 Decided to give myself some side bangs. I think I'm okay with them for now. I haven't cut my hair in ages, so I found it quite enjoyable with just a dash of nerves. Let's hope I don't regret this decision too soon. Yay new hairstyle! Ish!
These Are a Few of My Favorite Things
Check out some of my favorite discoveries from this past week! It's all food-related. Surprise, surprise.
Salad: Apple, Bacon & Pecan Salad. I'm not usually big into bacon, but it can really add a lot to a recipe. This mixture seems quite heavenly if you ask me.

DIY: Bamboo Skewer Knife Block. My knives need a home, rather than just being thrown in a drawer. This seems like an awesome option that looks professionally made!

Seafood Recipe: Honey Lime Shrimp. I made this recipe last week and fell in love. I rarely make shrimp but decided to try this to mix things up. I highly recommend it!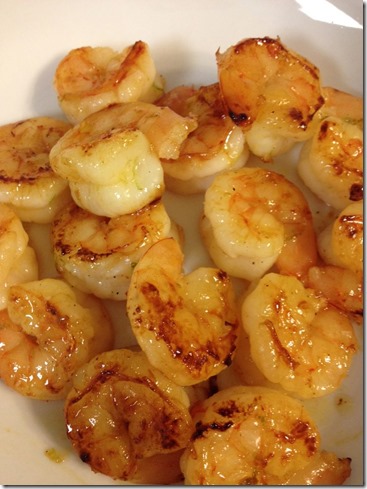 Healthy Snack: Chipotle Honey Lime Almonds. I just stick to raw almonds most of the time, but I think it's time to branch out. Since honey and lime worked so well for the shrimp, I have to believe it's a power combo and will make anything amazing. This recipe intrigues me.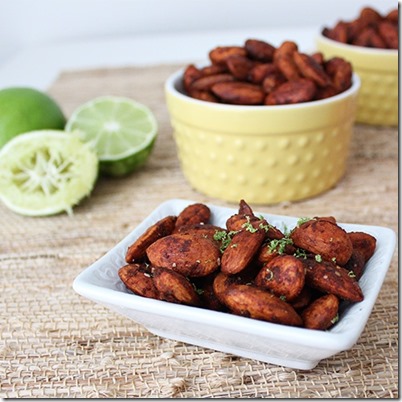 ---
Juice Today Review
Ryan from Juice Today recently contacted me, asking if I'd be interested in trying a few of his juicing samples. I've never actually had legit juiced veggies/fruits but I've always wanted to try it out. In other words, I said yes. He sent me AM Juice, which is composed of organic apple, carrot, beet, and strawberry juice, and Green Juice, which is organic kale, apple, celery, cucumber, and broccoli juice. This is what they look like:
The process is super simple, which I'm all for. You just keep the frozen juice blends in the freezer, and throw them in the blender with some water or the liquid of your choice to get them going. Turns out to be a quick and healthy juice or slushy if you're too excited to let it thaw out.
AM Juice is on the left and Green juice is on the right.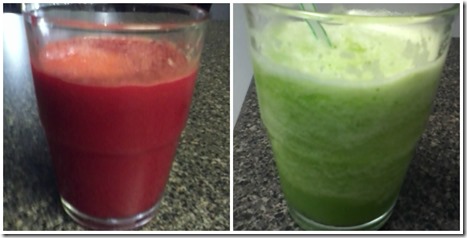 Aaaaand here are the nutrition facts if you're interested! (Click to enlarge for an even blurrier image.)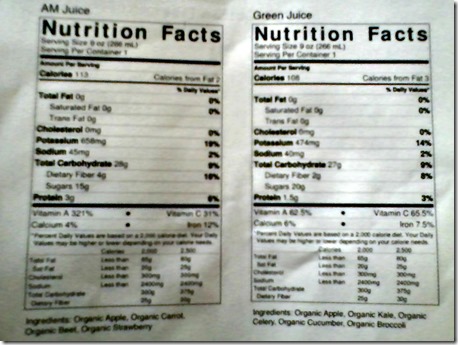 Overall, I give the juice two thumbs up! I wasn't a big fan of the AM juice because I sadly do not like beets, but I was ALL about the green juice. It has an interesting flavor—very refreshing. I highly recommend it.

Check out the Juice Today Kickstarter page for more info! Thanks again Ryan for your generosity.
Disclaimer: I was sent Juice Today for free to review. All opinions are my own.
Questions for you:
Do you juice? Have you ever tried it before?
Have you ever cut your hair? My love for cutting my hair all started during college when my friends and I all decided to cut each other's hair. Random, I know. I also cut a huge chunk out of my hair when I was little. Oh, and cut my Barbies' hair. I guess I like haircuts.
What's your workout for the day? Running outside! Or on the treadmill! Depends if it's dark by the time I get to it.
P.S. Make sure to come back Friday to enter my giveaway!