Well hello!
Happy Wednesday, all. I don't know about you, but I think today should be Friday–not this Wednesday crap. It's been a slow, yet somewhat busy week, which is why I haven't worked out much the past few days. Hopefully, I'll fit something in today.
If anything, it's day 6 in my pushup challenge, so I have 12 pushups to do. Sick. Somehow I've been able to keep with the numbers so far. I've found my lower abs are super sore all the time from doing real pushups the right way. Craziness. I like it.
The rest of this post is full of goodness I'd like to share with you. Check it out!
---
These Are a Few of My Favorite Things
Healthy Snack: Back to School Healthy Granola Bars. I've been looking for a new homemade granola bar recipe, and these sound pretty good! Ingredients include coconut, banana, oats, vanilla, flax seed, milk, chocolate chips, and sweetener.
Ridiculous Awesomeness: DIY Dinosaur Serving Dish. Okay, so this is geared towards a children's party, but I find it too funny and amazing not to post on here. Not sure about you guys, but I'd be more than okay with serving food on a toy dinosaur tray.
Tasty Snack: Lemon Poppy Seed Loaf. I'm a sucker for lemon poppy seed muffins, so I was pretty excited when I found this recipe. PLUS, it uses Greek yogurt, so I'm always down for that.
Addiction: Homemade Soft Pretzel Bites. I've made these a few times, and they always turn out amazing. I highly recommend them for a gathering—mainly because they're hard to stop eating…
Best Price Nutrition Product Review
I was contacted a few weeks ago from the kind people at Best Price Nutrition to do a review of some vitamin and supplement samples they sent me. Although I don't usually take many supplements or vitamins besides the basic multi-vitamin and occasionally a few others, I always welcome the chance to try new ones!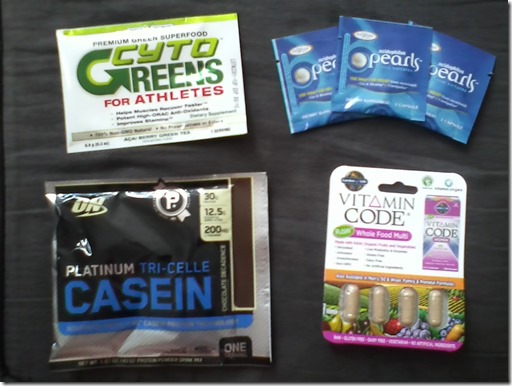 I was sent…
CytoGreens for Athletes (a green superfood with enzymes, vitamins, and antioxidants to replenish what nutrients lost during intense activity): This one intrigues me. It's acai berry green tea that's designed to restore a proper pH balance and improve your immune system–always a plus when you're working out to the point of exhaustion and testing your body's limites!
Acidophilus Pearls (active cultures to help with digestion and offer relief from gas and bloating): Haven't tried them yet, but I've read some great reviews about them. One person compared them to Activia yogurt in how they help tame stomach bloating and discomfort.
Platinum Tri-Celle Casein (a casein protein powder for athletic performance and recovery): I shared this with Matt because there was a lot of protein powder in the packet. It was really good though! I got the chocolate decadence flavor and would definitely be okay with this after my workouts.
Vitamin Code Women's Multi-Vitamins (a raw, organic women's multi-vitamin): These taste a little funky at first because the ingredients are in a casing, but I'd definitely consider making these my daily multi-vitamin. They also come in men's, age 50+, pre-natal, and kids.
Overall, the site has a HUGE selection of supplements to choose from and at great prices, so if you're looking for something, I'd highly recommend browsing their site.
Disclaimer: I was sent the Best Price Nutrition samples for free to review. All opinions are my own.