Last night's workout was quite mild thanks to an annoying hip pain that needs to go away ASAP. Also, the workout didn't happen till about 8pm because I've been a master staller at getting in my workouts lately. I just did an upper body workout in the form of my Toned Arms & Shoulders circuit 3x (which I can definitely tell is getting easier. Yay progress!).
I also wanted to do core work, but a lot of core moves actually hurt my weird hip region problem, so I just stuck to planks—a 2-minute plank before the circuit, 2 1-minute planks (between sets of the circuit), and 2 45-second side planks after doing the circuit 3x (aka I did each side once). It actually turned out to be a good workout. Didn't break much of a sweat, but it was a nice little workout.
Tonight, I'm hoping to at least do an elliptical workout. We'll see what happens.
These Are a Few of My Favorite Things — Healthy Edition!
This past week, I kept finding fun health-related things to put in this post, so now it's just straight-up healthy favorites…plus a review. Enjoy!
Cocktail – Mojito. Most of the time, cocktails are secretly horrible for you—and sometimes not-so-secretly, I guess. Whatever. I enjoy mojitos though because you can make them very simply and without an excessive amount of sugar. BUT it can still be flavorful! We've made blueberry mojitos before, and the fruit makes up for the lack of additional sugar. It's good. Try it.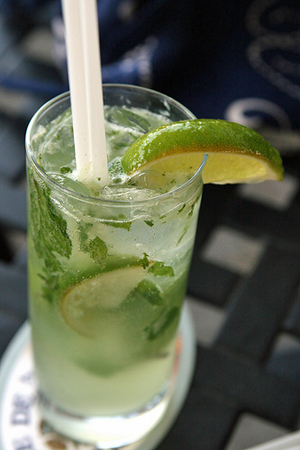 Running Shirt I am in love with this Roadrunner tanktop. I wear it ALL the time. It's loose and lightweight. I hate running tanktops because they always ride up after running, and I get so sick of pulling them down. This one has a little bit of grip at the bottom to help keep it down—plus, it's pretty long. I'd highly recommend it to anyone. It's similar to this one. I can't find it anywhere on Roadrunner's website though.
"Dessert"- Frozen yogurt in a cone. This seems like a great idea to me. You just throw some yogurt and fruit in a waffle cone and freeze it. I think I'd like it better not frozen though. Or, perhaps halfway frozen. Not quite sure.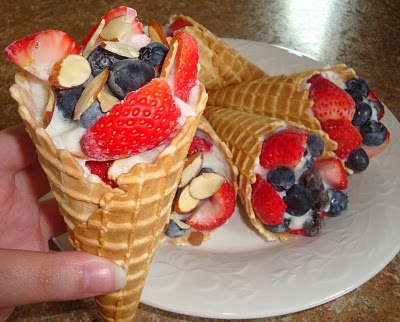 Running Rules – 10 Commandments for the Runner. I love these because they apply to any type of runner—beginner to Forrest Gump (aka experts who run across the country). Very solid advice.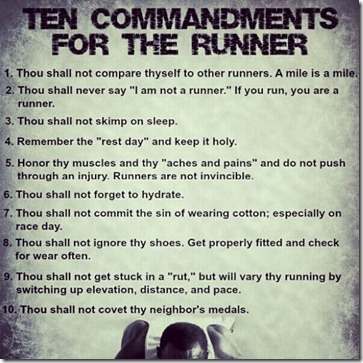 Box of Samples – Kona Kase. I am all about these sample boxes. I talked about Bestowed last week (P.S. the giveaway is going on until this Thursday!). I'm a Bulu Box Ambassador and am able to offer a free 1-month subscription (use the code BULUGAN866). And last week I received this beautiful box in the mail.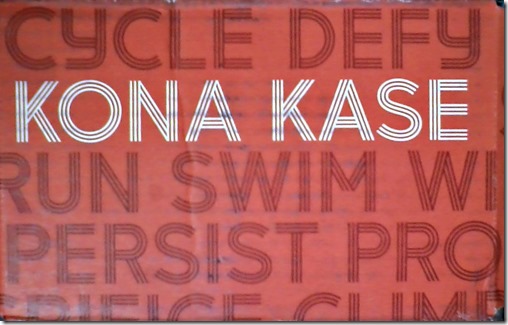 In the Kona Kase box, I received endurance nutrition samples in the following forms: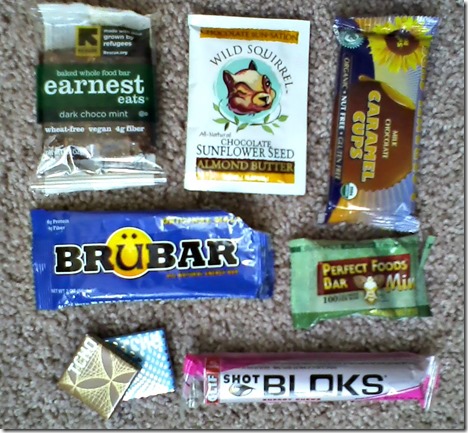 Earnest Eats Food Bar, Wild Friends Chocolate Sunflower Seed Almond Butter, Suncups, BRUBAR (yes, that's an empty wrapper), Perfect Foods Bar, TCHO Chocolate (2 not pictured because they were eaten asap), Clif Shot Bloks, and a Peanut Butter Clif Bar (also not pictured because I was excited to eat it and forgot to take a picture first).
Bloody hell. I like surprise food samples. That's all I have to say, ESPECIALLY when it's associated with fitness. Most of these are for pre- or post-workout snacks.
So far, I've only had the caramel Suncups, Brubar, TCHO, and Clif Bar. All are winners in my book. I'm really excited to try the rest though. I've decided I need to have super intense/long workouts again to feel worthy of using the Clif Shot Bloks. The Chocolate Sunflower Seed Almond, on the other hand, I can't believe is still is here. Probably has something to do with the fact that I didn't realize it was chocolate until yesterday.
Now for the good stuff…
If you'd like to try out Kona Kase, you can use the code GttnMyHlthyOn for 50% off your first box! Aka it would be $7.50. Not too shabby in my opinion for several products that are usually a bit pricey by themselves!
Running Quote – Run when you can. I received a card with the Kona Kase, and this quote was on it. I'm a sucker for motivational quotes. So in regards to this one, true 'dat.