Brighten up breakfast with this mixed berry smoothie bowl that combines frozen blueberries, strawberries, and cranberries for an antioxidant-rich bowl of goodness.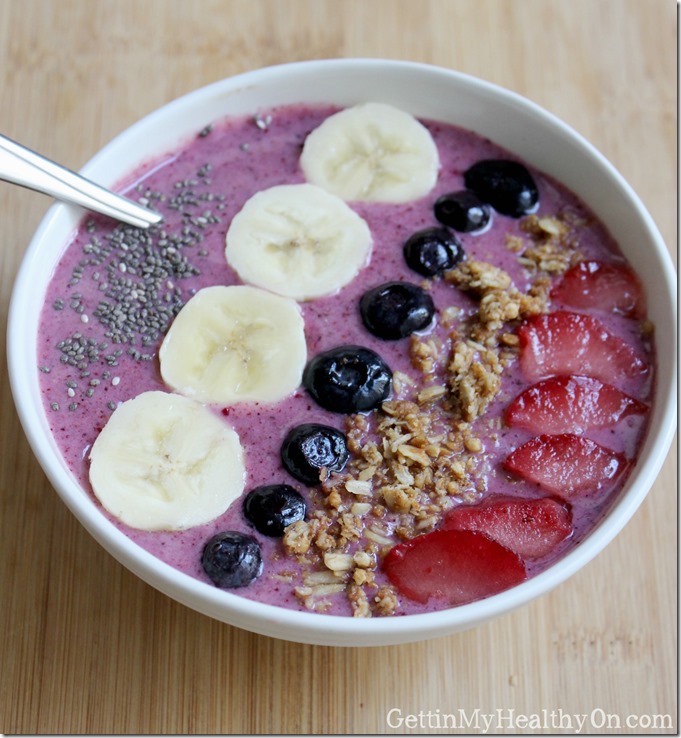 There is one major reason why I think smoothie bowls are way better than regular smoothies: the toppings. They remind me of acai bowls, which remind me of ice cream because of the creamy, cold base that has a bunch of fresh toppings. So really, smoothie bowls are like ice cream. (Just let me believe what I want to believe.)
Whenever I need a healthy boost, I think of smoothies – especially my protein spinach smoothie. Making smoothies a bit thicker and making them the base for other goodness to layer on top is 10x more exciting. Plus, I get to play with my food to make it pretty, so I mean…win, win. While I have my berry spinach smoothie that I make all the time, I figured it was time to make a smoothie bowl version. This one is similar yet different. For one, there is no spinach. The rest of the ingredients are basically the same.
I used my handy dandy NutriBullet to blend 1/4 cup frozen blueberries (or as I like to say: bloobs), 1/4 cup frozen cranberries, 1/2 frozen banana, around 3 frozen strawberries, 2 tablespoons plain Greek yogurt, and approximately 1/3 cup water to get all the stuff moving. And just for good measure, I added two pinches of xanthan gum to help thicken it (totally optional, though).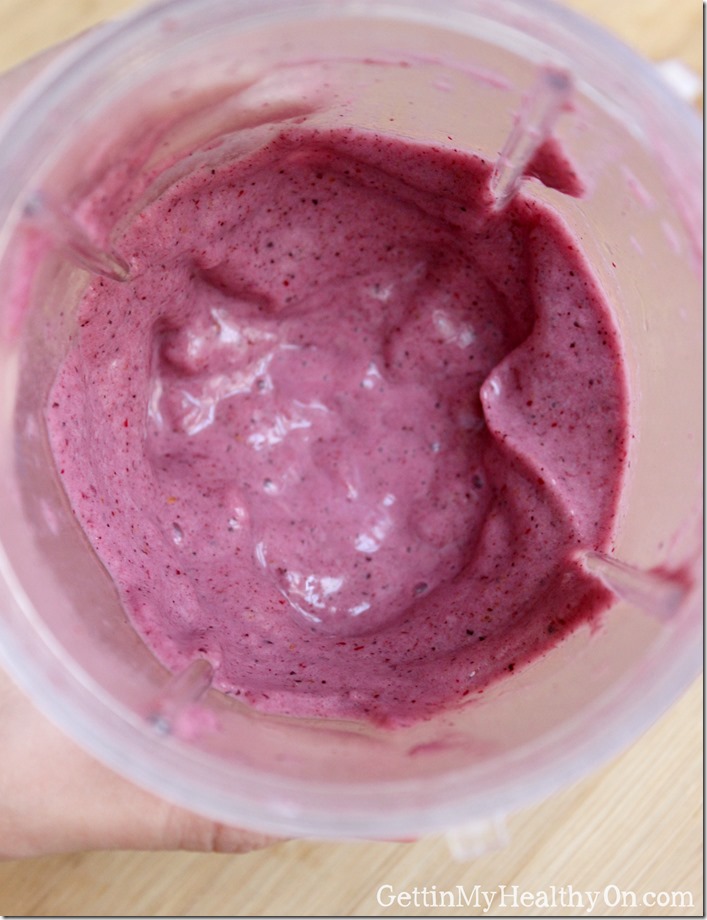 It's really easy to overdo it on the water, so I'd add at least 1/2 cup and then add a little bit at a time. Depending on your blender, this may be easy or difficult to get to mix. I found with our older blender, it wouldn't mix until I added a bunch of water, which thinned it out to the point of being a smoothie. This completely ruined the thickness needed to hold toppings, so I had to move on from the old and turn towards our better one.
The mix of frozen berries made for the perfect smoothie base to hold toppings like granola, chia seeds, banana, strawberry, and bloobs. Can we talk about granola on smoothie bowls for a second though? This was the first time I tried it, and it was perfection. I HIGHLY recommend it.
Mixed Berry Smoothie Bowl
Ingredients:
1/4 cup frozen blueberries
1/4 cup frozen cranberries
3 frozen strawberries
1/2 frozen banana
2 Tbs plain Greek yogurt
1/3 cup water
optional: 2 pinches xanthan gum
Instructions:
Add all ingredients into a blender.
Blend until smooth.
Pour into a bowl, and top with fresh fruit, granola, and more.
Recipe from GettinMyHealthyOn.com
Have you ever tried making a smoothie bowl?
What are you favorite toppings for smoothie bowls or acai bowls?