There are so many interesting health foods these days, and one of my new favorites is hemp seeds – more specifically, the shelled seed, aka heart. I wrote about some healthy food trends that intrigue me awhile ago, and I'm adding hemp seeds to the list.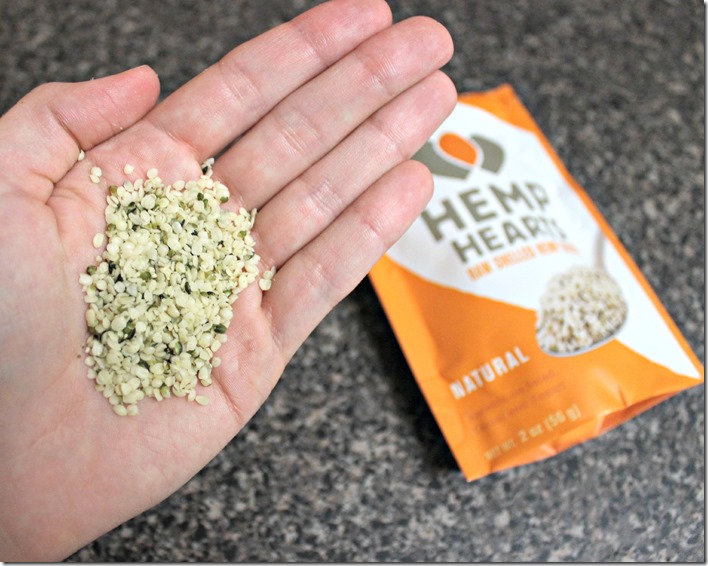 Hemp seeds are at the top of the hemp plant and can be made into a variety of food products, including hemp oil, hemp protein powder, and hemp hearts. I had the pleasure to try out Manitoba Harvest's shelled hemp seeds and found them to be quite the versatile ingredient for cooking.
If you weren't aware, hemp seeds are packed with nutrients. For every 30 gram serving, they contain…
10 grams of protein
10 grams of Omega fatty acids
100 grams of awesome (be careful not to o.d.)
Fun fact:The seeds actually have more omegas and less carbs than chia or flax seeds! They have a slight nutty flavor and seem to go well on a large variety of foods. The Manitoba Harvest recipe page features the hearts in smoothies, desserts, salads, dressings, and more. I threw the seeds on a few different foods, including tilapia for a crust-like situation and then steamed vegetables for added flavor and protein – both were quite good, but my favorite way to eat these was probably on my morning oatmeal.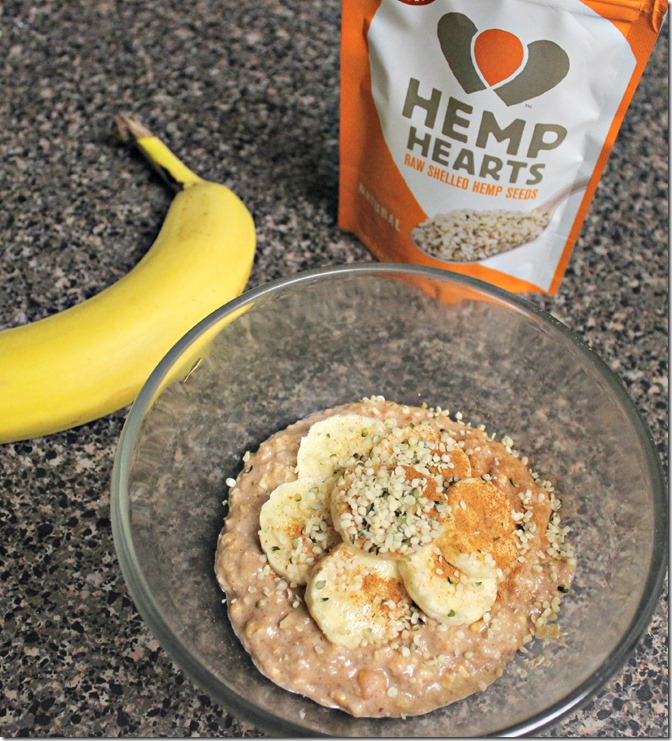 I threw these bits of healthiness on my Peanut Butter Banana Oatmeal, and they proved to be a great addition. Plus, I'm all for extra protein because I'm pretty much always hungry – I'm ready for lunch most days by about 9 am.
And just to acknowledge the potential elephant in the room, these seeds do come from the hemp plant, but industrial hemp plants have only .001% of THC, meaning they won't cause a psychoactive effect and won't skew drug tests. Poppy seeds, though. Watch out for those.

I thoroughly enjoyed the addition of hemp seeds to random foods and look forward to trying them out in other dishes, like my Nut & Seed Granola Bars, Greek Yogurt Banana Bread, or ya know…my hand..as a random snack…because why not. The possibilities are endless.
If YOU would like to see what this hemp heart action is all about, the generous people at Manitoba Harvest are offering to give one Gettin' My Healthy On reader a sample of the product. Just enter my giveaway below for the chance (or several chances) to win a bit of the healthy goodness!
If you want to explore the Manitoba Harvest website, you can get 20% off everything with the code HHSweatPink – which expires 11/30/14. Another opportunity for you to win Hemp Hearts – 5 POUNDS, to be specific: Manitoba Harvest is rewarding one lucky winner who does the following: use hemp hearts in a delicious way in the kitchen and share on Instagram and/or Twitter, tagging @manitobaharvest, #hemphearts, and #sweatpink for an automatic entry. (Ends 11/30/14.)
Good luck!