I feel like so many people eat crap and then take supplements or medicines to make up for the effects their diet has had on their body.  When you really think about it, it doesn't make any sense. We try to find an easy way out without changing our habits. What really makes the difference is going to where the problem begins though.
By incorporating more healthy choices through food and exercise, we could be so much healthier and not have to look for that "easy way out." As I've started exercising more, I've become much more aware of what I'm putting into my body. The fact that I'm beyond cheap has almost helped me eat better in a way. It has motivated me to buy raw ingredients and make more complex things with them. A bag of plain brown rice is so much cheaper than buying pre-packaged, flavored rice. I also buy a large canister of oats instead of using the flavored packages—less sugar and more freedom in how you can fix it! These are just two really basic ways I buy really plain things and make them work for me. I've found that this way of saving money has made it easier to eat healthier because I know exactly what is going into my food.
One of the best ways to eat healthier and make food your medicine is to eat foods that are as close to their origin as possible.  As I buy raw ingredients and jazz them up myself, I won't, without knowing it, be eating a lot of preservatives and sugar. Eating pre-packaged meals can get you sometimes because you're not always aware of all the little things they put into the food. By decreasing the amount of processed foods you eat and increasing your intake of basic ingredients, you'll have a much better idea of what you're putting into your body.
Another way to eat healthier is to eat more fruits and veggies—that's kind of obvious though. I found this guide that tells you what type of produce is in season throughout the year. It makes eating healthier much more affordable and possible. The list also tells you which produce you should buy organic, which has the most nutrients, and which are available year-round—all good things to know!
To sum it all up, look for ways to prevent disease by eating healthier and being more active. By doing so you can make your food your medicine. Treating your problems doesn't always last, but taking certain precautions can give your body the love it needs to be healthy and problem-free for the future.
---
On a lighter note, I've had a recipe for a little while that I've been meaning to share. I find chicken to be boring a lot of the time, but when I made the following recipe, I was pleasantly surprised.I ate it straight up and didn't even need any sauce to eat with it! That really means something because I always eating my chicken with BBQ sauce or ketchup because I get really bored with it.
Wannabe Jerk Chicken is basically a kickass marinade of thyme, garlic, onion, olive oil, vinegar, soy sauce, and a whole bunch of other stuff.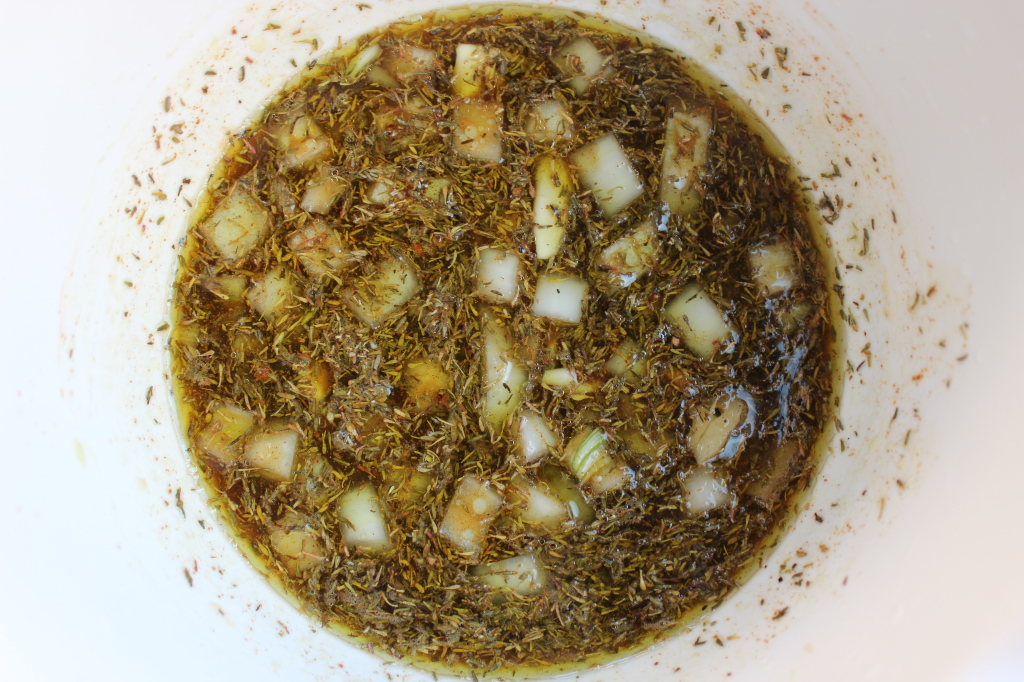 This recipe just goes to show how marinating chicken can add a ridiculous amount of flavor. Mmmm.
Wannabe Jerk Chicken
(Adapted from this recipe from Iowa Girl Eats.)
According to Wikipedia, Jerk seasoning usually relies on two ingredients: allspice and Scotch bennet peppers. Since this recipe has neither but rather uses a collection of other Caribbean Jerk spices, it shall be called a wannabe.

Ingredients:
4 chicken breasts
1/4 t cloves
1 T dried thyme
1 T brown sugar
3/4 t nutmeg
3/4 t cinnamon
1/2 t cayenne pepper
3/4 c white vinegar
1/2 c orange juice
1/4 c olive oil
1/4 c soy sauce
juice of 1 lime
2 green onions
1/4 c chopped white onion
5 garlic cloves, crushed
Directions:
1. Combine the 6 spices into a large bowl. In a smaller bowl, mix the vinegar, orange juice, olive oil, soy sauce, and lime juice.
2. Slowly whisk the wet ingredients into the dry until smooth. Add green onions, white onions, and garlic, then add chicken. Cover and refrigerate at least one hour.
3. Bake the chicken at 375 degrees until no longer pink in the middle (usually 20-30 minutes). Serve plain or with your favorite sauce.
It has a long ingredient list, but it's so worth the effort! Plus, you just combine them all, marinate the chicken, and bake it. 'Tis quite simple.
Hope you are all having a great weekend!!
Do you follow a special diet? Paleo? Vegetarian?
What's your favorite quote?
I don't have one specific favorite, but I've found a lot that  I love through Pinterest! Check out my Words board if you're curious. 🙂
Are you doing anything awesome this weekend?
I get to hang out with my sister and other friends tonight so I'm pretty pumped!