Today is a magical day!! Not only is it Friday, but it's also the day we get the keys to the condo we just found out we got (read: we're moving). Oh, and I completed the last workout in the third and final phase of the LiveFit bodybuilding program!!
These last four weeks have been…different. Cardio has been almost every day, and the workouts have been high reps. Both of these are complete opposites of Phase 1. While I've liked some of the changes in Phase 3, I've also not been loving other parts. Regardless of how I felt, I did a decent job of keeping up with the workouts and am pretty pumped I made it to this day!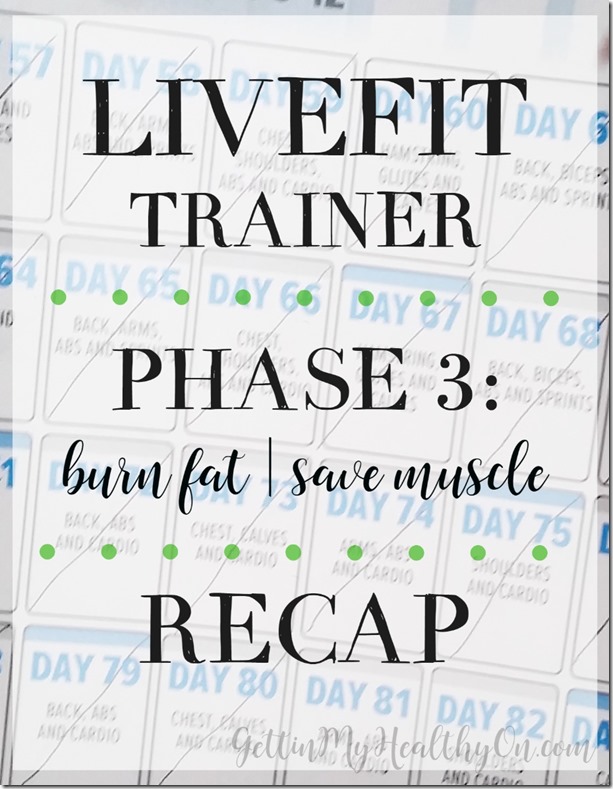 Keep reading for some of the thoughts I had, changes I made, and lessons I learned over the past four weeks.
Phase 3 Workout Recap
Working out in the morning has been a life saver. After slacking too much one week, I decided to resume my morning workout habit of years past, and it's exactly what i needed to get my drive back.
I prefer splitting cardio and weight lifting workouts onto different days. In the past, I've often made circuits that combine both, but doing more grueling weight lifting and cardio? I've found that instead of one back-to-back workout that takes almost 2 hours and is sometimes too demanding for my body (joints, energy level, etc.), I much prefer dedicating different days to different fitness goals.
I haven't been following the exact fitness schedule. This is partly because my hips and knees have been moody lately. Also, though, life gets in the way sometimes and I took some extra rest days, putting me 1 week behind. However, I've been prioritizing the weight lifting routines pretty strictly besides that. The cardio and sprints, on the other hand, I've only been doing a few times a week.
Using free weights instead of gym equipment has caught up to me. Some of my alternative exercises (dumbbells instead of machines) duplicate other exercises in the routines because there are so many now. As a result, I've been duplicating some exercises or doing slight variations of them. It's not ideal, but it definitely has been sufficient.
It's easy to not push yourself hard enough. I realized within the beginning of Phase 3 as the workout structure changed (higher reps, lower weight) that I was taking it way too easy on myself and not lifting heavy enough. Realizing this problem was a good reminder that you need to constantly re-assess your abilities so you keep challenging yourself!
Phase 3 Nutrition Recap
Eating every 2-3 hours is the most underrated nutrition tip ever. I've enjoyed this throughout the entire program, but the magic of it didn't occur to me until this phase. I want to binge on junk food less often and am never starving—it's effortless and so effective.
Protein-centric meals still feel so forced. You can become a pro at eating more protein, sneaking them into every meal, but ugh! The often meat-centric habit gets old fast. I applaud anyone who sticks to a high protein diet without slacking! It's definitely something I have to constantly work at and be conscious of.
My appetite has noticeably increased. Normally, I'd find this annoying because I hate being starving out of nowhere (though the regular snack schedule makes a HUGE difference). The weight lifting schedule plus an increase in cardio has been requiring me to eat more calories in order to maintain my energy levels. It's kind of cool to notice the increased calorie burn in this way.
At this point, I've established a routine to make healthy eating less effort. If you find a way to eat healthy that you like, keep at it and make it a routine! I've been making a version of my Lemon Protein Cake Bars every. single. week. And I try to always have diced cooked chicken on deck in the fridge for easy, throw-together meals. Little changes like these have made ALL the difference. I still have a lot to improve upon, but I'm proud of the progress I've made!
Portion sizes have become second nature. Although I haven't been following the LiveFit nutrition plan very strictly over the past month or two, I've made changes based on what I learned in Phase 1. A big one is serving sizes of various carbs and proteins. There's less guesswork when I'm making balanced meals. I can pretty accurately eyeball different portion sizes for my needs, which makes me feel more confident about the amount of foods I'm consuming.
And those were some of my main takeaways from Phase 3 of LiveFit! Stay tuned for my results and recap of the entire program in the next couple weeks. 🙂 Until then, I'll be swapping my LiveFit workouts with some diligent packing, moving, and unpacking. SO EXCITED (not sarcasm). Enjoy your weekend!!