I spent the weekend doing a little of this and a little of that.
My goal was to get some fall decorations to jazz up the casa, but that did NOT happen. I got a few candles if you want to count them as decorations. They're wonderful. And were cheap. I got the Pumpkin Spice one at Kohls and the Honey Crisp Apple candle from Marshalls. Neither were more than $10. (I don't understand how candles are SO friggin expensive. Dumb.)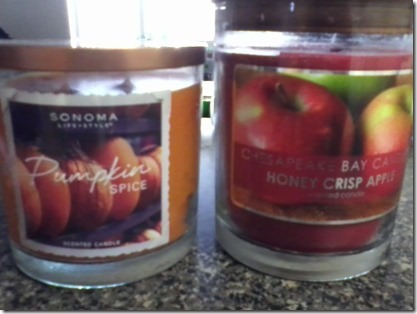 In addition to the fall-tastic candles, I purchased apple cider (not fresh stuff, but I was really craving cider), pumpkin puree, cloves, and allspice. I have plans. Baking plans. I'm excited.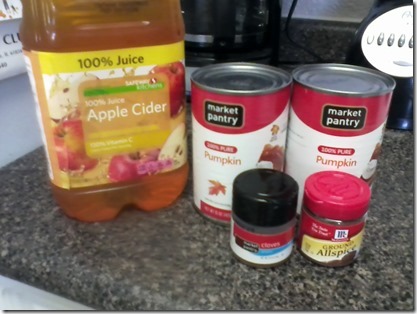 While I was at Marshalls hunting for decorations, I "bled my own blood" (name that movie!). I was trying to get to a candle in the back of a shelf, so I was sliding some candles over when I accidentally touched a broken one without realizing it. Can I just say…how on earth can such a little glass cut result in so much blood?! I found a salesperson, and they got rid of the candle. Then they asked me a question I have never been asked before: do you want a bandaid or do you want to press charges? It caught me off guard.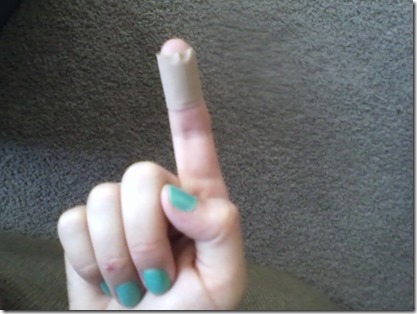 I declined, though, and asked for the bandaid. I was awkwardly walking around the store for awhile, waiting for it to stop bleeding so I could continue shopping. I feel as though I should have asked for my Honey Crisp Apple candle for free or something, but I guess I'm too nice.
Questions for you:
Ever injured yourself at a store? What did you do?
Have you been preparing for The Great Pumpkin (Charlie Brown, anyone)?
Cold cider or hot cider? Depends on the day for me. They seem like completely different drinks. I find hot cider goes really well with desserts.