Workouts
Yesterday: Took a rest day from a normal workout but did 90 squats for my squat challenge
Today: Steady 'n' Sweaty circuit workout + 100 squats
---
This one's for my homies fellow bloggers out there.
If you blog several times a week like me, you may occasionally stare at the screen and think, "Now what?" A lot of the time, I know exactly what I want to blog about, and I'm all bing-bang-boom–DONE! Other times, I'm at a loss for words, and end up spending way too much time brainstorming.
Within this past year, I've come up with a little trick to help me never run out of topics. It's basically a never-ending brainstorm session. Figured I'd share with the crowd.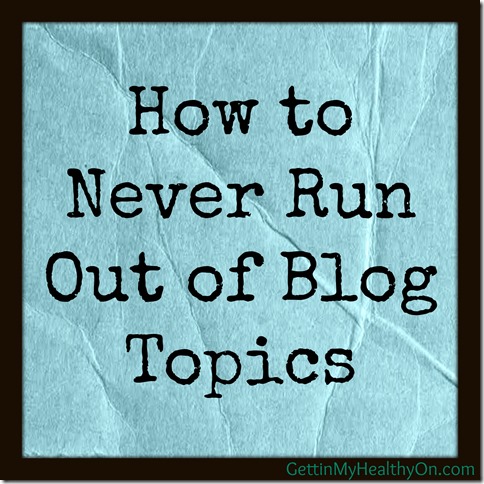 First of all, Google Docs is my best friend. I have so many different spreadsheets with lists and such (e.g. my easy meal planning doc)—it's all a bit excessive, but I love it. To make sure I never run out of blog topics, I am continuously adding to my "Topics" spreadsheet with blog post themes. Whenever an idea strikes me, I throw it in the doc to possibly come back to later. With each topic, I jot down supporting info that's on my mind at the time. Then, if I'm at a loss for what to write about later, I check out my Google doc, and it's like gold—saves me so much time and my sanity. See below: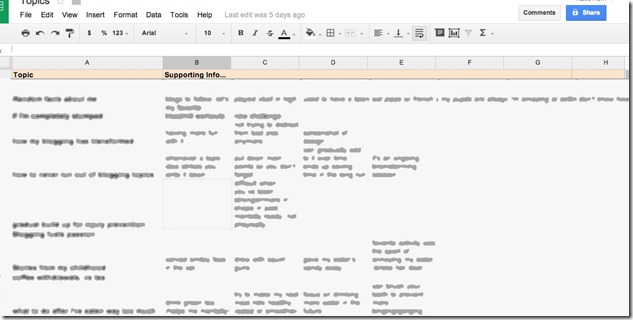 I highly recommend it. The list of ideas helps me be more creative and write more quality posts—or so I like to think.
Yay for time management! Blogging can be a huge time commitment, so I'm all about planning ahead when I can. It's kind of like my gift shopping trick. I've found that having lists to constantly add to throughout the week/month/year helps my future self. Hope you find this as useful as I have!
Questions for you:
What time-saving tricks do you use?
Are you a crazy list maker? I'm definitely becoming more of one.
My homies fellow bloggers, how do you keep coming up with new topics?