Cool off this summer by trying this easy-to-make cold brew coffee in a French press – you'll wish you had tried it sooner!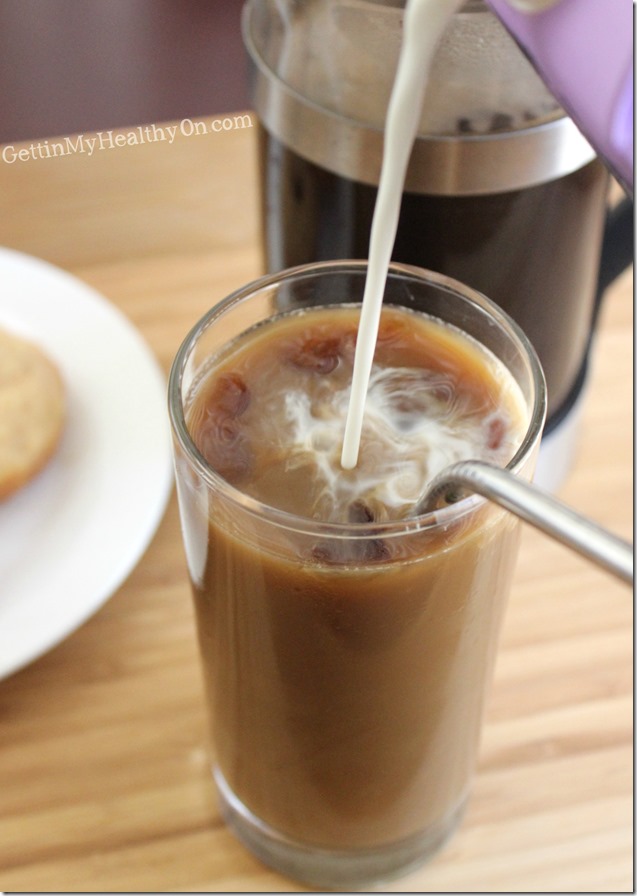 Happy [official] first day of summer! It was consistently above 100 degrees in our area of San Diego yesterday, so I put on some active wear and just embraced the stickiness while I did a bunch of house work and baked (because turning the oven on is clearly a great idea when it's 80 degrees in the house #WorthIt). It's supposed to be even hotter today, so I might have to go stand in front of the fridge for awhile.
Considering what appears to be the beginning of a very hot summer, there's really no better time than now to share a refreshing recipe for ridiculously easy cold brew coffee. I don't know if anyone else has noticed, but cold brew coffee has really taken off. I see fancy little bottles of the stuff at stores all the time, and I always talk myself out of buying them because they always seem to be super overpriced. So I thought…okay…how hard can this really be to just make myself? The answer: not at all.
FYI, cold brew coffee ≠ refrigerated brewed coffee. That's my usual method of making iced coffee at home, but there are a few special qualities of cold brew you don't get from the usual hot drip brewing technique.
Less acidic, so you can taste the true beauty of your coffee grounds of choice
Easy to make the night before and even easier to grab as you're running out of the house the next morning
A reason to use your IKEA French press that you basically never use anymore
Okay, so two out of three will apply to most people.
If you're ready to try this cold brewed coffee phenomenon, all you will need is ground coffee (I use regular store-bought grounds), a French press (another container could work – you'll just need a filtering device), and some water. Dump the desired amount of coffee grounds into your French press to make the coffee concentrate, and place the plunger on top. Store in the fridge (room temperature is also fine) for at least 12 hours to allow the sweet coffee bean nectar to leach out into the water.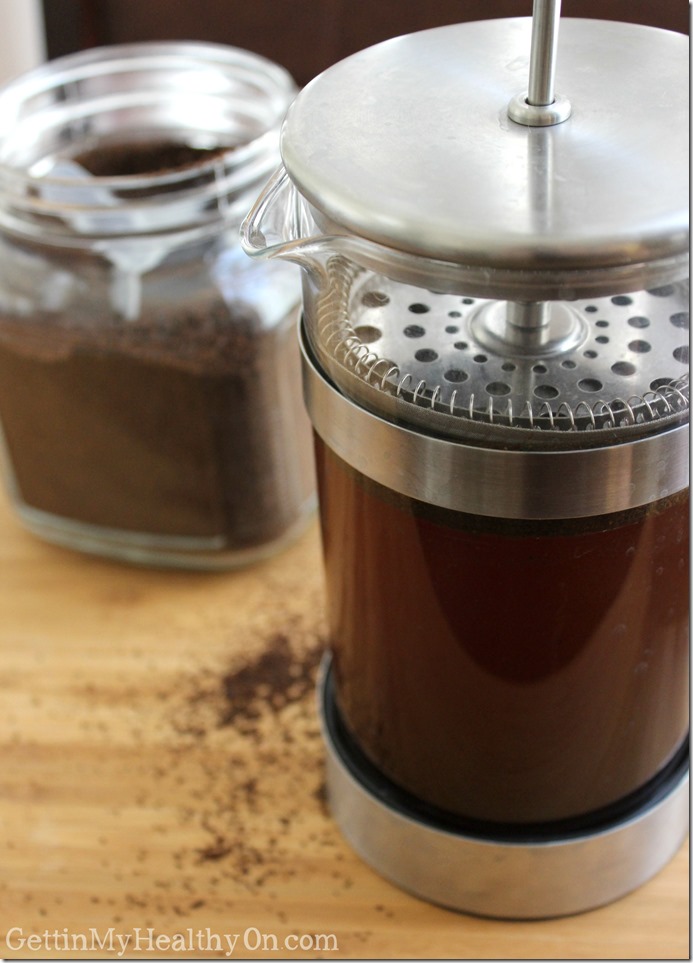 Then push down the plunger and pour yourself a tasty glass of the coffee concentrate with an equal amount of water, milk, and/or half-and-half. I recommend using less water/milk/cream if you're going to add ice, though, because this will further dilute your coffee as it melts. Or, you could always make coffee ice cubes – aka you pour brewed coffee into an empty ice cube tray; let it freeze; then pop the coffee cubes out as needed into your cold coffee beverages.
For those of you who don't own a French press and have no desire to go purchase one, I've also made the cold brew concentrate by just mixing it all in a big mason jar, letting it soak overnight, and then straining it into another container through a coffee filter that has been secured with a rubber band. Cheese cloth could also work.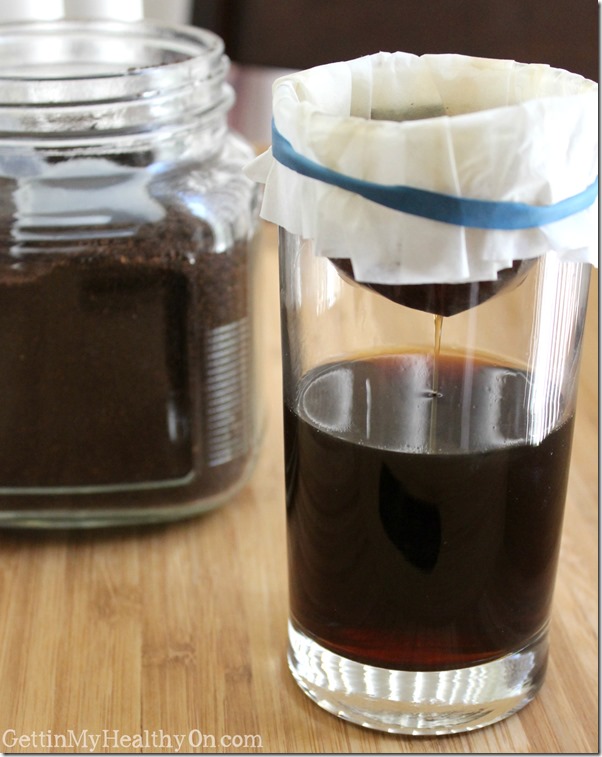 Just a heads up, the ratio of coffee to water will depend upon your boldness preference. I've played around with this a bit and found the following to work best for me to make the concentrate, which I then double with a blend of milk and water.
Cold Brew Coffee Concentrate
Ingredients:
2/3 cup ground coffee
3 cups room temperature water
Instructions:
Pour grounds and water into a French press. Place the plunger at the top.
Store in fridge for at least 12 hours.
When ready to serve, push down plunger. Pour enough for half a glass, then dilute with the same amount of milk, water, and/or half-and-half (or less if adding ice).
Recipe from GettinMyHealthyOn.com
You should be able to store the concentrate in the fridge for as long as one to two weeks, but freshness will vary. I usually don't have the concentrate more than a couple days, especially lately, because I've had a lot of spontaneous so-tired-I-could-die moments that require caffeine.
Have you ever tried cold brew coffee?
What's your go-to coffee beverage? Black? Coffee with a splash of cream? Milk and sugar with a splash of coffee?