Has anyone else noticed the increasing popularity of people "counting their macros"? I follow a lot of fitness people on social media and feel like I'm always reading about them trying to meet their macros for the day. It wasn't until recently that I actually researched what this phenomenon is, and I found it so fascinating.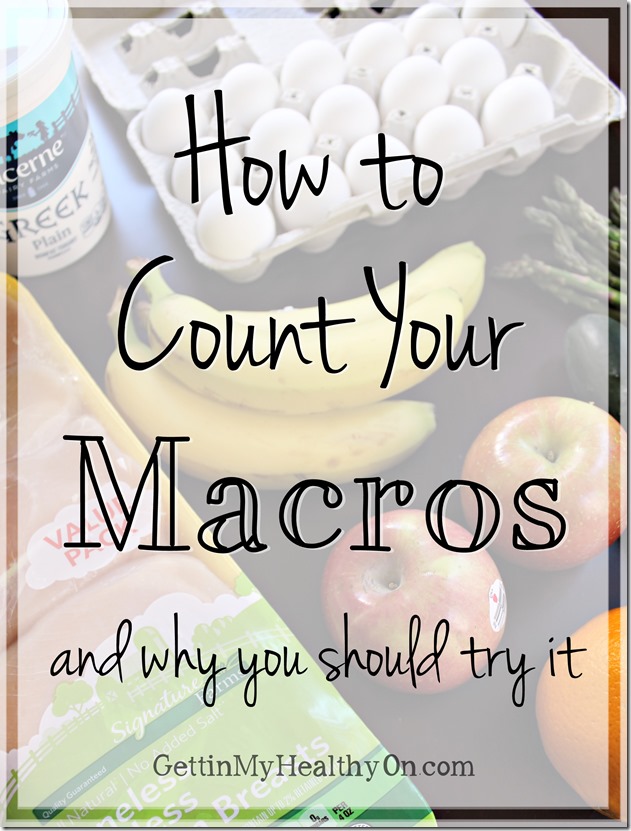 Calculating your macronutrients is basically a step beyond counting your calories because, in addition to this, you're also tallying how many grams of carbs, fat, and protein you're consuming throughout the day (aka your macros). This is the basis of "Flexible Dieting" (or, If It Fits Your Macros; IIFYM), which means you're counting your macros to achieve your goal body composition (hence why it's a big trend among those who are all about the #gains). So, whether you want to lose weight, gain muscle, or maintain your bodyweight, counting calories and macros can help you make sure you're reaching your goal.
If you weren't aware, the whole point behind counting your calories, at least if you want to maintain your weight, is you want to eat about the same number of calories that you burn throughout the day. By taking this a step further and counting your macros, you're being more strategic in the nutrition needed to lose/gain fat or muscle.
How to Calculate Your Macros
When it comes down to it, your metabolism, lifestyle, and overall health all play a role in what's required to reach your goals. However, just following general guidelines as explained by IIFYM can help you figure out where to begin with your ratio of carbs to fat to protein. You know, so you don't deprive yourself all day and end up like…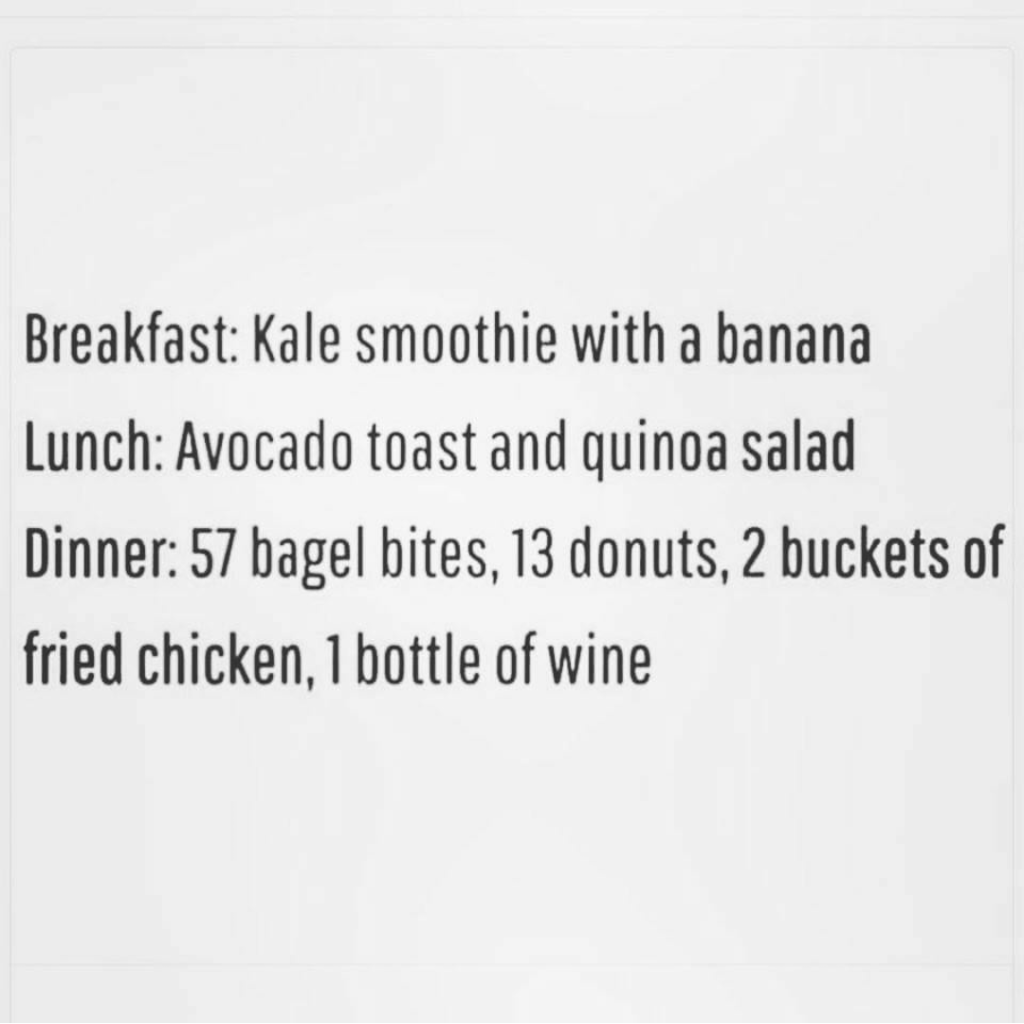 It's about striking the right balance for your body so it functions at it's best.
To determine how much of each you should strive to eat each day, you have to calculate the average amount of calories you burn each day. (You can read more about it in more detail here.) If you like math-ing, the basic formula I found is:
For men: (10 x weight (kg)) + (6.25 x height (cm)) – (5 x age (y)) + 5 = Resting Energy Expenditure
For women: (10 x weight (kg)) + (6.25 x height (cm)) – (5 x age (y)) – 161 = Resting Energy Expenditure
FYI: Resting Energy Expenditure (REE) is the amount of calories you need before factoring in activity/movement during the day.
There's a lot of science behind this that I'm not going to get into, but if you're more of a plug-and-chug type of person, I recommend this flexible dieting calculator to figure out your macros based on factors like: your age, weight, height, sex, as well as your level of activity.
When I did this, I found I was somewhere between "lightly active" or "moderately active" because I have a sedentary job but workout. I decided to choose "lightly active" and made my goal "fat loss," which calculated my macros as: 168g carbs, 113g protein, and 42g fat with a total of 1500 calories per day.
Logging Calories & Macros with MyFitnessPal
If you're like me, even the idea of counting your calories is way too much work, especially if you're not striving for any drastic body changes. However, I'm all about learning how to be healthier and all the fine details that go into this, so I wanted to try counting my macros. Last week, I downloaded the MyFitnessPal app on my phone, which is SO helpful for staying on track with your calories and macros. It has its own calculator for the macros you should strive for, so again, I chose "lightly active" and this bumped my total calories up to 1660 per day, which I kept since I know I should eat a little more than the amount I mentioned above because of my daily workouts.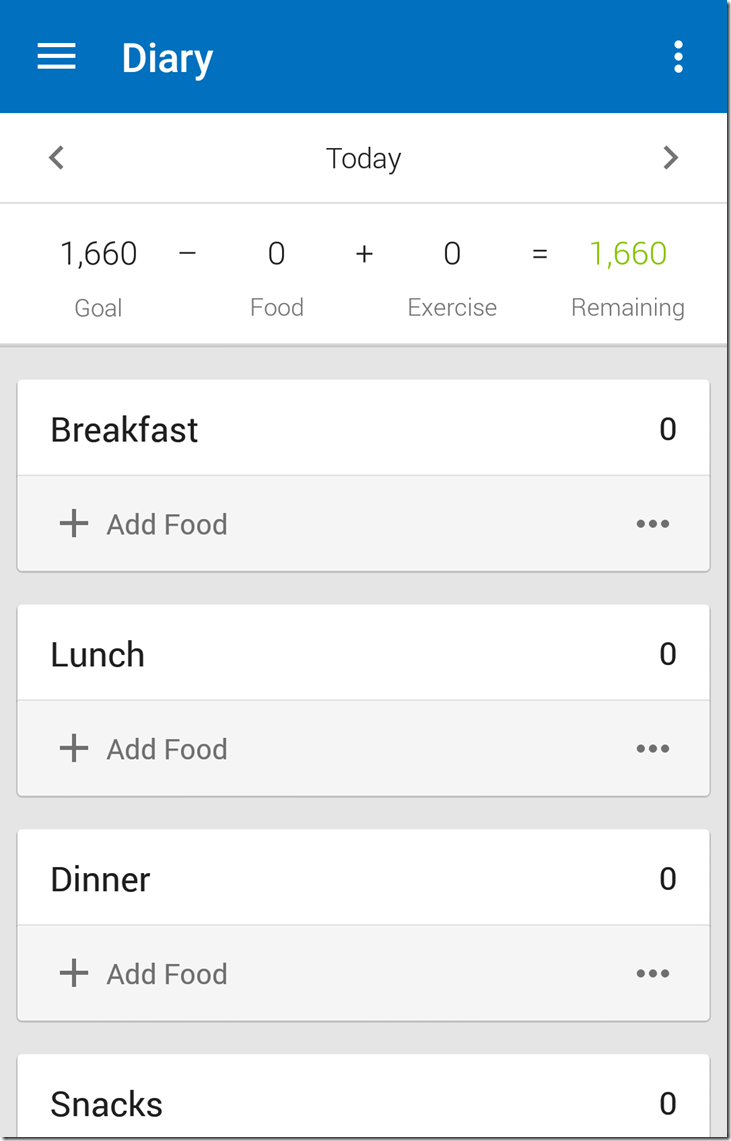 I haven't consistently logged all my meals, but the more I've played around with it, the more I've realized how amazing it really is. Since it's such a widely used app, so many recipes/foods are already in the system, so you can just do a quick search on it to find what you're looking for and get the exact nutrition facts. Add it to your diary for the day, and all the macros/calories/etc. are automatically logged.
While I've enjoyed the MFP app, I know some people don't like it. To get the most accurate calculation of your macros and how many you should strive to consume, make sure to consult with qualified professional first.
I feel like most people aren't interested in the amount of effort required to log all your meals and calculate your macros every single day, but even just trying it for a couple days is pretty enlightening. You may not realize how many carbs you're eating and how little protein you consume (yes, I'm referring to myself right now haha). So it's cool to see what you're actually eating on an average day, which could ultimately help you be more mindful of what macronutrients you're eating on a regular basis. I know for me, personally, I need to up my protein and lower my carb intake a bit.
So there it is. Macros.
Do you count (or have you ever counted) your calories or macros?
Disclaimer: As with any diet change you plan to follow, you should consult with a qualified professional to determine the right macros for your needs to ensure you stay safe and healthy. I'm simply sharing this post as an introduction to the concept; it's not meant to be the sole method of calculating how many calories or the ratio of macros you should consume.