Matt and I just returned to San Diego yesterday from a long, wedding-filled weekend. We flew home to go to his friend's wedding, and we took advantage of the trip to meet with some potential vendors for our wedding (just about a year away! woo!). 'Twas quite the busy trip (per usual), but I'm happy to report we made a lot of progress! Since we're having a "destination wedding", basically, the planning process has intimidated me a bit, but we've checked a few things off the list, so I'm happy with where we're at.
And! As of this past Friday, I officially have all my bridesmaids! Matt and I are going to have four friends (including the best man/maid of honor) stand next to us at our wedding, so I'm excited to have everyone in the loop now. I've known who my bridesmaids would be for quite awhile, but I wasn't sure how I wanted to pop the question to them. There are so many cute ways to do it – I also considered just giving them a call or even just shooting them a text (it really depended on my level of laziness haha). I wanted to do something more fun, but I wasn't willing to craft some beautiful, well-thought out package to mail to them (since they're scattered throughout the Midwest and East Coast).
Well after perusing through Pinterest, I finally figured out how to do it: I was going to mail them a little card with a funny message that ultimately led to the question. I designed each little card front – all of which are the same – but added a personalized message on the front, along with a letter-esque message on the back, letting them know why I want them to stand by me on my wedding day. So here's a little peek at what I did…
Beth – This is Matt's older sister, who I'm super excited to have as part of my bridesmaid team. I couldn't be happier to add her to my list of amazing sibling in laws!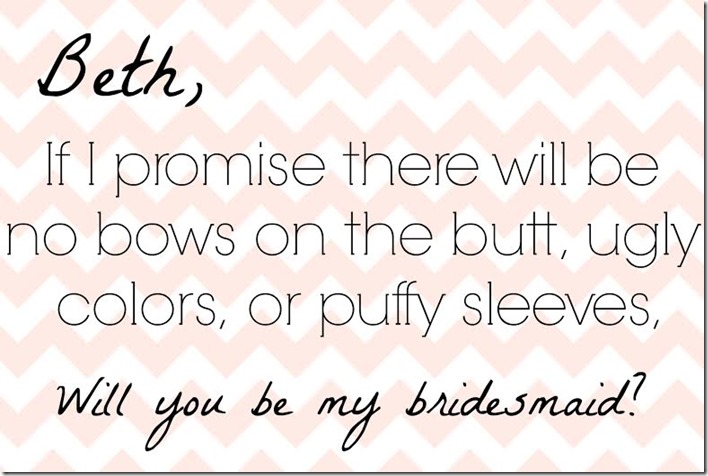 Nicole – I've been friends with Nicole since we pledged in the same sorority freshman year of college. She's ridiculous and wonderful, and we were basically inseparable throughout our four years of undergraduate.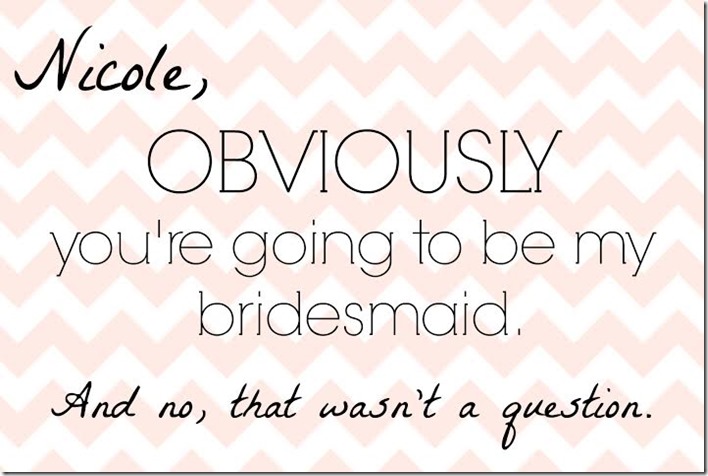 Andrea – I had the honor of being this girl's maid-of-honor last year, so now it's her turn to stand with me. I've known Andrea for almost 25 years – our families are super close and always have been. She's my non-blood sister.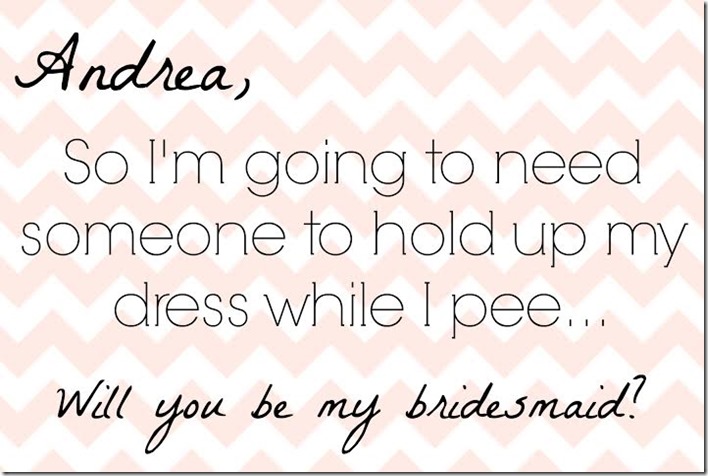 Ashley – Aka the best sister any girl could ever ask for. Her card was the most difficult out of all four because there were so many routes I could go. I wanted to be sentimental but also funny, so I blended it for her card.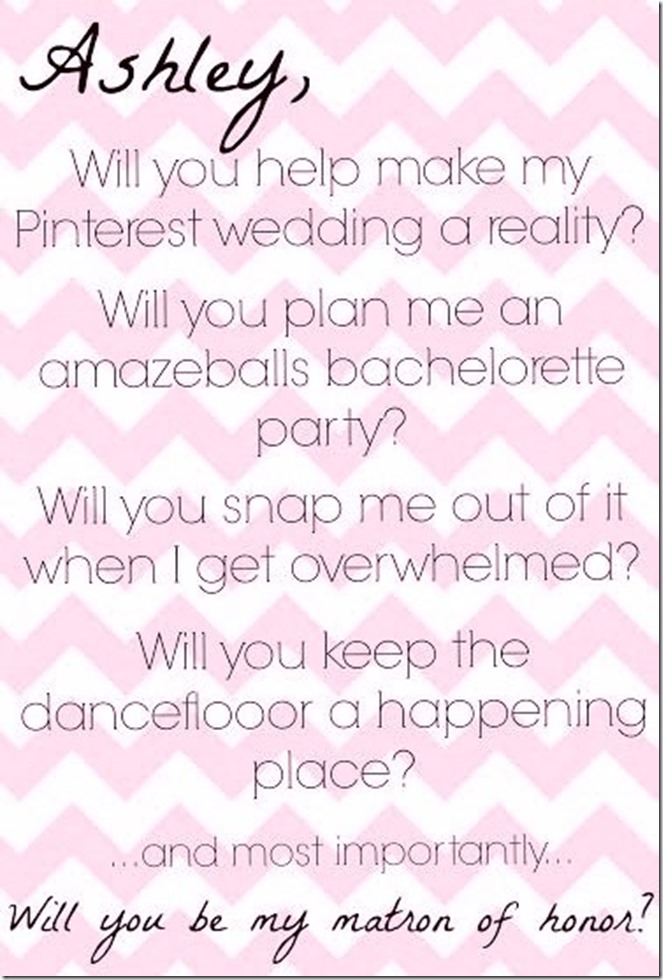 As you can see, each one of these girls is one of my sisters – whether through blood, sorority, marriage, or just life. I'm beyond excited to have each one of them as a right-hand woman for the wedding! (Also, when I made these, I wasn't sure what our colors were going to be, hence the pink variations. But I finally committed on Friday, and they'll be mostly navy, white, and coral.:))
For those married, how did you ask your bridal party?