As of today, it has been two weeks since our adventure-filled honeymoon! I figured it was about time to share the details, even though this is a little bit backwards because I'm waiting on our wedding pictures to share that series of posts. Nothing like a little vacation talk to distract until then. 😉
If you weren't aware, we decided to go on a "mini" honeymoon of sorts over Memorial Day weekend, and for our one-year anniversary, we hope to go on a more significant trip of sorts. For our first trip as a married couple, we decided to road trip up to San Francisco from our home in San Diego. Neither of us had ever been to San Francisco, so we figured a honeymoon would be a good reason to make it happen (especially since it's on my bucket list while we live somewhat "close").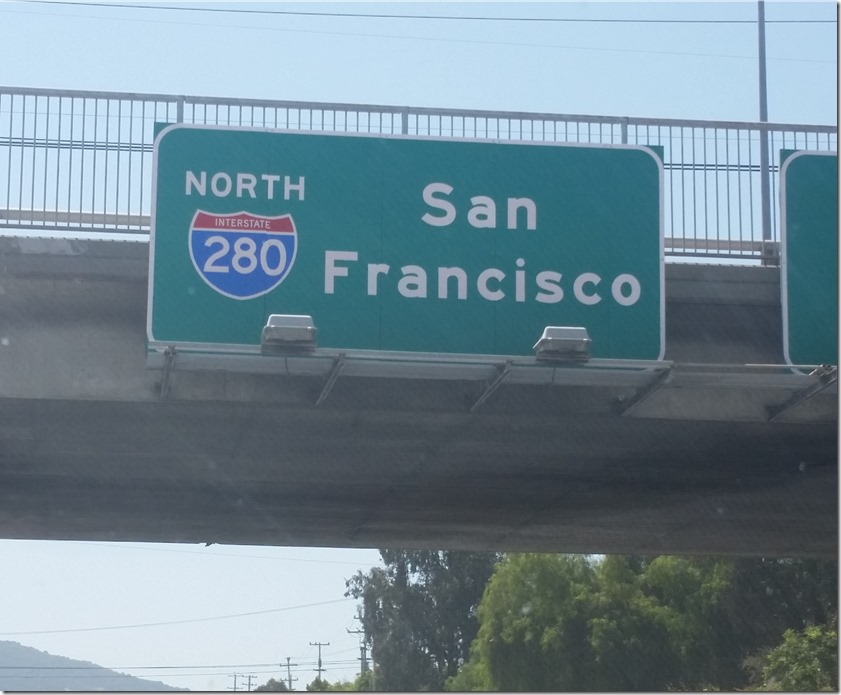 Driving up the Pacific Coast Highway
We weren't exactly in a hurry to get to San Francisco, and wanted to soak in the sights as we made our way up to the Bay Area, so we knew we had to take the Pacific Coast Highway along the coast (it's appropriately named). We left bright and early from our humble abode in San Diego and headed for Santa Barbara. Once we got there, we got an early lunch, did a wine tasting, and walked around for a bit before we got back on the road.
Our next stop was San Simeon where there were some decent lodging options. I couldn't believe how unbelievably windy it was.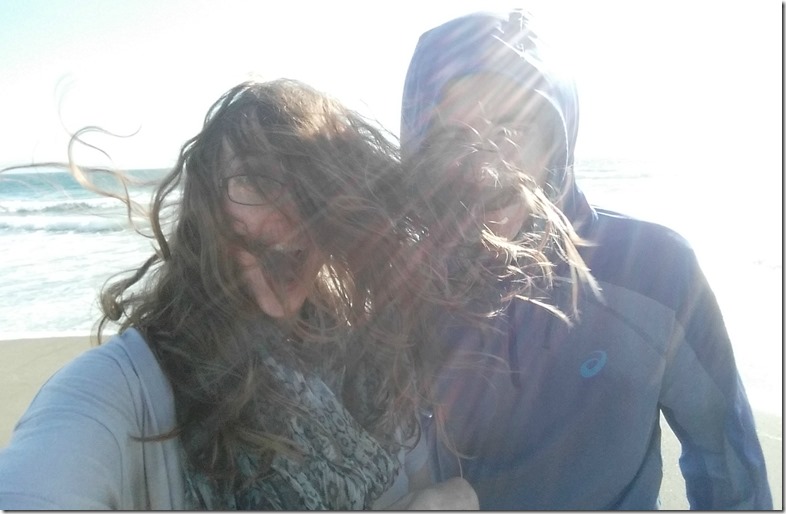 We didn't do much there besides grab dinner and stop at the beach, but it worked well for our road trip.
The next morning, we headed out towards Big Sur. We stopped on our way out at a beach where elephant seals apparently like to hang out. Even though we've been to a seal beach here in San Diego (and are always thoroughly amused because they're funny creatures), this beach was especially awesome because of the vast number of seals lounging around making unattractive noises. One seal, in particular, was following this squirrel around, which was pretty bizarre/amazing.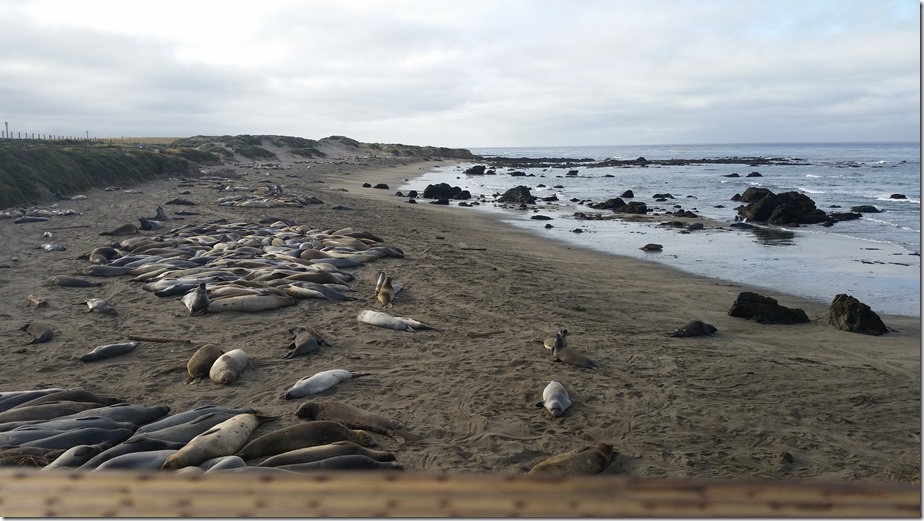 Once we felt satisfied with our seal viewing, we hopped back on the road to continue our drive up the coast. It was at this point that we knew our decision to drive (and use the scenic route) to San Francisco was worth it. The views. The views as we were journeying through the mountains was breathtaking. I mean look at this: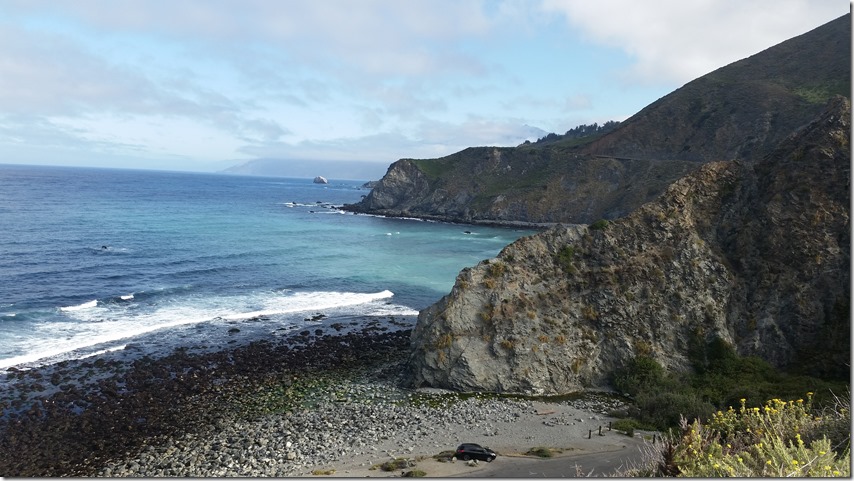 We took a few sight-seeing stops along the way, but we didn't make a legitimate stop until we got to Big Sur. Here we took a coffee break at a cafe that was on the edge of the mountain. I could have sat here all day.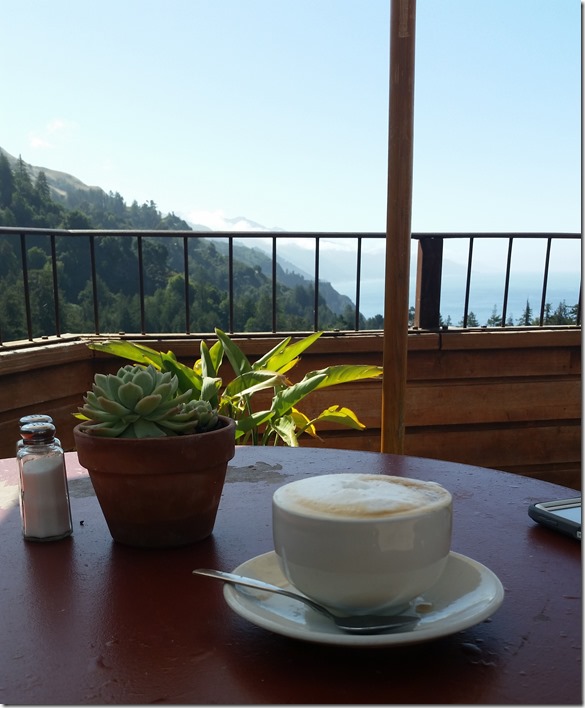 But alas, we had to get back en route to San Francisco to turn our rental car in. We considered stopping in Monterey to go to the aquarium, but since we didn't have much extra time, we just headed straight to SF (with a quick pit stop at Chipotle 😉 ).
Once we got to San Francisco, we turned the car in, went to our hotel, and got settled in. Soon after, we decided to go walk around for a bit. We ended up stopping at Buena Vista to get one of their famous Irish coffees, and it did not disappoint! It was a great, chill end to our road trip, and a lovely way to start our time in San Francisco.
Exploring San Francisco
The next morning, Matt decided to wake up extra early (because he's a crazy (extra motivated) person) to run to Lombard Street – aka "The Most Crooked Street in the World. Once he got back, we got ready for the day and headed out for some touristy fun.
We stayed near the Fisherman's Warf, which was awesome because we didn't have to walk too far to get to some fun places. Lunch was fresh crab chowder and prawns at the fish grotto before we headed to the docks for our scheduled trip to Alcatraz! We got mixed reviews about doing this tour, but we figured…while in Rome San Francisco, why not? By the way, it was definitely a good decision.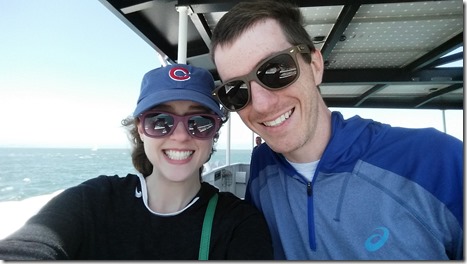 A ferry took us over there. Then we walked around for a bit to see the crumbling structures and museum-like presentation of them. We were so happy we did the audio tour in the actual prison cell house because that was, by far, the most interesting. Three guards and a few freed prisoners from when the island was an active prison gave the tour on our little digital audio players. It was really interesting, and made our $30 tickets totally worth it.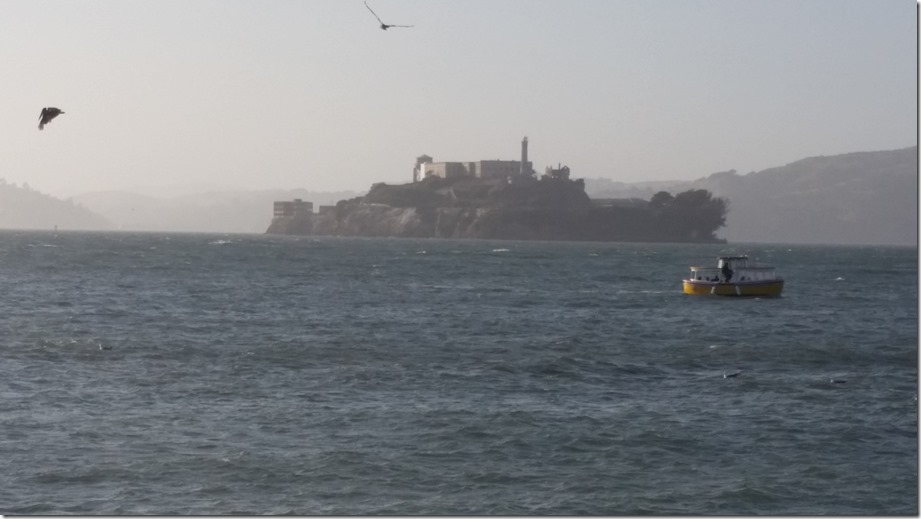 Funny story: I don't know if it was because it was a Harry Potter marathon weekend on ABC Family/Freeform or what, but I kept calling Alcatraz "Azkaban," aka the prison island in Harry Potter, so that made Matt facepalm a few times. Bahaha.
Once we got back from our trip to Azkaban…err…Alcatraz, we were starving, so we decided to stop at Boudin Bakery (hellooooo, fresh and delicious sourdough). We definitely planned to take the tour of the bakery there, but since I was getting hangry, we decided to just grab some of their aromatic grub. Matt chose some tacos, and I opted for a Margherita pizza. Both were SO delicious.
After that, we went back to our hotel and both took naps because we were pooped. That night, we had a reservation at Boulevard – a nice restaurant recommended to us by Matt's coworker who had lived there – and it was such a delicious and romantic evening. For the food lovers: Matt opted for the pork chop, and I chose the salmon. Both of our plates were scraped clean. YUM!
Saturday morning, we had plans to explore a bit further out. We walked a ways to the farmer's market on our way to China Town. Here we got mysterious/authentic food, went to the very hidden fortune cookie factory, and wandered around for a bit.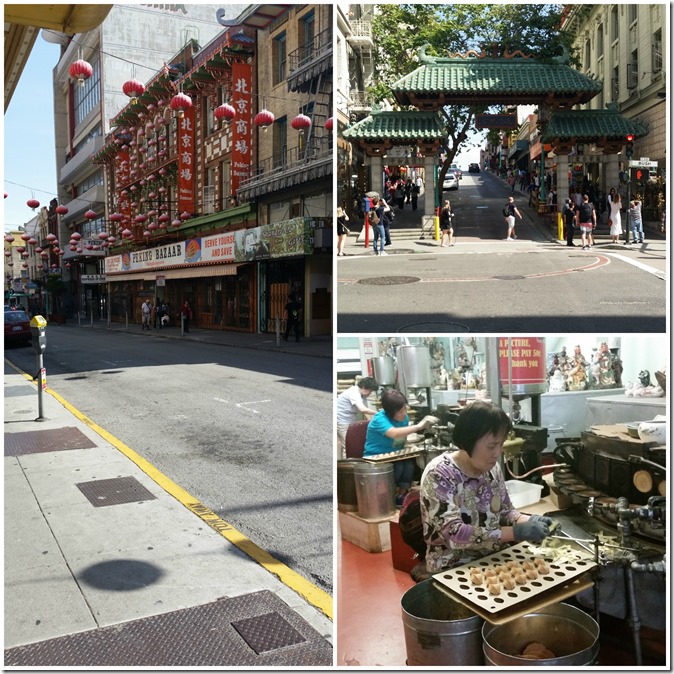 It was definitely a bit intimidating since I had no idea what was going on / what anything was, but it was also refreshing to be out of my comfort zone and try some new things.
After we meandered back to our hotel, we napped for a bit before we went back out into the city. We stood in line for about an hour to ride the cable car over near the AT&T stadium area.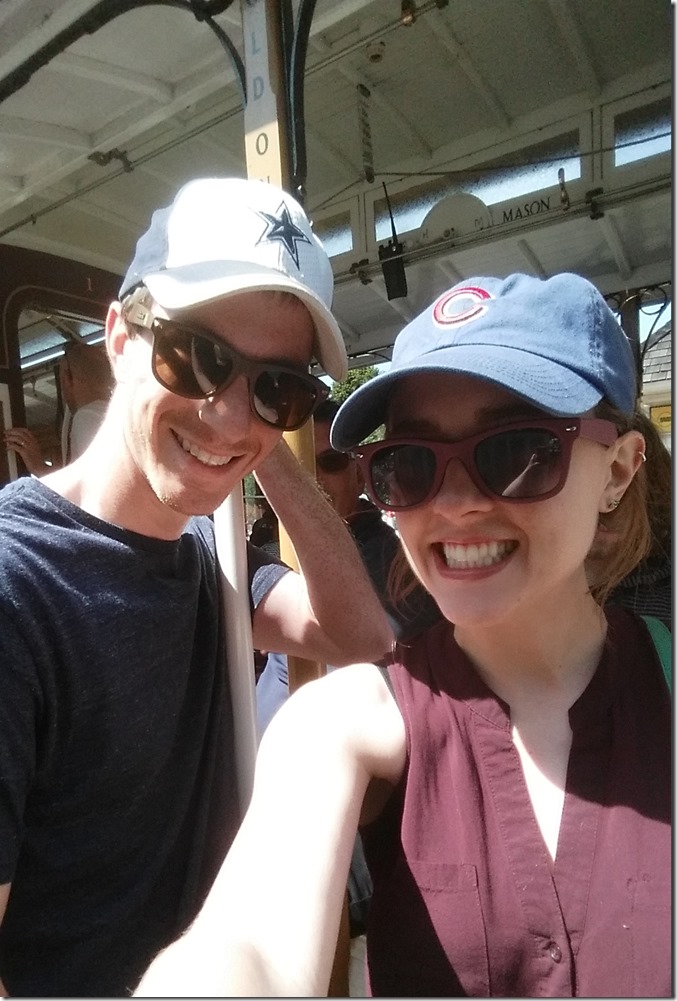 We were the ones you picture hanging off the edge, except we ended up getting separated, which sucked, but so it goes.
At one of the last stops, we hopped off and made our way to a few bars and breweries. Since we had already done some much walking for the day, we were both super tired very fast, so we went back to our home base (the hotel) before too late and just stayed in for the rest of the night. The next morning we had some exciting plans.
There we were in San Francisco. You didn't think I'd forget about the Golden Gate Bridge, did you?! Sunday morning, we had plans to not only go to the bridge, but bike across it. We bought a Groupon at a bike-renting store called Blazing Saddles, which worked well. We got our bikes and set out on the path towards the bridge. To be honest with you, I was really scared about this because I haven't ridden a bike in years. Plus, riding across a tall, busy bridge? Oh lawd.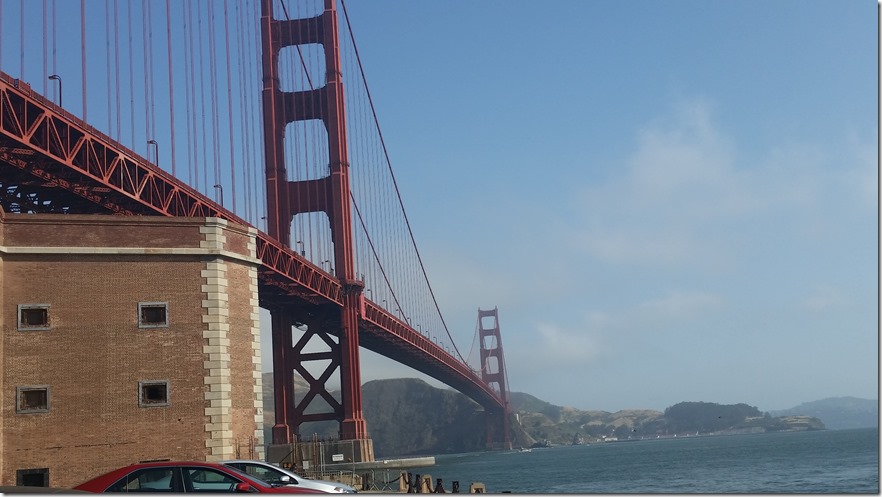 I'm happy to report I survived the trip and didn't even get injured! (This was significant to me.) It was actually so much fun to ried across the bridge (even though I nearly lost my hat), and I'm so glad we did it. Once we got to the other side, we kept riding until we were in downtown Sausalito, where we got brunch and walked around the local shops. Then we ended up taking the ferry back to San Francisco, where we returned our bikes.
After that, we were satisfied with our trip and were ready to just lay low for the rest of our little honeymoon. We went back out to get some touristy swag, grab some quick food, and return to the hotel for some lounging. It was kind of the perfect end to our honeymoon. In & Out, champagne (complimentary from the hotel; I see you, Marriott), and the end to the Harry Potter marathon on TV.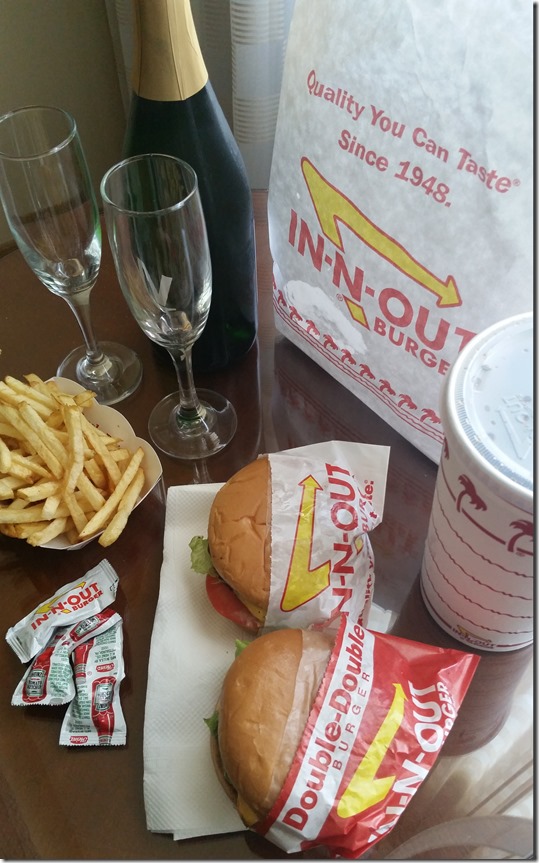 Back to Reality
The next day we left the beautiful city of San Francisco to return to reality in San Diego.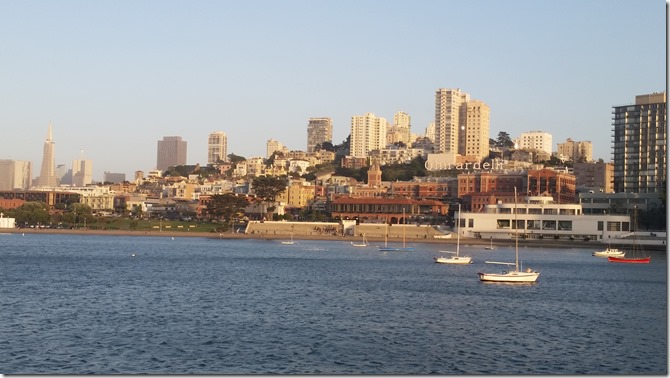 We flew home instead of driving back just to be able to spend more time in the actual city of San Francisco. We were happy with how it all worked out.
All in all, I think it was a wonderful mini honeymoon. 🙂 It's fun to explore a new city, especially with that one special person.
Stay tuned over the next month for a couple posts about our wedding! I can't wait to share some of the pictures from that as well!!