Try this refreshing honeydew sorbet recipe for a frozen treat that only calls for three natural ingredients.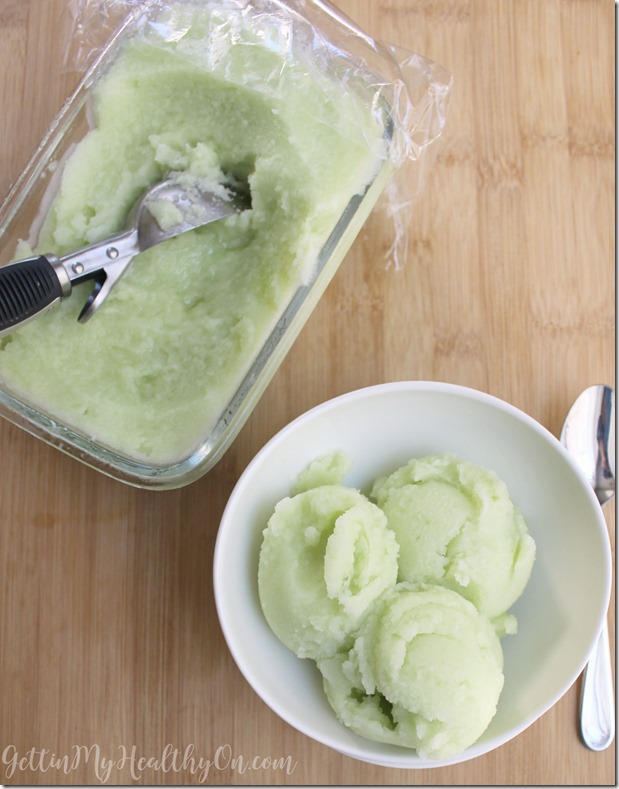 Happy 4th of July!!
We have plans to stay in the house with some visiting family for a relaxing yet awesome fiesta. In addition to grilling some 'merican foods, I wanted to supply a healthy dessert to cool us off during the inevitable heat. Based on a recipe I saw recently, I decided to make some honeydew sorbet.
Sorbet is such a refreshing dessert, and the idea of making it with frozen melon as the base was just too good to pass up.
I actually made something like this with watermelon and mint awhile ago, but it didn't turn out so well. I think I've perfected the process with this new honeydew concoction though. I couldn't believe how wonderfully creamy it was. The best part? It only calls for 3 ingredients! It's in ice cream form, though, so it's that much more satisfying.
What I did was cut up half a honeydew into smaller cubes (I recommend closer to 1-inch in diameter because big chunks make it more difficult later). Once it was cut up, I put it in a gallon-sized Ziploc bag and threw it in the freezer until it was thoroughly frozen (probably 4-6 hours, or if you're like me, multiple nights because I forgot about it). After this process, you want to break it up with your hands, by dropping it on the counter, or whatever works. Pour it all into a food processor along with 1/4 cup water (to start with) and about 2 tablespoons honey.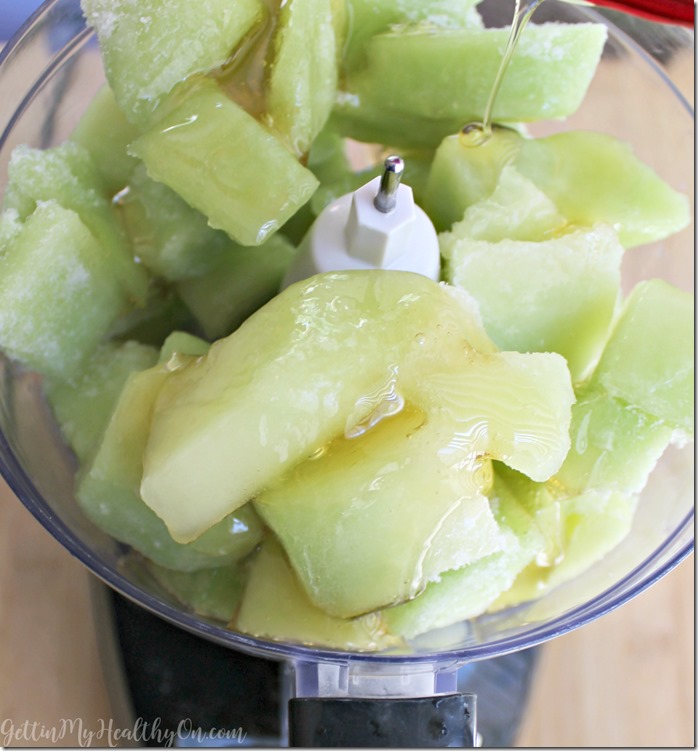 Turn that bad boy on and pulse the melon, turning it off to stir around and mix up the chunks frequently. I needed quite a bit of water for this – probably close to 3/4 a cup – but just add a little at a time after the initial amount because you don't want it to be too soupy/watery or it'll freeze rock-hard. The water will help it actually process and not just sit there doing nothing forever. Eventually, you should end up with a smooth puree.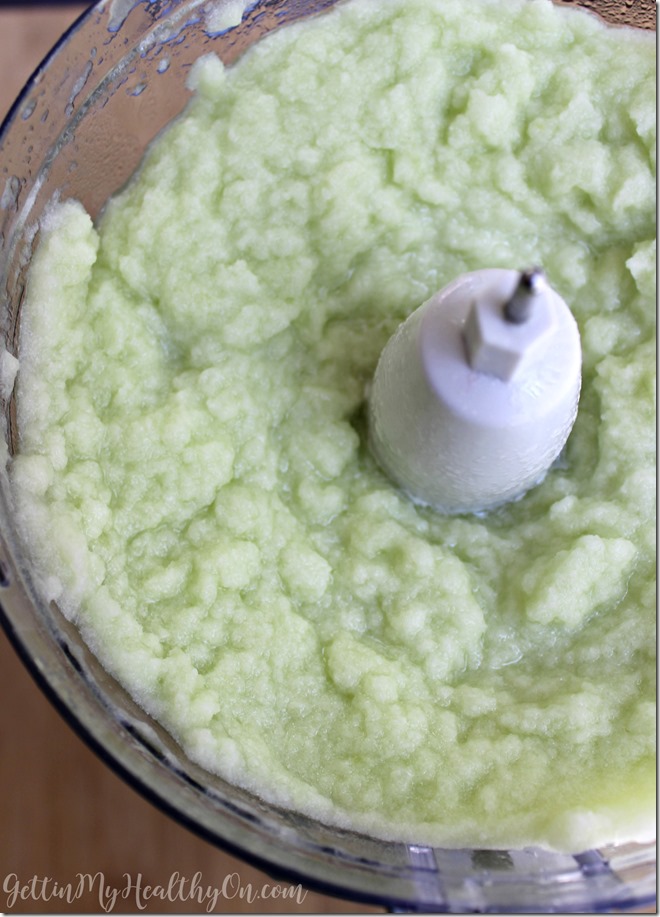 It's kind of beautiful. Once it's all pureed and perfect, you can enjoy it immediately or throw it in the freezer for a couple hours. I highly recommend the latter because all that processing and stirring causes the honeydew to defrost a tiny bit so it doesn't make perfect ice cream-like scoops. Once frozen again, it's much easier to work with.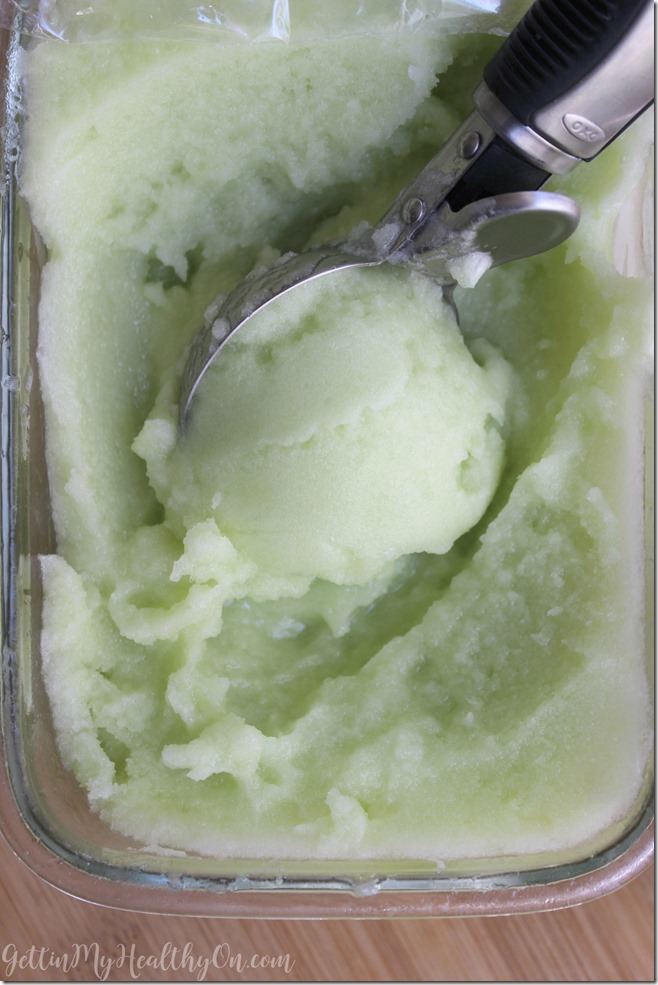 It melts somewhat fast usually. But, if you freeze it with too much water , you might need to leave it out a minute or two before scooping so it's not like you're chipping away at ice. As we go through this bowl of it, it has gradually gotten a little thinner, so I've been doing this. It's still just as delicious though. Check below for the details. Recipe adapted from Tastemade.
Ingredients:
Half a honeydew, cut into 1" chunks
2 Tbs honey
1/4 cup water (plus more
Instructions:
Put honeydew chunks in Ziploc bag and lay flat in freezer for about 5-6 hours or overnight.
Break up frozen honeydew and pour into food processor with honey and 1/4 cup water.
Pulse and stir frequently, adding more water, if needed, to get the ingredients moving. Process until you have a smooth puree.
Serve immediately or store in freezer for later.
Recipe from GettinMyHealthyOn.com