Make your own deep dish pizza crust and thick, tomato-filled sauce for deep dish you'll want on a weekly rotation.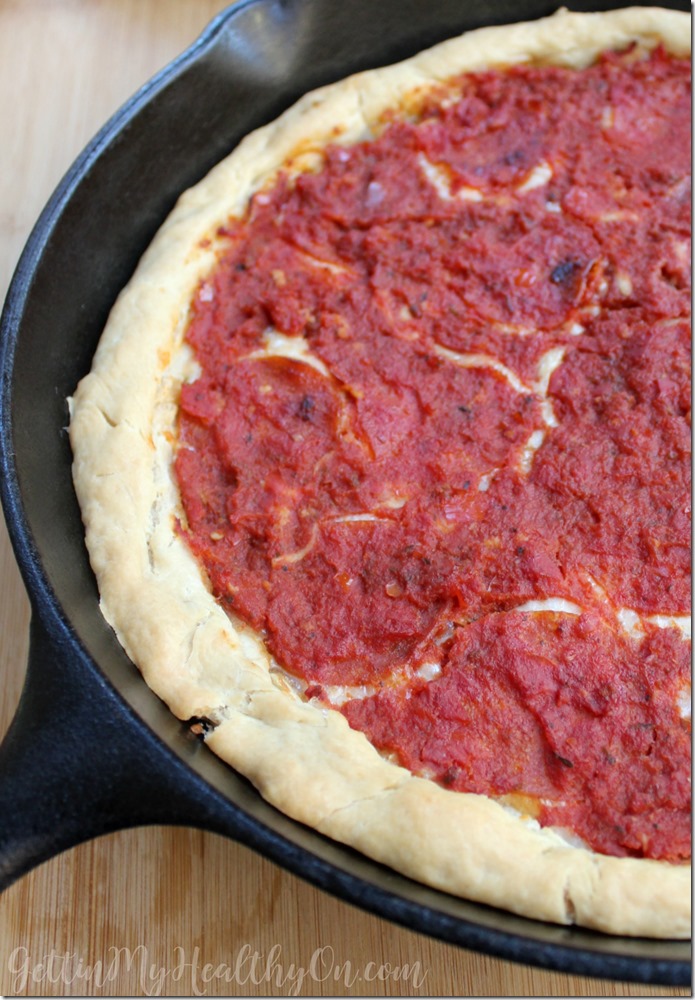 Have you ever made a recipe and are completely shocked at how well it turns out? That was me a couple weeks ago when I tried my hand at making a Chicago-style deep dish pizza. Being from Northern Illinois, myself, I hold deep dish close to my heart. It's such a uniquely wonderful type of pizza. One piece can make a full meal (if you have the self-control). The crust is fairly thick and flakey, while the sauce is full of chunky tomatoes and Italian spices. You layer the cheese and toppings under that beautiful sauce, and it is the best savory pie ever.
I've had some really good deep dish pizza in Chicago, so I honestly had very little hope of making my own and it turning out well. I found a couple recipes online and tweaked them a little bit to make it according to our tastes. From the perfect crust to the sauce so good I could eat it by the spoonful, the deep dish concoction I made turned out so good. I'm very proud of it, clearly. That's why, although it may not be the healthiest recipe, it's too good not to share!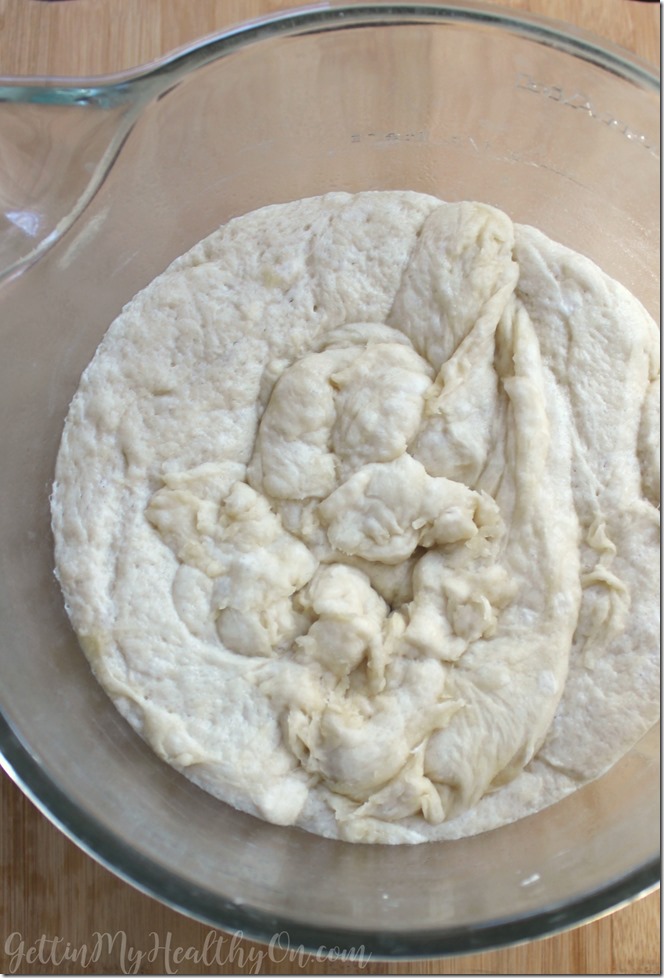 I made this again yesterday to actually document the process so I could share. At about 11:00 a.m., I started the deep dish crust. I wanted it to rise for several hours, so that left just enough time for it to rise before we'd want dinner after our day of errands and chores.
Closer to dinnertime, I decided to throw the sauce together. I usually make a smooth homemade pizza sauce, but this deep dish version might need to be made from now on. I used crushed tomatoes, which made for such a nicely thick texture. This recipe makes enough for two pizzas (although I love pizza sauce enough to use most of this for one pizza; alas, I refrained for Matt's sake).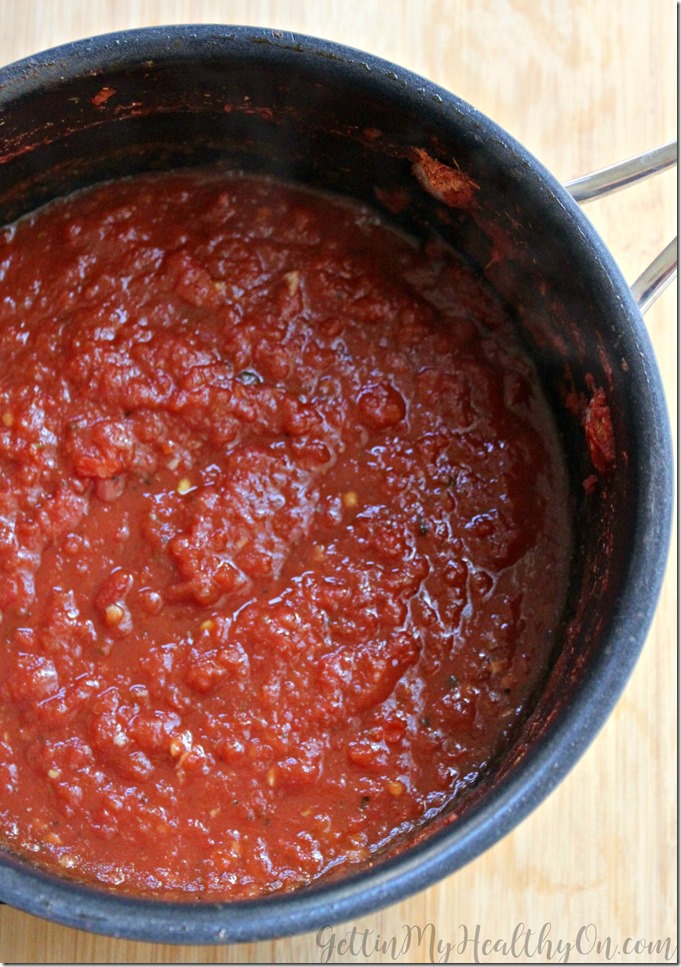 Once the crust has risen, you'll want to punch it all down to let the gluten relax. I've found this really helps the dough hold its shape when you form the sides of the crust to hold all the goods in the center. I definitely recommend pre-baking the crust for about 10 minutes before adding all the toppings, since it's fairly thick. (The white dots in the first pic below is garlic, in case you're wondering.) After it's done pre-baking, you're ready to layer the cheese, other toppings, and then sauce—in that order.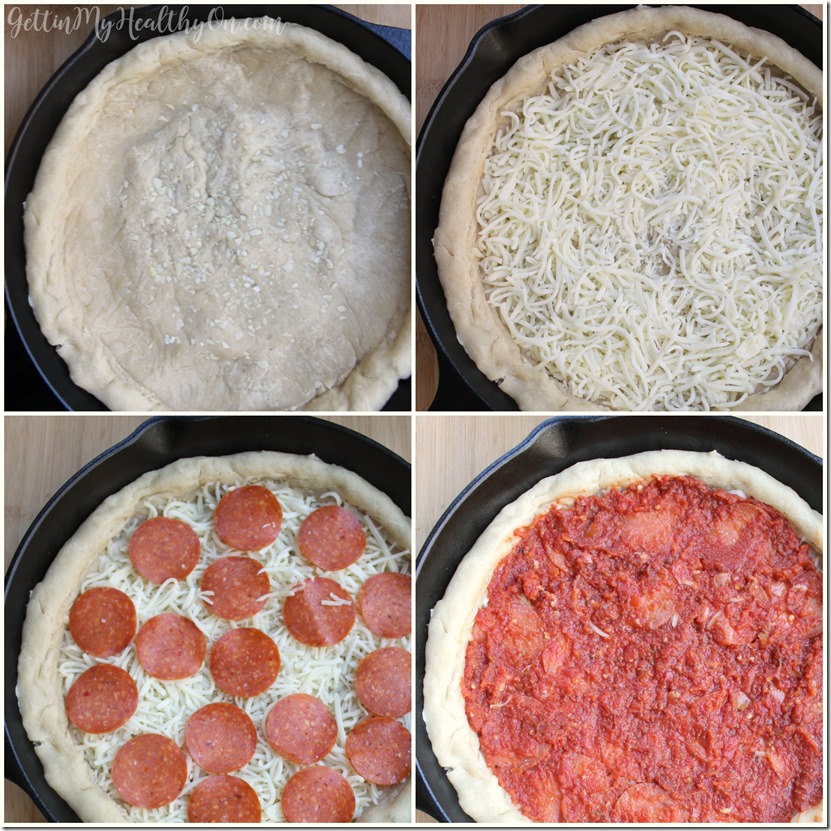 It turned out so well, and I hope you try it out! I used my 12-inch cast iron skillet, but as long as you use a dish (maybe a casserole dish of sorts) that has sides you can pinch the dough up on, that should work just fine. The bigger the dish, the thinner the crust. The smaller in diameter, the thicker the crust. So use whatever works best for you taste!
Crust adapted from AllRecipes. Sauce adapted from Sally's Baking Addiction.
Ingredients:
Crust

3 cups all-purpose flour
1 1/8 cups warm water
1/2 cup canola oil
2 1/4 tsp yeast (1 packet)
1 tsp granulated sugar
1 1/2 tsp kosher salt

Sauce

2 Tbs salted butter
1/2 tsp onion powder
3/4 tsp salt
1 tsp dried oregano
1/2 tsp crushed red pepper flakes
3 garlic cloves, minced
28-ounce can crushed tomatoes

Pizza

1 1/2-2 cups shredded mozzarella
Instructions:
Crust

Combine yeast, sugar and water in a large bowl; let set for about 5 minutes, or until foam has developed on top.
Mix in flour, oil, and salt until combined.
Knead dough on a floured surface for two minutes, adding just enough flour so the dough can be handled.
Shape into a ball and put in large bowl that has been sprayed with non-stick spray. Cover and let rise for 6 hours at room temperature.
Punch down, and let set for another 15 minutes.
Place into a 10- or 12-inch cast iron skillet that has been sprayed with non-stick spray, and spread out and up the sides.
Pre-bake the crust for 10 minutes at 425 degrees.

Sauce

Add all ingredients to a medium saucepan and cook on medium-low for about 30 minutes, until fragrant and slightly thickened.

Pizza

Sprinkle cheese onto the pre-baked crust. Add toppings and half or all of sauce, depending on your preferences.
Bake at 425 degrees for 30-35 minutes.
Recipe from GettinMyHealthyOn.com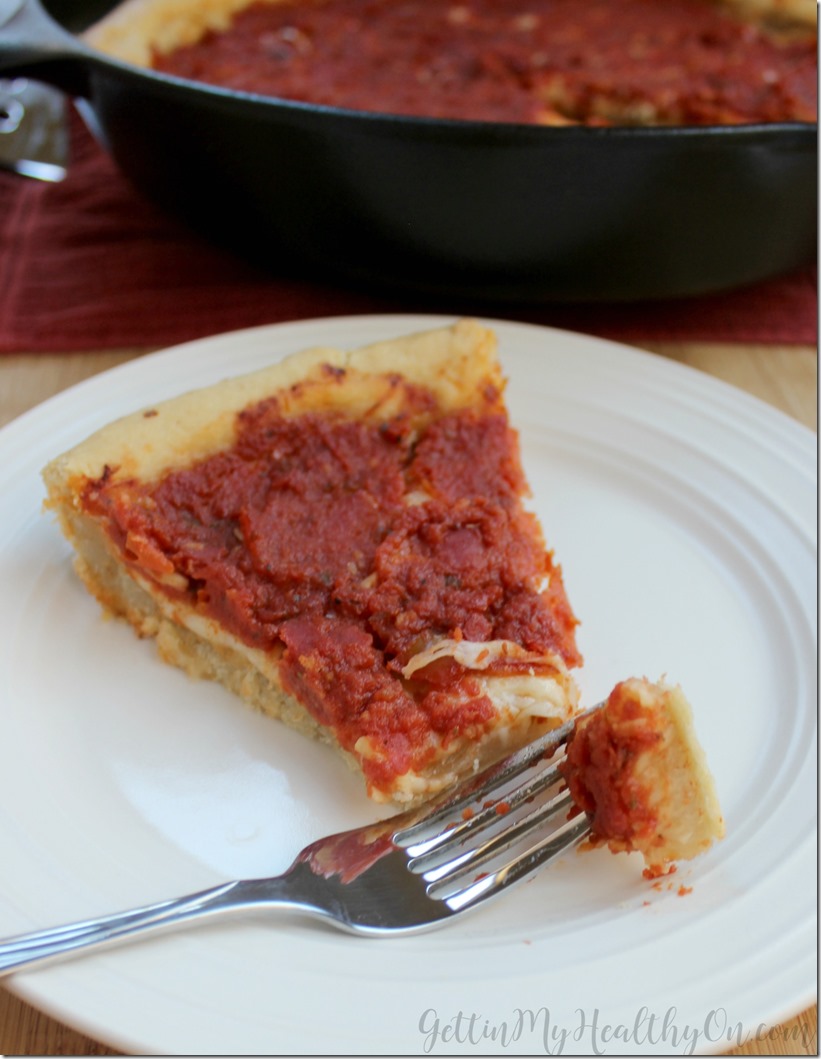 What's your favorite style of pizza? Chicago deep dish? Brooklyn-style? Thick? Thin?
What are your go-to toppings for pizza?