Making almond milk from scratch is an extremely simple process that produces a pure, nutty flavor without the additives (or extra cost) of many store-bought brands.
I was domestic as hell yesterday and made a bunch of food things I've been wanting to try, one of which was homemade almond milk!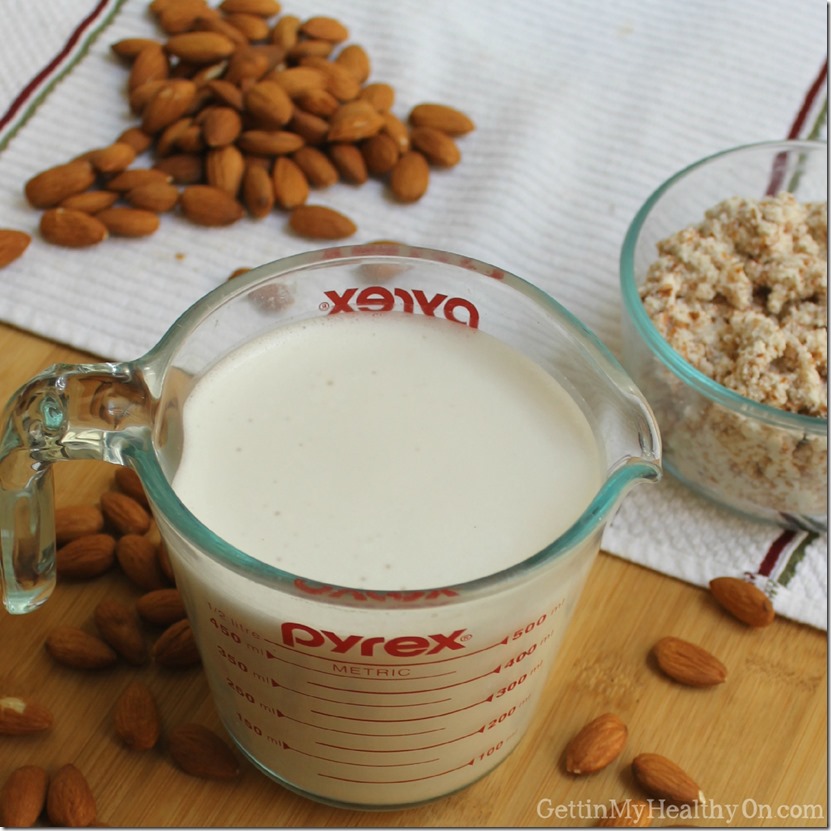 This is something I've been wanting to try forever because I keep hearing how many mass-produced brands have a bunch of crap in them. Plus, they cost a lot for how simple almond milk really is.
I'm not a regular almond milk drinker, but I like to use it in sub of cow's milk once in awhile because it has certain benefits over what cows can offer us (and vice versa). Here's a few I've read about recently:
Fewer calories (1 cup of almond milk has approximately 60 calories compared to 122 calories in 2% milk)
Full of healthy fats and vitamins
No cholesterol or saturated fat
Even though I drink almond milk (or use it more so in foods like smoothies and cereal/oatmeal), I love cow's milk and don't plan to ever completely stop drinking it. Why? Because it tastes good; I'm not lactose intolerant; and it has more calcium and protein than most other milk substitutes. Despite these reasons, it's still nice to mix things up and add almond milk into my diet once in awhile.
I finally got around to making it myself this past weekend, and I couldn't believe how ridiculously simple the process was. I took 1 cup raw almonds and soaked them in water overnight (enough to cover them and then some). Below you can see the difference between a cup of regular ones and a cup of almonds that have been soaked for several hours.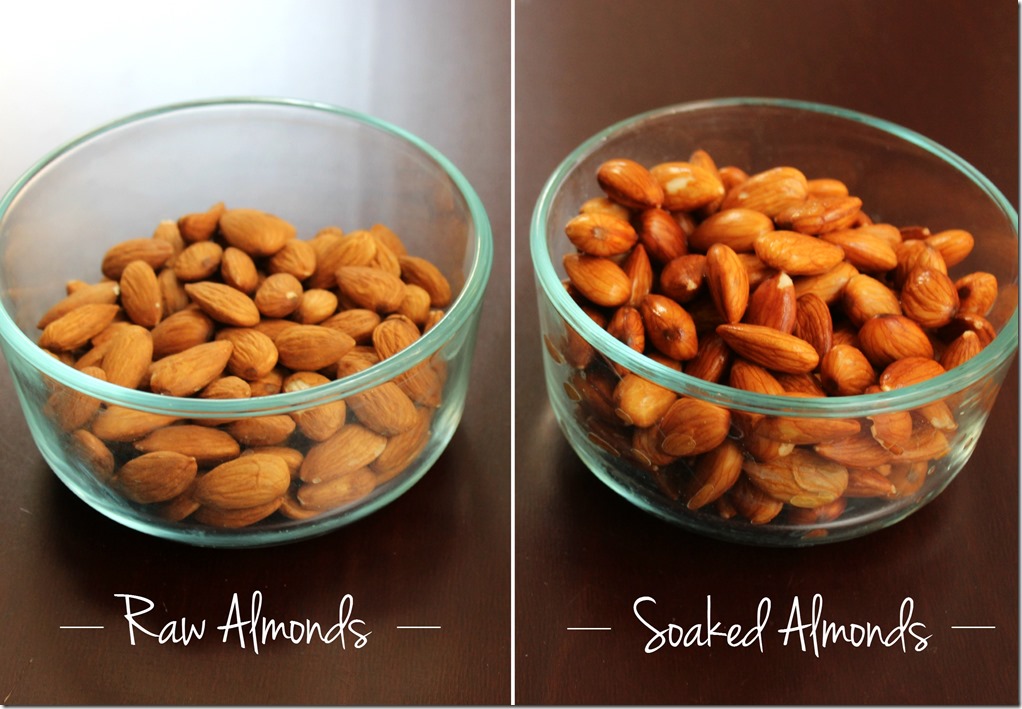 After they've had enough time to soak up the water, you'll want to strain them and then dump them in a blender with 1 and 1/2 cups of water. Then blend for about a minute or so, until the almonds are pretty finely broken up.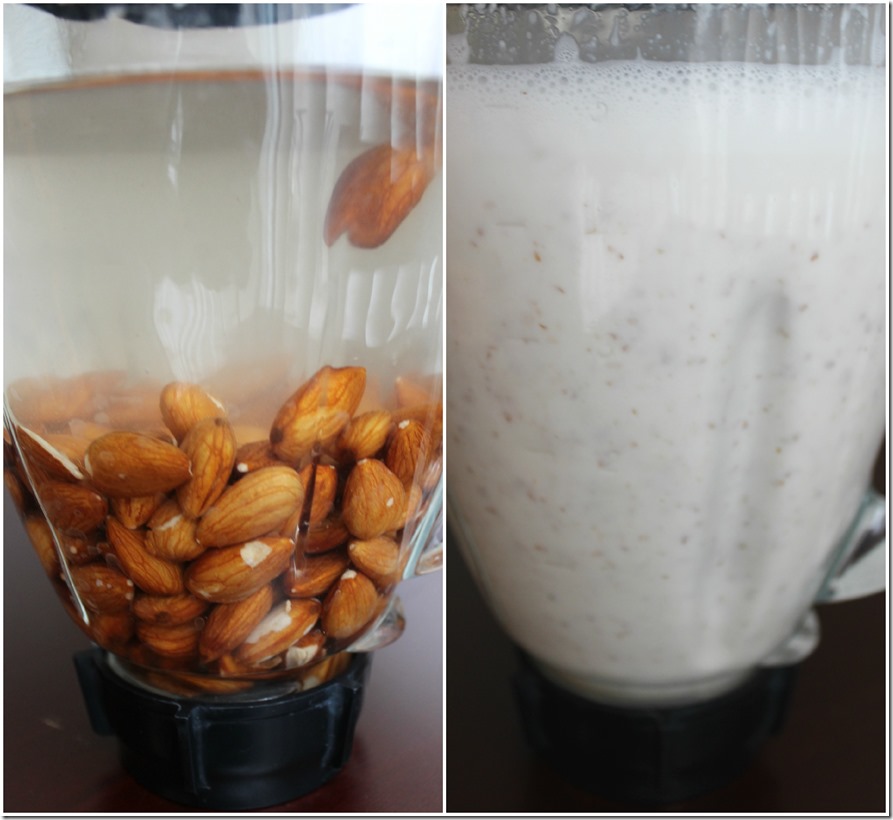 Once you reach this point, it's time to separate the almond mash from the "milk." Apparently, they make "nut bags" to improve this straining process, but I found that simply using a fine, wire mesh strainer worked beautifully. I just let it sit there for about a minute and moved the mash around with a spoon.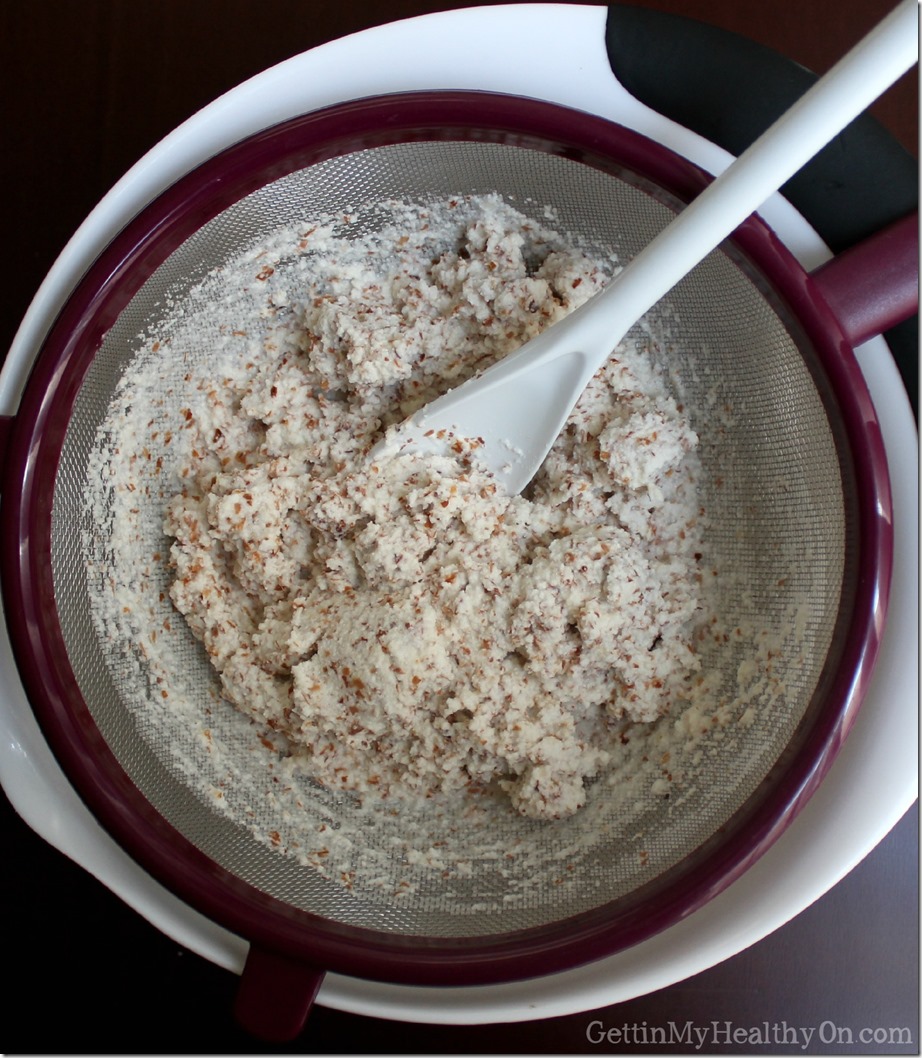 And before you know it, BOOM! You have almond milk (and almond meal) in front of you. You technically don't need to store this in the fridge since it's just almond water, but I feel weird about that, so I'm storing mine in the fridge (plus, it'll keep longer this way). You can either discard the leftover almond meal, or you can keep it to add to oatmeal or other dishes, which is what I've been doing because it feels wrong to throw away the "pulp," I guess you could call it.
Here's a closer look at what I did to make my almond milk. Adapted from Oh She Glows.
Ingredients:
1 cup raw almonds
1 1/2 cups water
Instructions:
Pour almonds into a bowl, and cover them with enough water to cover them. Soak overnight.
Add the soaked almonds and 1 1/2 cups water to a blender, and mix for about a minute or until the almonds are finely chopped.
Pour the almond water mixture into a wire mesh strainer that is hovering over a large bowl. Let drain for a couple minutes and mix around with a spoon to get all the liquid out.
Done! Store the milk in the fridge for about a week. Discard or also keep the almond meal as well.
Recipe from GettinMyHealthyOn.com
I was quite happy with how this turned out, and I definitely recommend anyone who drinks almond milk to try making it themselves at least once. It was stupid easy, and all you need is a blender, a wire mesh strainer (or you could use a nut milk bag or even cheese cloth), and water. Piece of cake! And if you want to make the "milk" more interesting, you can include extras like cinnamon, vanilla extract, dates, pure maple syrup, or whatever your heart desires.
Keep in mind the milk will naturally separate as it sits in the fridge, so you'll need to mix it up before drinking. Cheers!