Workouts
Wednesday: Up & Down Treadmill Run for 1.95 miles in 20 minutes
Thursday: Rise & Shine Morning Workout
Today: Probably my 30 Minutes to Speed It Up treadmill workout
---
The ending to this week is quite crazy, as I've been preparing to head home for the next week and a half.
My life is going to get 10x crazier once the trip begins, though, because so much of time will be spent traveling to see different people. I started figuring out some numbers to see just how crazy this trip home will be, and this is what I've come up with:
8 hours traveling in the air
30 hours traveling on the road while home (30!!!)
4 different states will be visited (flying to Illinois, but drying to Iowa, Wisconsin, and Indiana)
Besides those unfortunate numbers, I'll have 11 glorious days with friends and family, and I cannot wait. I have every single day planned to make sure I see who I need to see. While I don't have enough time to see everyone I want to see, the major peeps will be accounted for. 🙂
Since I've been busy packing and such, I've decided to throw together a roundup of holiday recipes I've shared on GMHO before. Hope you enjoy and find them useful if you're looking for something good to whip up over Christmas or New Year's!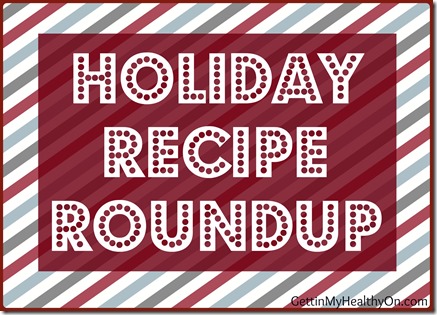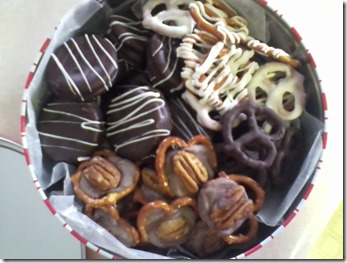 This was a bundle of recipes, which included Rolo Turtles, Chocolate-Covered Pretzels, and Chocolate-Covered Peanut Butter Crackers (obsessed with these). If you need to give someone a gift that you don't know very well, I recommend these because it shows you spent some time preparing the desserts, but it's still generic enough where most people would enjoy them.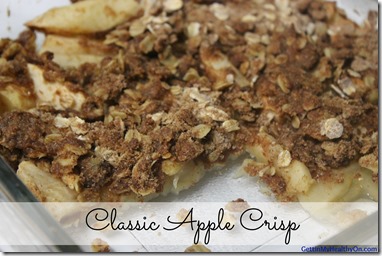 I definitely  made this recipe last night because it's been so long since I've made (or even had) apple crisp. If you still have an overload of apples from fall, or just happened to buy them constantly like I do, this is always a great way to use them up when they're reaching a questionable stage.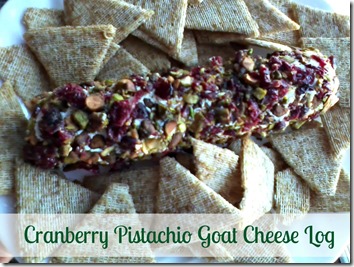 This is one of my favorite recipes my dad makes around the holidays. It's not only pretty, but it's full of great flavors. It is exactly what the title is: a combo of pistachios, goat cheese, and [dried] cranberries.
I wish this picture was more clear because this salsa is quite colorful and festive-looking. It's a nice alternative to heavier appetizers, since it's just cranberries, jalapenos, green onion, lime juice, and seasonings thrown together in a food processor. Yumm.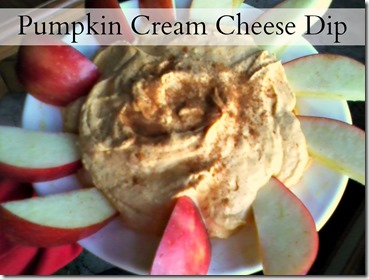 I haven't had this one in awhile, but it's super quick to whip up for a sweet appetizer. Pretty sure it would be amazing on graham crackers, though it makes a nice dip for apples as well.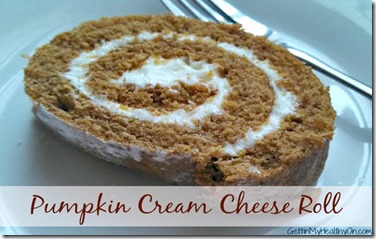 Mmmm sugar. So this one isn't the healthiest option, but it's always a good time. It's a family recipe I've always enjoyed throughout the years.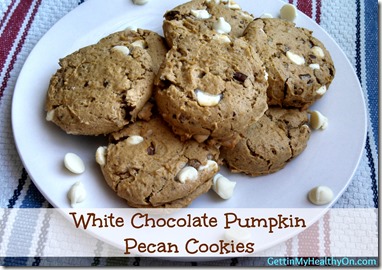 White chocolate, pumpkin, and pecan is the best combo ever, which I did not realize until I made these cookies. I'm so pumped about this recipe, and I encourage you to try it out!
---
Anyone see a theme here? I guess you could say I like taking advantage of pumpkin and cranberries during the holidays.
Also, putting this post together just makes me realize how I need to get cookin' more! I absolutely love the holidays and all the tasty recipes, and I hope to share more deliciousness in the new year!
Make sure to check out my other recipes as well!
Questions for you:
What are your favorite recipes to eat/make during the holidays?
What ingredients do you tend to go overboard with at this time of year?  Pumpkin? Pomegranates? Sugar in general?
It's the weekend before Christmas: Are there any festive plans on your agenda? Ugly Christmas sweater party tonight for us! 'Tis my first.