Happy Halloween! Nothing like starting the week with a holiday. 😉
We "celebrated" the holiday this past weekend by going to a friend's costume party, carving pumpkins, and preparing a festive dessert and costume for work today. Tonight, we have plans to indulge in a viewing of the best Halloween film ever—Hocus Pocus.
One of the reasons I love Halloween so much is it's a holiday where you create a lot of things—or at least I do. It's DIY heaven. Just ask Pinterest.
I decided to dedicate today's post to this year's Halloween shenanigans because it's where my head's been at. First off, let's start with costumes. Matt and I start discussing Halloween as early as the day after Halloween…as in we plan it a year ahead. Haha. We take it that seriously. Except then we totally forget until about a month before the next Halloween. That seems to be enough time, though, because we usually have a decent set of costumes. (Sometimes they're couple, sometimes not. It's hard to find a duo we both want to dress as!)
This year we decided on the Hanging Chad and "Slutty" Pumpkin, a la How I Met Your Mother. I ended up making both of the costumes the day of the friend's party we went to mwahaha. I was happy with how they turned out though.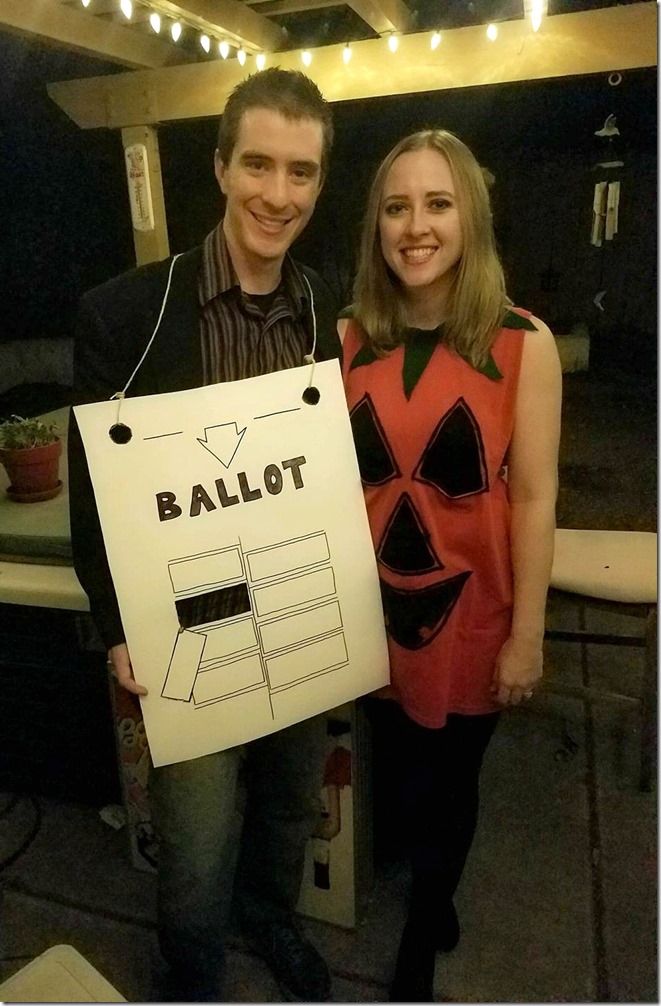 I usually have a second costume, as well, because we have a contest at work. This year's is extra ridiculous, which says something because I wore a dinosaur suit last year (which I featured in my Costumes of Halloweens Past post).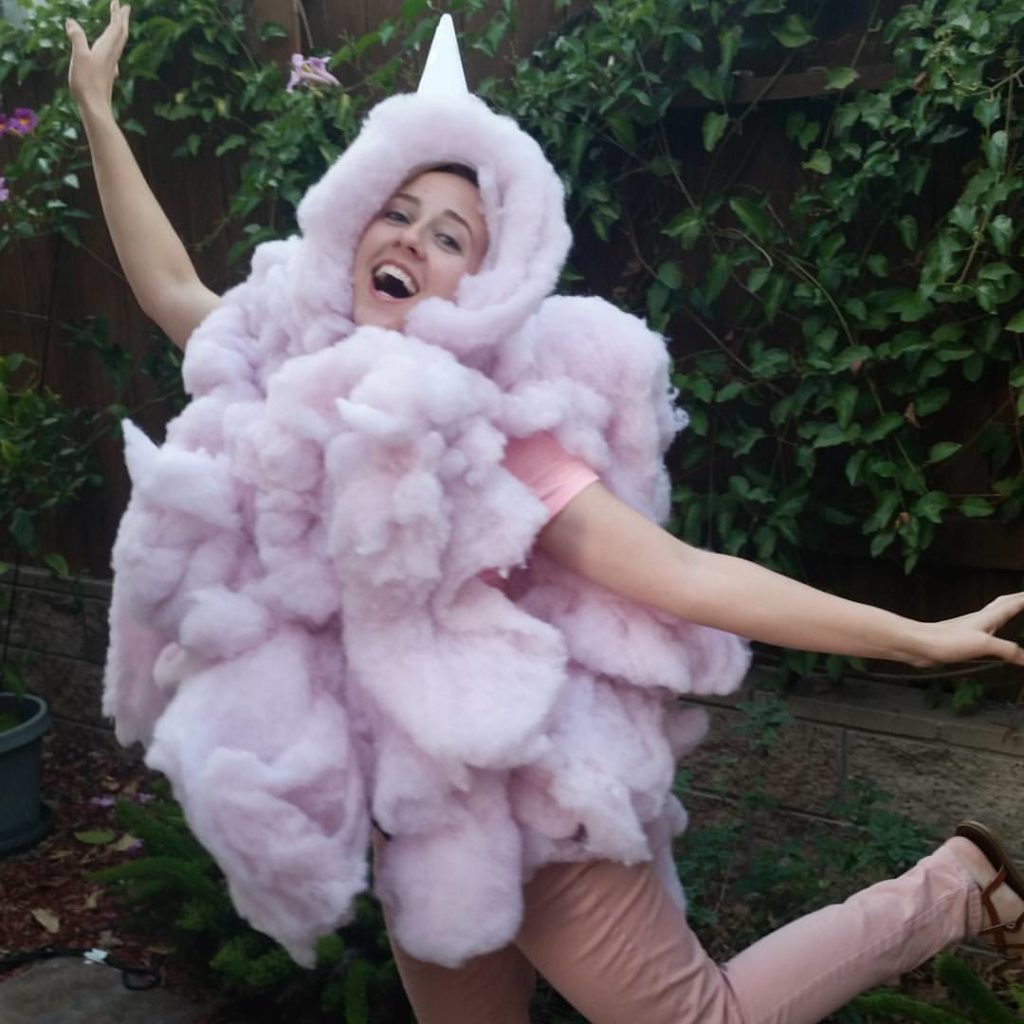 Cotton candy! I'm pretty excited about it. (Edited to add: I ended up winning 2nd place in the contest!)
Now that we've got the costumes covered, let's talk pumpkin carving. Ever since I moved in with Matt five years ago, I brought back pumpkin carving—something neither of us had done since we were younger. What motivates us to put forth the work? Toasted pumpkin seeds, of course! Okay, I also enjoy the crafting part of it, but I know the crunchy seeds are Matt's reason.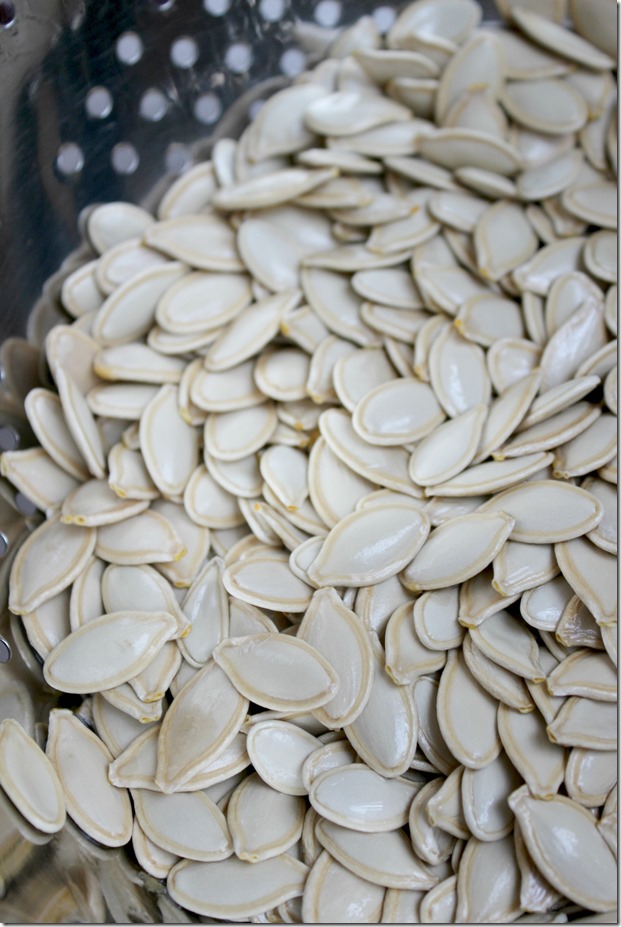 We slaved away on our pumpkins yesterday. I actually carved two though…one for home; one for work.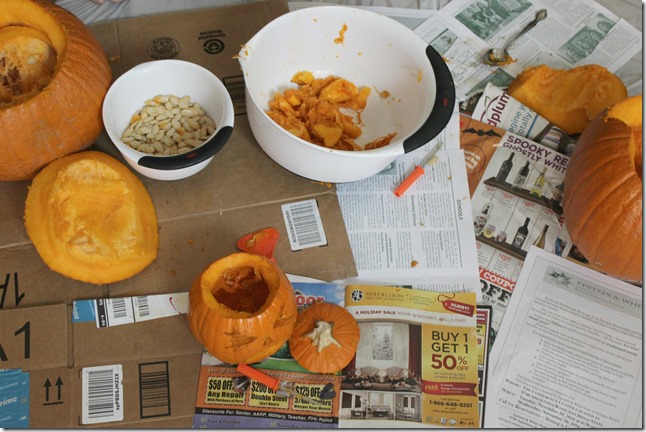 I decided to carve a little "pumpkin pie" pumpkin (at least that's what the grocery store told me), and the point of carving this second, smaller pumpkin was to incorporate it into my dessert that I made for our work contest. Like I said above, I take this holiday seriously. Haha.
My dessert this year was inspired by the presentation for a different festive snack, which involved guacamole. I decided to make a variation of my Pumpkin Cream Cheese Dip, turning it into the unfortunate "vomit" for this sad pumpkin. (Hey, no one said Halloween was pretty!)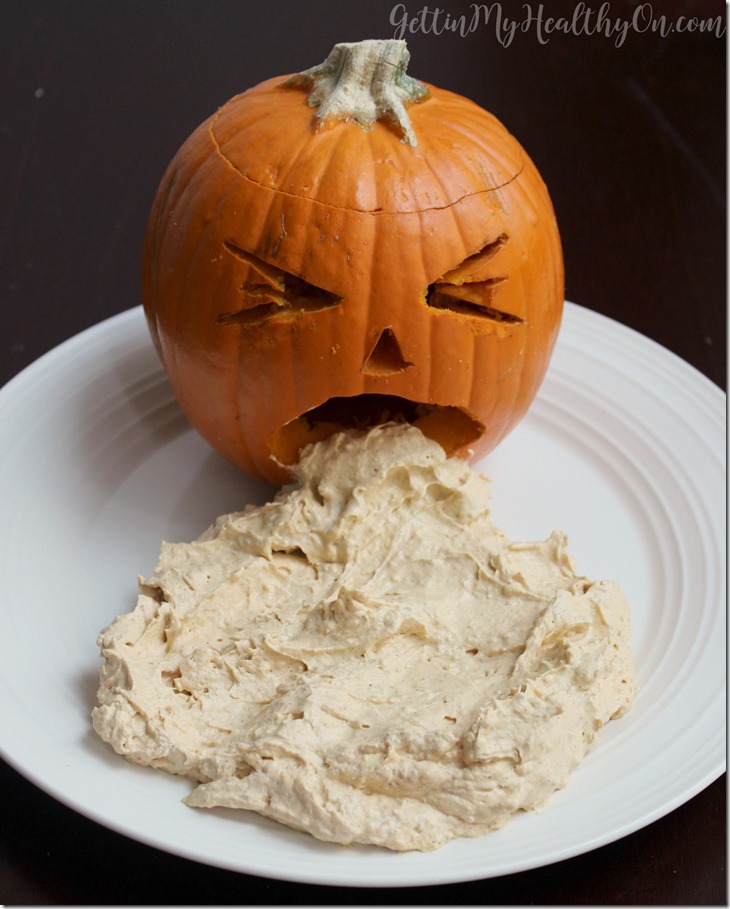 I thought it was pretty cute…errr…"cute." (Edited to add: This won me 2nd place in the dessert contest! Woohoo!)
As for our personal pumpkins, it took us forever to figure out what to even carve—like usual. Matt finally decided on a "design" and I followed suit based on his plans. Here's the end result: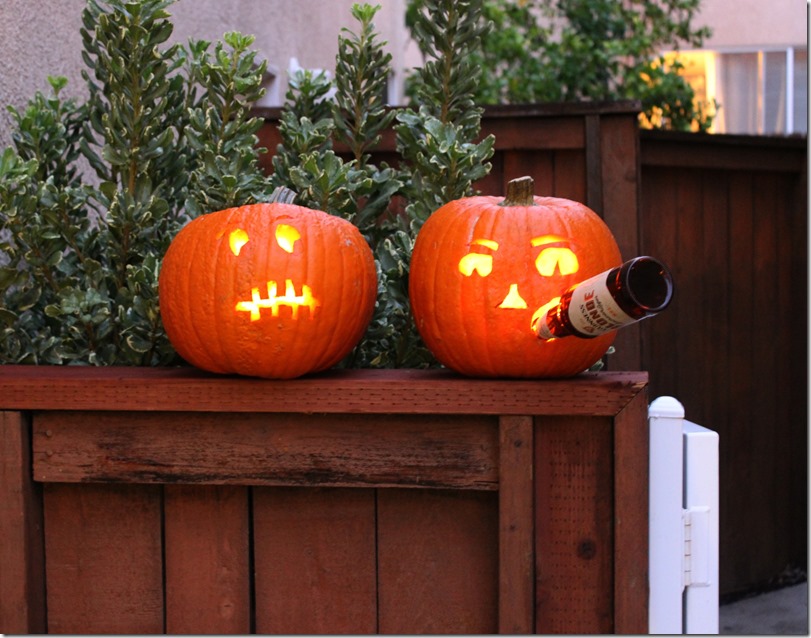 Basically, his pumpkin can hang, and my pumpkin judges his pumpkin. It's all family friend fun over here, as you can see. 😉
And that about covers our Halloween shenanigans this year. I'm excited to watch some movies tonight and give all our candy away to coworkers tomorrow (#12 on my tricks for staying healthy during Halloween list).
Are you dressing up this year? What as?!
Do you make festive food or decorate for Halloween? Or are you more about other holidays?