Make the classic Caesar salad from scratch by topping a bed of romaine lettuce with grilled chicken, homemade Greek yogurt Caesar dressing, and simple whole wheat croutons.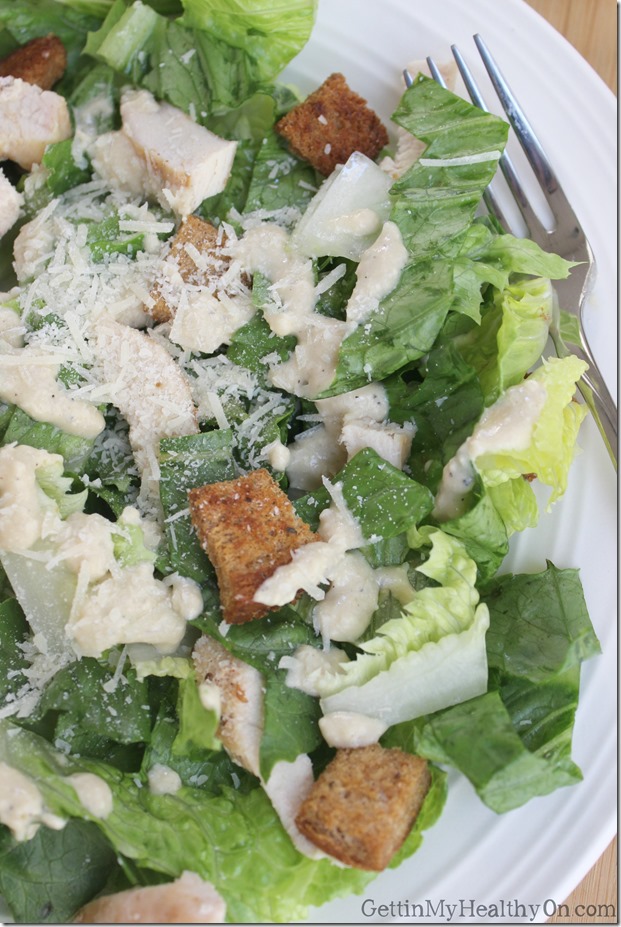 When it comes to salads, Caesar is probably my favorite. However, I don't make it very often because I never have the dressing on hand and also because it's not usually the healthiest of options. WELL, after a couple attempts, I have officially made a much healthier version that I will, no doubt, start making on a regular basis. Confession: I had the most massive salad when I made this because I couldn't stop. All the different components of this salad make it to die for – most notably, homemade Caesar dressing (using Greek yogurt) and homemade croutons (made out of whole wheat sandwich bread). I'm all for utilizing ingredients I have on hand, and that's exactly what this meal is.
I started with the dressing so all of the flavors could marry as I put together the rest of the salad's goodness. In a bowl, I whisked together 1/2 cup plain Greek yogurt, 1 tablespoon 2% milk,  1 tablespoon extra virgin olive oil, 3 tablespoons fresh lemon juice, 2 teaspoons anchovy paste, 2 teaspoons Worcestershire sauce, 1/2 cup grated Parmesan cheese, 2 cloves minced garlic, 1 teaspoon Dijon mustard, 1/4 teaspoon sea salt, and 1/4 teaspoon black pepper. This Greek yogurt Caesar dressing has a slight tang to it, which I love, but it's in no way overpowering. It really creates the perfect flavor that acts as the star for this salad.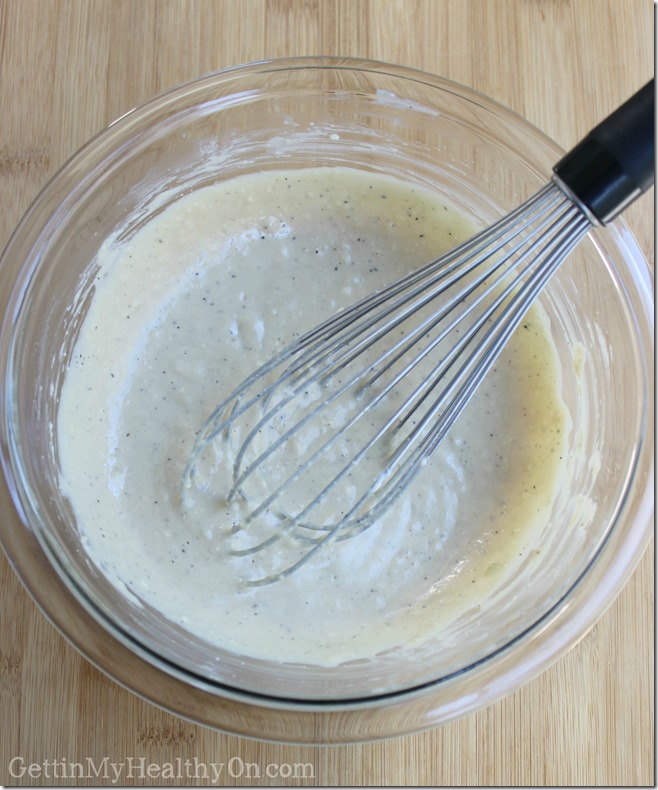 Once the dressing was done, I set it aside and started on the croutons. I rarely eat salads with croutons because the store-bought ones seem to just lower the healthy factor of my salads. However, I've started to make them at home every once in awhile because I know exactly what I'm putting in them. I don't use any fancy crusty French bread or anything. I use straight-up whole wheat sandwich bread. I've used Ezekiel bread before, which works really well (and is even better for you), but for this recipe, I used a regular 100% whole wheat bread.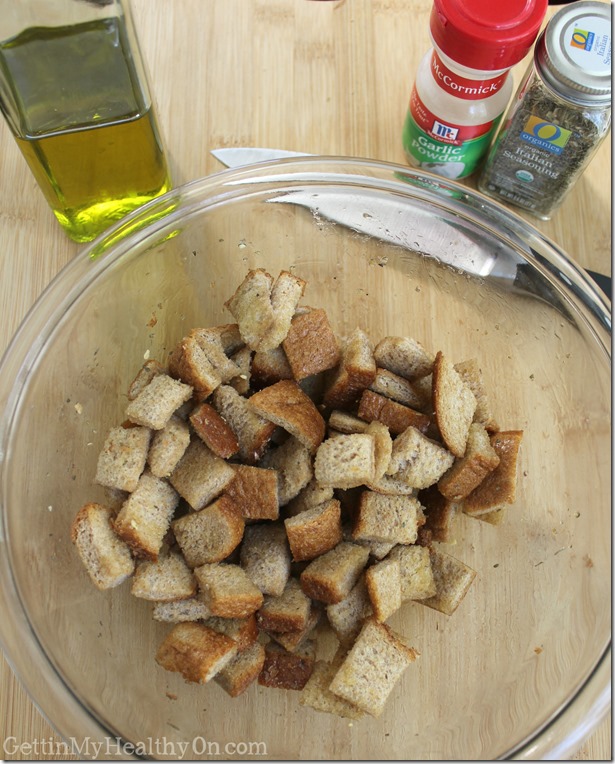 I sliced about four pieces of bread and then dumped them in a bowl. (Pro tip: this makes a great use of the heels of the loaf if you don't prefer them for sandwiches.) Then I drizzled about 2 tablespoons extra virgin olive oil, 1/4 teaspoon Italian seasoning, and 1/4 teaspoon garlic powder. You wouldn't have to add seasoning, or you could add more, it's up to you. I just wanted a subtle flavor enhancer, and these worked well with the salad. Once you have all the ingredients in the bowl, stir them around for a bit so the bread chunks are pretty well coated (they won't be completely). Spread onto an ungreased cooking sheet and bake at 350 degrees for about 13-15 minutes. Let cool for a couple minutes.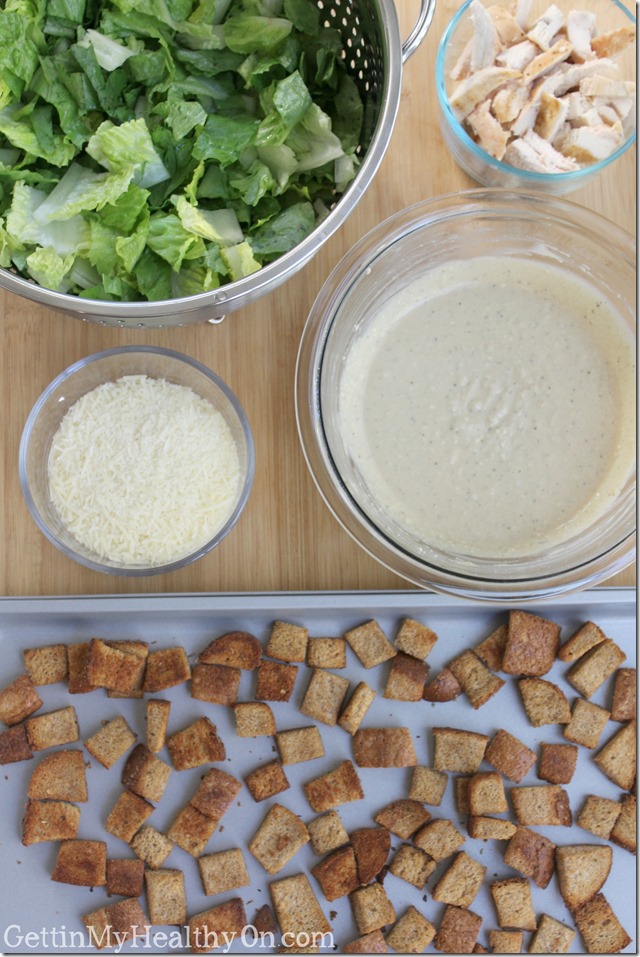 Now, you're ready to put it all together!
I topped a bed of romaine with leftover grilled chicken that we had on hand, as well as croutons, dressing, and shredded Parmesan. You could definitely shake this all together so the dressing coats all the lettuce, but I just drizzled it on top.
Grilled Chicken Caesar Salad with Homemade Dressing & Croutons
Ingredients:
Greek Yogurt Caesar Dressing

1/2 cup plain Greek yogurt
1 Tbs milk
1 Tbs olive oil
3 Tbs lemon juice
2 tsp anchovy paste
2 tsp Worcestershire sauce
1/2 cup grated Parmesan cheese
2 cloves garlic, minced
1 tsp Dijon mustard
1/4 tsp sea salt
1/4 tsp black pepper

Whole Wheat Croutons

4 pieces of whole wheat sandwich bread
2 Tbs extra virgin olive oil
1/4 tsp Italian seasonings
1/4 tsp garlic powder

Salad

1 head of Romaine lettuce, rinsed and chopped
2 grilled chicken breasts, sliced into thin strips
Whole wheat croutons
Caesar dressing
1/2 cup shredded Parmesan
Instructions:
Greek Yogurt Caesar Dressing

Whisk together all ingredients in bowl. Set aside.

Homemade Croutons

Slice pieces of bread into about 1-inch squares. Pour into bowl and coat with olive oil and seasonings.
Spread onto ungreased cooking sheet and bake at 350 degrees for 13-15 minutes, or until bread is no longer soft. Let cool.

Salad

On a bed of romaine lettuce, add desired amount of chicken, dressing, and croutons. Top with sprinkle of Parmesan.
Serve!
Recipe from GettinMyHealthyOn.com
We ate this for a lighter dinner, and it did not disappoint. I found this to be a refreshing meal without the guilt. Soooo much goodness. Hope you like it!