For a sweet and colorful treat, make this funfetti cookie recipe that uses Greek yogurt for a slightly less sinful cookie that's still perfectly soft and chewy.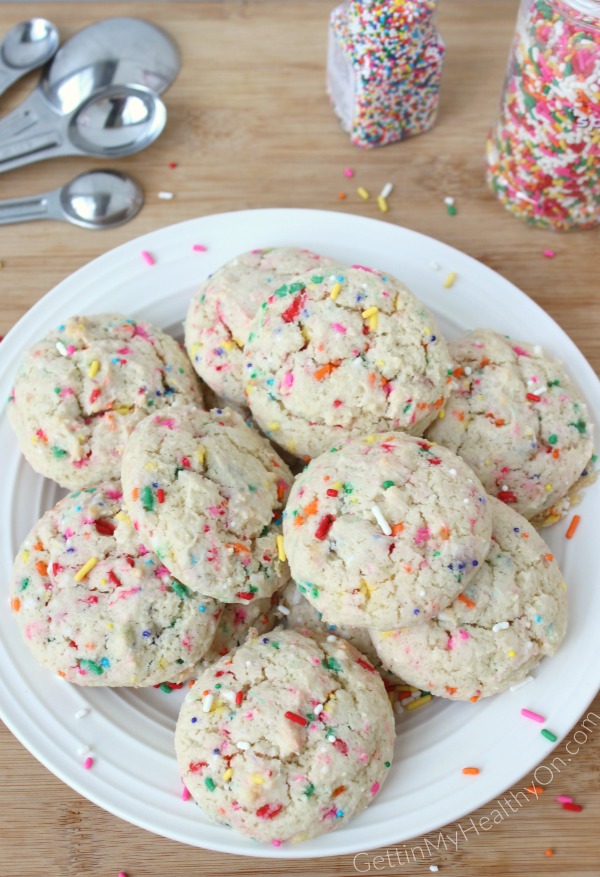 Funfetti cookies have always been one of my top favorite cookies. They're not usually the first ones that pop into my head—because HELLO chocolate chips exist—but every time I eat one, I'm reminded of how perfect they are (this coming from someone who thinks sprinkles are overrated).
In the past, I would buy a box of Pillsbury Funfetti Cake mix and turn that into cookies by only adding the oil and eggs (not the water). This was one of the greatest things I learned in college…ish. Ever since I tried making them from scratch a few years ago, however, I can't go back to the cake mix method.
And since I'm all about making recipes healthier, I went for my usual healthier substitute for butter—AKA Greek yogurt—to replace half of the butter. The fact I can add 1/4 cup plain Greek yogurt instead of 1 of the sticks of butter is still groundbreaking to me. It just blows my mind how well the cookies turn out with such a major change. Less saturated fat and more protein? Yay for less sinful cookies!
I've brought these cookies into work before and couldn't believe how many people raved about them. Someone even called me from across the office to discuss them with me. So that was proof enough that this recipe was a winner.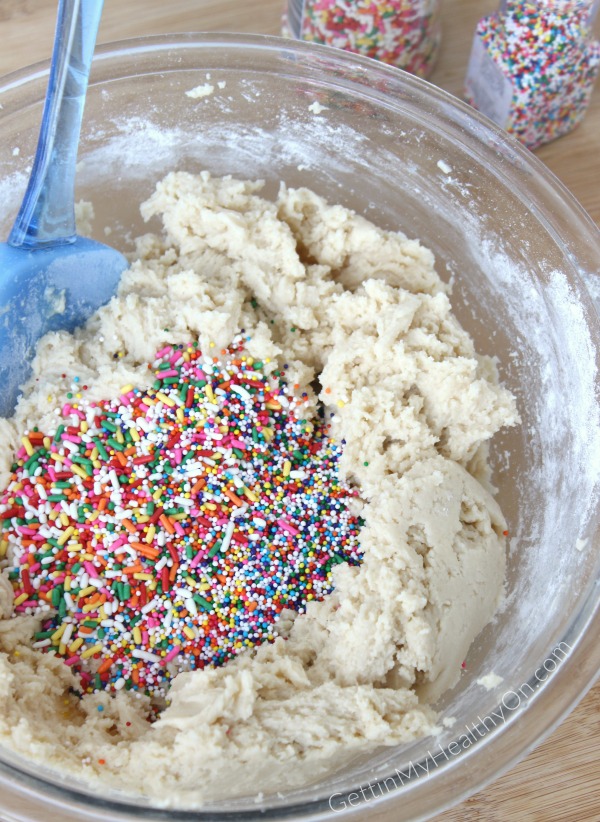 And just a heads up, this recipe calls for two different types of sprinkles: Jimmy sprinkles and nonpareil sprinkles. I made a visual below so you don't have to spend that extra five seconds of your life Googling it like I did the first time. So don't say I've never done anything for you.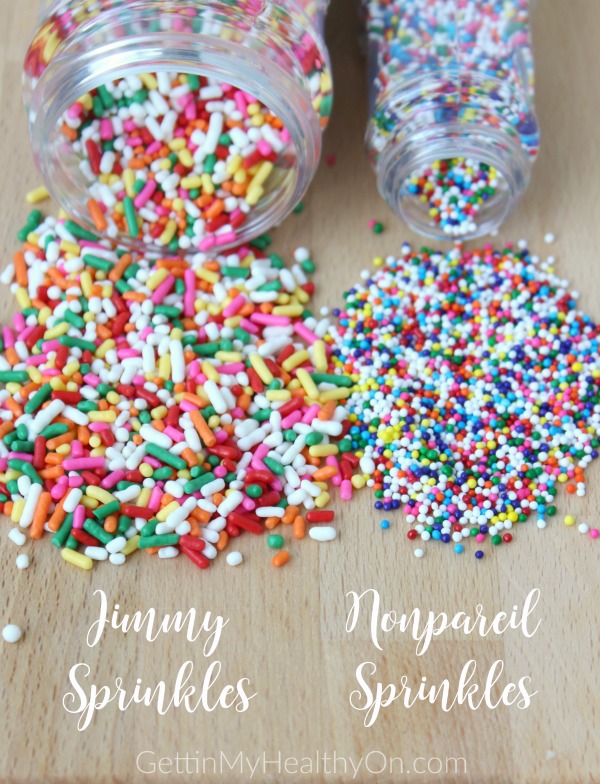 As mentioned earlier in this post, I've always been pretty indifferent about sprinkles. They taste like small bits of dried frosting, not really adding much to desserts. But for some reason, I find funfetti cookies to be AMAZING. They have some sort of cake-like quality (unlike any other cookie) that pulls me in. This recipe makes them slightly fluffy with a touch of chewy. Soooo good.
Funfetti Cookies Made with Greek Yogurt
Ingredients:
1/2 cup salted butter (1 stick), softened
1 1/4 cup granulated sugar
1/4 cup plain Greek yogurt
2 tsp vanilla extract
1 tsp almond extract
1 large egg
2 1/2 cups all-purpose flour
1/4 cup cornstarch
3/4 tsp baking soda
1/4 cup rainbow jimmy sprinkles
2 Tbs rainbow nonpareil sprinkles
Instructions:
Preheat oven to 375 degrees.
Cream butter and sugar together. Add yogurt, extracts, and egg, mixing until combined.
In a separate bowl, whisk the flour, cornstarch, and baking soda together.
Slowly mix the dry mixture into the wet mixture. Then fold in the sprinkles (just until combined, as to not make the colors bleed).
Scoop by rounded spoonfuls onto an ungreased cookie sheet. Bake for 11-13 minutes, just until the edges start turning a light golden brown.
Recipe from GettinMyHealthyOn.com
If you want to make these even healthier, you could sub whole wheat flour for half of the white flour. If you do this, though, I'd recommend using 1 1/4 cups white flour and 1 cup whole wheat flour (since wheat flour is a little bit drier).
Have you ever made cookies from a boxed cake mix?
Are you pro sprinkles? Or more indifferent like I am?
The original version of this post was published on August 25, 2014.