For a light and fresh meal, throw together this healthy chopped cabbage salad filled with flavors like ginger and sesame.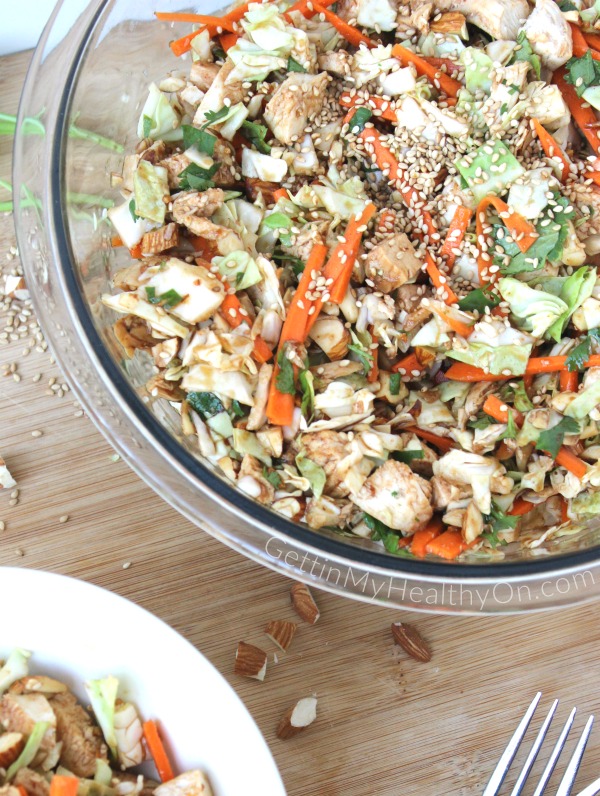 Fresh ginger is hands-down one of my favorite flavors in cooking. I never keep it on hand, though, so I always have to make it a point in my meal planning to pick some up if I need it. Thankfully, I thought far enough ahead last week to make today's recipe, which I wasn't even planning to put on the blog. I spur-of-the-moment decided to snap some pictures of it while I was preparing it, though, and once I tasted the final result, I thought…yes, yes this is happening.
I've made this Ginger Sesame Chicken Salad a few other times in the past, and it always surprises me how pleasantly fresh and flavorful the end result is. It doesn't hurt that cabbage is the base of the salad, which is another ingredient I have always loved. It's actually kind of weird how much I love green cabbage, now that I think about it. Cooked…raw…I don't care—I will happily eat a large bowl of plain cabbage any day.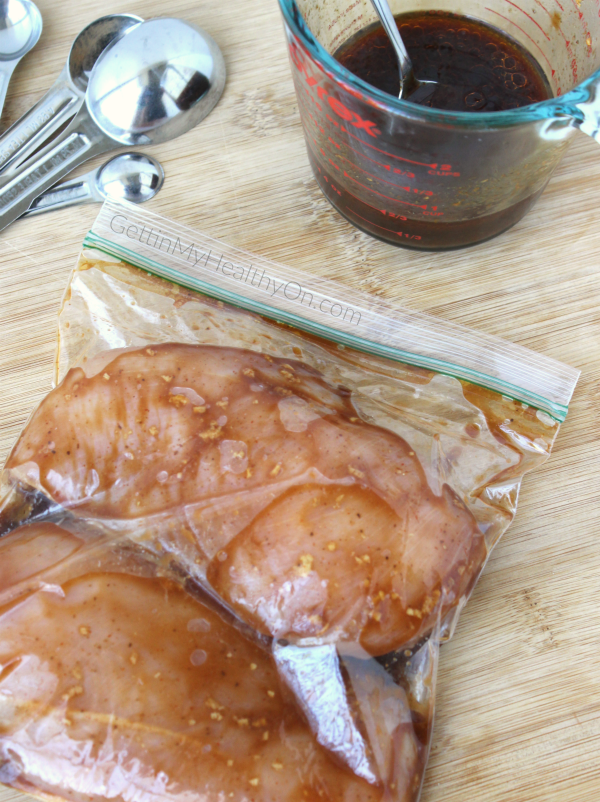 This salad recipe has about five main ingredients: cabbage, chicken, carrots, almonds, and cilantro. When tossed together, they make for the perfect mixture of textures (plus a sprinkle of sesame seeds on top because garnishes somehow take dishes to the next level). So much crunchy, crispy goodness!
The dressing does double-time as a marinade for the chicken, and let me tell you: if you take anything from this recipe, just whip up the marinade and use it for chicken the next time you make it. It's delicious on its own—but it's better in this recipe.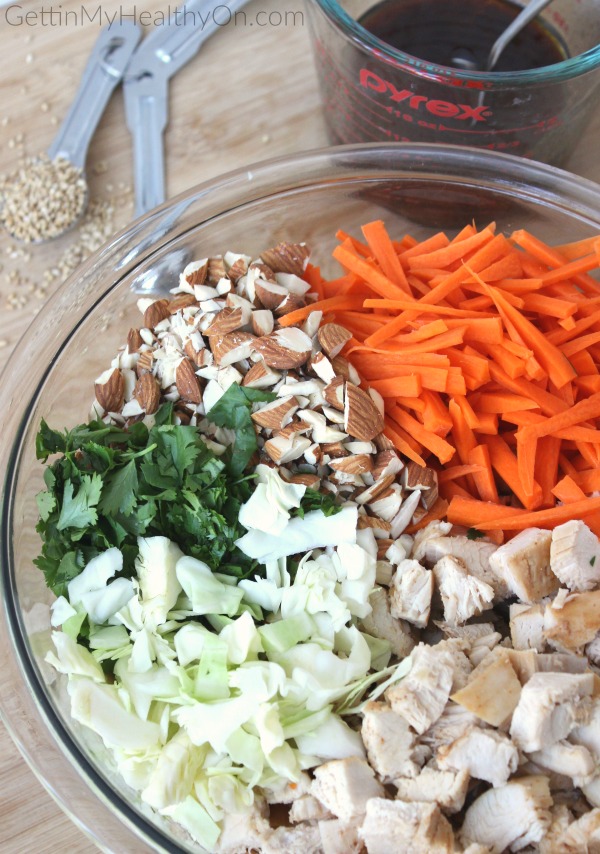 I love having recipes like this one in the weekly mix because they're so different. It's not your usual boring salad, but it's also not a traditional protein + veggie + starch dinner.
It also keeps really well and makes for a great lunch dish the following day(s). And as I mentioned ages ago, one of my tips for what to know before P90X is: leftovers are an extremely underrated way to stick with a healthy diet. If you're making a truly healthy dish like today's recipe, don't be afraid to make extra servings of it, because you'll be happy when you…
Don't have to worry about what to make the next day and
Have a no-brainer healthy meal without any extra effort.
Lazy healthy habits for the win!
Ginger Sesame Chicken Salad
Ingredients:
Dressing and Marinade:

1/4 cup reduced-sodium soy sauce
2 Tbs minced ginger
3 Tbs canola oil
2 Tbs hoison sauce
1 Tbs toasted sesame oil
1 tsp sriracha
1/2 tsp salt
1/4 cup red wine vinegar

Salad:

2 boneless skinless chicken breasts
1/2 head of green cabbage, chopped
2 cups matchstick carrots
3/4 cup chopped almonds
2 tsp toasted sesame seeds
Instructions:
Dressing and Marinade:

In a bowl, combine ginger, oil, hoison, sesame oil, sriracha, and salt. Pour 3 tablespoons of the marinade into a large resealable bag (reserving the rest) and add the chicken breasts. Remove all the air and seal. Marinate for at least 30 minutes in the refrigerator, or as long as overnight.
Add red wine vinegar to the remaining dressing. Set aside.

Salad:

Once the chicken has marinaded, cook in a skillet over medium heat, covered, until no longer pink in the middle. Remove from heat, and let rest for about 10 minutes. Then cut chicken into cubes.
In a large bowl, combine chicken, cabbage, carrots, almonds, and remainder of the dressing. Garnish with sesame seeds, and serve!
Recipe from GettinMyHealthyOn.com
Adapted from Curtis Stone's recipe on redbookmag.com.