As of today, there are 19 days left until Christmas. If you're like me, you still have to get most of your presents for people. Despite this unfortunate situation, there is no need to fret! If there is someone in your life that would like to be healthier or is already on the healthy living train, I have an idea for you…
A sample box full of healthy randomness.
I've reviewed various products, such as the Kona Kase and Bulu Box, that revolve around the idea of helping people discover new health-related products. Well these have inspired me to make my own box of fun and make it into a cool gift for someone. Plus, I just love themed presents…and the healthy living thing…so personally, I would love to get this gift.
In addition to all the fun you can fill the box/basket/satchel/whatever your heart desires with, the homemade box of healthiness portrays the message that you support that person in your life and their endeavors to becoming healthy. Whether you want to help motivate them to get healthy or you want to encourage them to keep doing their healthy thing, I love how this gift goes beyond just a material thing. You're helping someone get their healthy on!
I've come up with some ideas that I think would go well in a box of healthy samples and hope this helps if you're into this idea!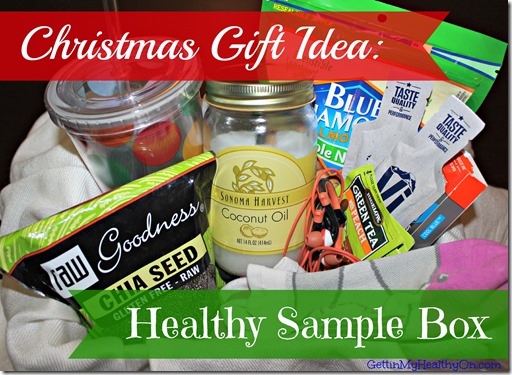 Food
I'm not saying throw a bag of oranges in a box and call it a day. Maybe get some healthy foods the person probably wouldn't buy for themselves, such as hemp seeds, chia seeds, coconut oil, quinoa, or a bag of crazy-flavored almonds. Have fun with it! There's a lot of weird fun stuff out there.
Workout DVD
I know I'd love to get a yoga DVD or something because for some reason, I can't get myself to go buy one for myself. You could also do pilates, zumba, prancercizing or whatever the person seems to be interested in.
Water Bottle
There are some fun water bottles out there, whether it's a filtering one, has a built-in straw, or just has an attractive design. If you're trying to drink more water, it's always nice to have a reusable water bottle, so why not give one as a gift to help motivate someone else to as well?
Lotion
This one's super simple, but it's always nice to have lotion on hand. (Ha! Get it?) If your person is active, their skin may suffer as a result. I know when I'm running a lot of miles, my feet need lots of extra TLC.
Electronics
I'm talking headphones, a timer (Gymboss, perhaps?), pedometer, or something else to aid in workout activities. I personally recommend these Philips headphones for runners because they wrap around your ear and don't fall out.
Cookbook of Healthy Recipes
Certain diets like paleo are becoming more popular, so that's always an idea. Otherwise, there are fun cookbooks out there that emphasize healthy eating that could work well.
Refueling Products
If your person is pretty active, I highly recommend refueling products, such as energy chews or gels, or recovery products, such as the drinks themselves or maybe mixes, like protein powder.
Tea
Can't go wrong with a few bags or more of tea! It's always nice to have around and is a healthy alternative to more fattening yet heavenly coffee drinks and such. Plus, there are so many fun kinds these days.
Other Fitness Gear
I'd recommend wandering an athletic store for other fitness-related randomness. You could do running socks, a foam roller, a yoga mat, headbands (I personally love BIC Bands), or whatever else you can find.
…And those are just some things I can think of at the moment.
You can do a mixture of goods that add up to be around the dollar amount you're comfortable with spending. Some may be more expensive, while others can be chilling in the dollar section at Target. It all comes down to what the person's interests are.
Hope you find this idea helpful as you shop for people this Christmas!
Questions for you:
What are some samples you'd like to get in a box of healthiness?
How's your shopping going? Did you take advantage of Black Friday / Cyber Monday for gift buying?
Is anyone participating in any holiday festivities over the weekend? I actually have a Christmas party at my work today, so I'm looking forward to that! I made the below ornament for an ornament contest we're having, so hopefully Monday I can let you know I have won. It's a "San Diego Snowman"…because it's melted…get it? I found the idea on Pinterest awhile back, and it seemed appropriate.