Happiest of Fridays to you all!
I'm mixing things up today and participating in a linkup hosted by Mar, Courtney, and Cynthia. Their theme for this week's "Friday Five" is running tips, which I thought was fun because I'm weird and like running (most of the time).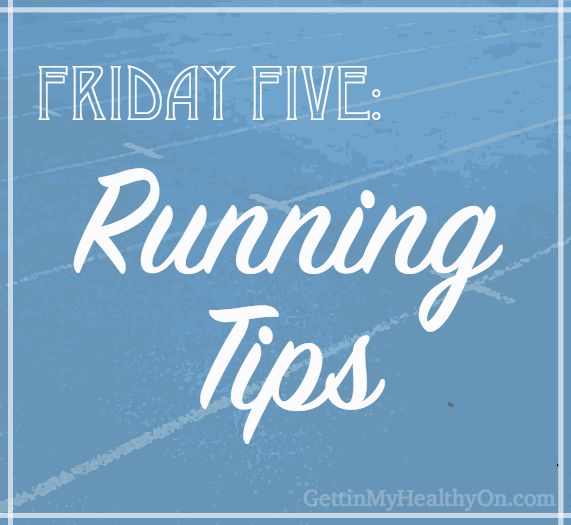 When people ask me for tips on running, there are a couple I usually share. But as I've been dealing with a pseudo-injury of sorts and haven't been able to run for about 8 months (oh lawd), I have a few extra that I emphasis now. See below for all five!
1. Don't be afraid to go slow. This is my #1 tip to new runners. We all know running can feel absolutely miserable at times, but it wasn't until I started making some runs more relaxed that it became more enjoyable. They don't always have to exhaust all your energy!
2. Run on a semi-regular basis. This is one of my new tips because I've never had a chronic problem that prevented me from running until I went a couple months without running and then jumped back in too fast. I was mentally in shape for it, but my body was like "NOPE." You live, you learn.
3. Fit cross training into your schedule. Yes, this running tip is to not run…at least not all the time. Some people can just run all day errday and not do any other type of strength training…but that's not how my body works. Since running uses a very specific set of muscles, it really helps to strengthen the supporting muscles by cross training and trying other types of workouts (circuit training is my go-to) to help you run better.
4. Have a go-to route. It can be a pain to figure out new running paths all the time because you either don't know how far they are or what to expect. I'm quite fond of 1- to 2-mile loops because you can easily adjust your distance without having to figure it out every time. Even if you don't run the same route all the time, it's nice to not think and just go out there and have that routine route when you need it.
5. Stretch. For the love of God, stretch. I've always been great about stretching consistently…until I took that couple-month hiatus from running. Once I tried to get back into it, I didn't stretch much at all, which I very much regret. Take care of your tight muscles by simply spending 5 minutes warming up and 10 or so stretching after the run. It makes the world of a difference.
And those are my top five tips for running!
Fellow runners: What's your top running tip?