Sup, playas? Happy Friday!
It's my last Friday before becoming a working woman! And I am MORE than okay with that. I plan to go to Starbucks at some point to chillax. P.S. There's a GroupOn for a $10 Starbucks card for $5. I found it after deciding I was going there today. Love when that sort of thing happens.
Speaking of my job news, I received this awesome congratulatory bouquet from my lovely sister on Thursday.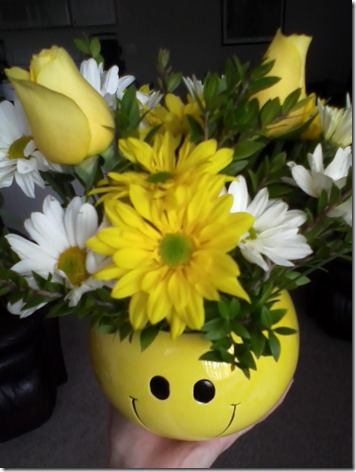 I thought the smiley face vase was a nice touch. It definitely makes it feel more springy up in hurrrrr. (I don't know what's wrong with me today. I'm getting extra ghetto weird. The sad thing is that I talk like this often. It's just not always done through my blog posts.)
On Wednesday night, Matt and I finally got around to going to dinner to celebrate our 3-year anniversary. The funny thing is that our 3-year was 5 months ago. It's kind of like our Thanksgiving in February—we celebrate when we feel like it.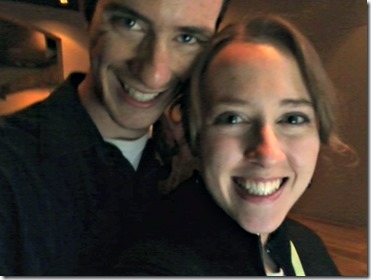 (Taken awkwardly in light of a claw machine at the bar we went to after.)
By the way, more bars/restaurants need to have foosball tables. Just throwin' that out there.
(And that, my friends, is the difference between Matt's phone's camera and mine.)
Workout
I'm pretty excited because I'm going for a run with Matt and a friend at a track nearby after they get out of work(aka I'm enjoying my last Friday being lazy all morning). We did this last Friday evening, and it was amazing. Here's hoping to another overcast evening running by the ocean!
The D.L. on the Bulu Box
I was given the chance to try Bulu Box back in December and found it to be a pretty cool concept. You can check out my post explaining the product here, and this post details what I received.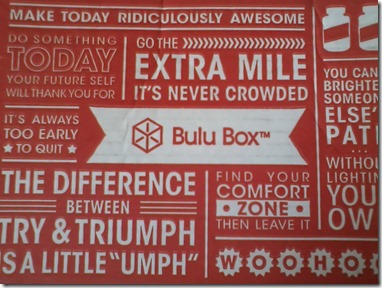 Now I'm an Ambassador!
If you're not familiar with Bulu Box, here's a little blurb about it:
A monthly subscription to Bulu Box, at just $10 a month, gets you 4-5 premium vitamin and supplement samples delivered to your door. The beauty of this is that you can try the sample size of each supplement, and then decide if they are worth buying a full size. The other side is that you also discover what doesn't work for your body, preventing you from wasting money on those full size products that aren't meant for you!
I'm not big into taking a bunch of pills. Believe me. The only supplements I take are a multi-vitamin and Biotin (which is a recent addition).
However, I think Bulu Box is pretty cool because you're given the chance to sample supplements before committing to them. With my first box and now with my second, I've tried most of the supplements but not all.
Since what you'll receive is a surprise each month, you're exposed to supplements you might not usually try. I've only come across a few things I didn't want to try: a meal replacer and a few sleeping aids. However, some of the other supplements I really do like. One, for example, is the FRS Healthy Energy Chews. I like eating one or two before longer runs because I really do think they give me a boost of energy.
Here's what I received in the box this past week: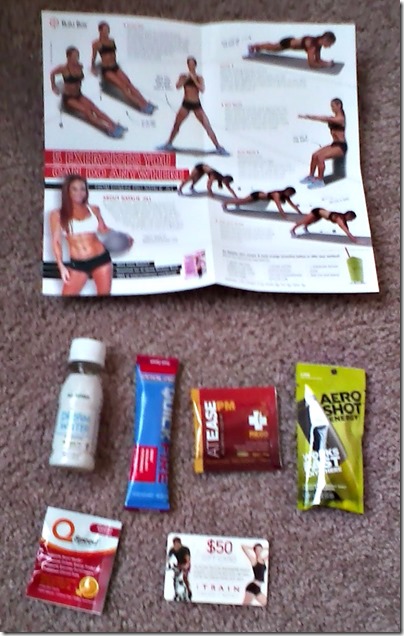 Dream Water, QSpeed CoQ10 100mg, Prolab Quick Fire, Redd Remedies atEASE PM, Aero Shot Energy, $50 iTrain Gift Card, and on my information card was an intro to 5 exercises.
If you'd like to learn more, check out their website!
If you feel like trying one FO' FREE or want $10 off a subscription, use the coupon code BULUGAN866.
Questions for you:
Ever heard of Bulu Box? Tried it? Thoughts?
Do you swear by any supplements?
What's your favorite game room / arcade-type game? I enjoy foosball, but I can't deny my love for Skee ball.
Plans for the weekend? Pretty sure we're going to go see The Great and Powerful Oz!!! And Saturday we're going to meet up with some family for dinner.