Workouts
Yesterday: Ran 4 miles in 37:26 for an average pace of 9:21. Meh. I also did a 2 minute and 35 second plank for my plank challenge but split it up into 3 sets. It has become slightly REALLY HARD.
Today: Woke up at 5am again to workout because I'm insane. I did my Lower Body Strength Workout and Feel the Burn Ab Circuit. Eventually, I will do a 2 minute and 40 second plank (split up into 2 or 3 sets, unless I'm feeling especially jacked today).
---
Happy Friday!!!
I'm quite stoked about today's post because it involves free socks. Okay, so most people probably don't get overly excited about socks, but that's because you haven't tried these amazing running socks. They're high quality and, like most good running socks, the price reflects that, so you should take advantage of my giveaway. Just saying…
If you've ever worn a good pair of running socks, then you have experienced one of the finer things in life. It's a bit ridiculous how much regular and running socks differ. Running socks just feel…right. It's a luxury for the feet.
I have a couple different brands of running socks, and while I prefer them over normal socks when running, they're just…meh. After trying out the Feetures! brand, my eyes have been opened. Check out my review and giveaway below!!
Feetures! Review
The lovely people at Feetures! brand running socks sent me three different pairs of socks to try out, and I had a jolly good time running around in them. They sent me the following types of socks (as seen from left to right in the picture): High Performance with light cushion, Elite Merino+ with ultra light cushion, and Elite with light cushion.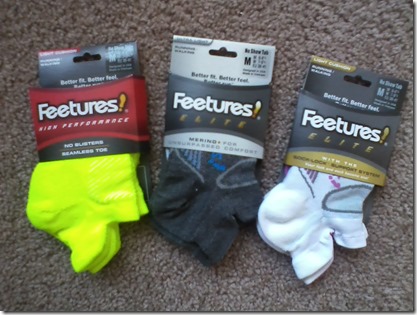 All three types of socks have the following features in common:
No toe seam, which tends to cause blisters
Moisture-wicking material
Designed specifically for each foot for ultimate comfort
Fabric extends above heel to prevent blisters
Form-fitting for more support
What I love about the Elite and Elite+ socks was how beautiful life felt when they hugged the middle of my feet. They are more form-fitting in that area, which makes them uber comfortable. It might be my favorite part about what I consider "good" running socks. They're also pretty thin, allowing me to tighten my shoes more. Lastly, they have a flap of fabric in both the front and the back of the sock so the tongue and back of your shoe don't rub against your skin. Seemed comfier all around.
If I had to pick a favorite, though, I'm thinking I'll go with the High Performance socks. (I guess you could say I like bright workout apparel—just check out my awesome running shoes.)
Even though they're "light cushion," I thought they seemed extra cushy. It's probably because there's dense cushioning in more high impact areas, and there's more of a mesh section on the top of the sock to help your feet breathe. And like the different Elite versions, the High Performance socks were form fitting around the middle of my foot. Good. Times.
Feetures! Giveaway
Now it's your turn to try the socks out! Make sure to leave a comment to enter the giveaway and receive 4 entries. For additional entries, do what the thing below says. The lucky winner will win one pair of Feetures! socks, either Elite, Elite Merino+, or High Performance. Giveaway runs till Monday night, October 28th, at midnight. Good luck!
Disclaimer: I was sent Feetures! running socks for free to review. All opinions are my own.