Happy Happy Friday! I have an exciting post for you all today. It involves free stuff, so that's always a good time.
I was offered a 16" x 20" canvas from Easy Canvas Prints and below you can read my review and enter the giveaway to receive your own fo' free!
Easy Canvas Prints Review
It was a bit difficult for me to commit to a picture for the canvas, but I finally settled on the following sun setting over the ocean picture taken by Matt's sister: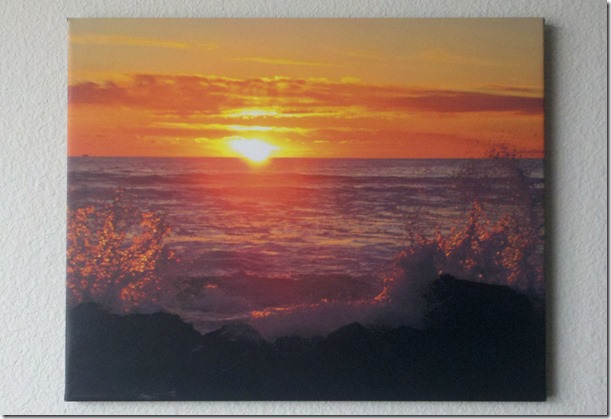 I'm quite pleased with it. I've never had a canvas before, so I think it's pretty awesome. It's much prettier than the posters that are ripping that I have from college…
When you go to the website and design your canvas, you'll have several customization options, including canvas size, thickness, border style, display options, and image retouching. I also really liked how the site checks the quality of the image, so you know the canvas will look good and won't be all pixelated and gross.
I'm really into the idea of turning my own pictures into art by putting them on a canvas–it's just that much classier. This is my first home outside of college that isn't located under my father's roof, so I'm still working on the decorating-like-I'm-a-big-kid thing.

 Easy Canvas Prints GIVEAWAY
Now for the good part. 🙂 Easy Canvas Prints wants to make your home prettier as well and is offering an 8″ x 10″ canvas to one lucky Gettin' My Healthy On reader! Enter below:
The giveaway ends on Monday, August 5th at 11:59 pm (Eastern time), so I'll be announcing the winner on Tuesday, August 6th. Good luck!
Disclaimer: I was sent the Easy Canvas Print  for free to review. All opinions are my own.