When I was a senior in college (almost 4 years ago!?), I took the course "CPR & First Aid". As the final project for the class, we had to create a comprehensive first aid kit. We were given a list of items that were required to be part of it and were told to add our own items as well. Well I don't know what it is about this first aid kid that I made, but ever since that class, I've been kind of in love with it. I think it's a combination of the preparedness and the intense organization that makes me so happy I have this.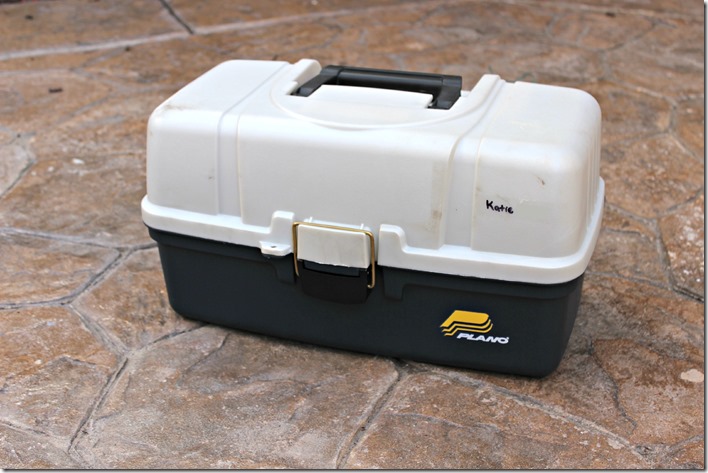 It has pretty much anything I would ever need and is beautifully condensed into one tackle box of first aid goodness. It occurred to me a few weeks ago that this might be something people are interested in. Anyone can make a first aid kit, and today, I'm sharing my in-depth kit if anyone wants to go the extra mile. There are approximately 52 items in the tackle box, so keep reading if you want to see the lists!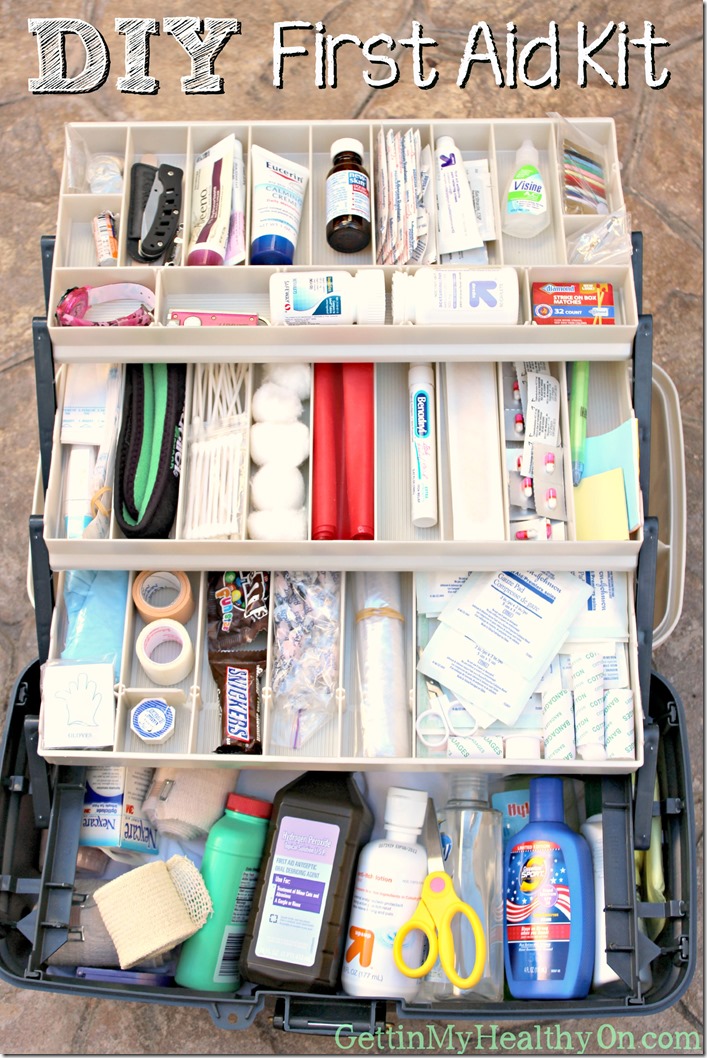 In row one, you'll find the following:
Change (to make a phone call if you need to)
Antacid TUMS tablets
Tweezers, pocket knife, and nail clippers
Hydrocortisone anti-itch cream
Lotion
Liquid Bandage
Band aids (in a variety of sizes)
Antibiotic pain relieving cream (Neosporin)
Eye drops
Needle and thread; safety pins and needles
Watch with a second hand
Flashlight
Ibuprofen
Acetaminophen
Matches
In row two, you can see:
Thermometer and extra covers
IT band brace
Q-tips
Cotton balls
Thera-band (I have this from ankle physical therapy several years ago)
Benadryl anti-itch stick
Tongue depressors
Benadryl pills
Pen and paper
Row three includes:
Rubber gloves
First aid tape
Floss
Candy (for diabetics; make sure this isn't hard candy)
Cough drops
Plastic bags
Gauze of various sizes and alcohol cleansing wipes
And finally, the fourth row involves:
ACE roller bandages (4 different sizes)
Eye pads
Compact mirror
Gold Bond medicated body powder (anti-itch)
Hydrogen Peroxide
Anti-itch lotion (Calamine lotion)
Antibacterial hand soap
Scissors
Aloe Vera
Sunscreen (SPF 30)
Bactine (antiseptic / pain reliever)
Feminine pads
CPR ISO-SHIELD (as barrier between you and the person receiving CPR)
Triangular bandages (4; for making a sling)
Splints (variety of sizes; I made these out of cardboard)
Additional items that are not pictured:
Emergency numbers (these are taped to the inside cover of the tackle box)
Ice pack
Blanket
First aid book
Is this over the top? Sure! But even though I don't need half of the items in my first aid kit, someday I might. Knowing that I have this variety of items is comforting. Over the years, I've definitely thrown more things into my first aid kit that I took out for this post (diabetic blood sugar reader and needles, tie-up ankle brace, and prescription ointment creams for my unfortunate skin problems), but I'd say most of the stuff I pictured / mentioned is a very solid base for a first aid kit.
Plus, having everything condensed into one, organized box of sorts helps keep all the little stuff from being scattered around, so you know exactly where to find things should you need them.
Do you have a first aid kit in your home? Did you buy it or make it yourself?
What are your must-have first aid items?
Side note: Today is the first day of my December Full Body Workout Challenge!! Make sure to check it out if you want to join me if you want to make sure you stay active throughout the holidays!