One of my goals for 2014 is to eat cleaner, and I'm jumping right in by participating in this 21-day detox starting tomorrow.
It's not a crazy "deprive yourself" detox, but rather an "eat super clean and put only good into your body" detox. While I think I eat pretty well for the most part, I've always been curious how I'd feel if I completely cut out the bad and focused on the good. I'm weirdly excited for this because having a pre-planned schedule and goals will help me stay motivated.
I'm doing the "Solo Detox," which is free and pretty basic. There are more in-depth options, if you're interested though—just check out her detox details here and sign up!
For this first week, I'm cutting out sugar, wheat, cow's milk, meat, and processed foods (as well as I can). I honestly don't think I'll have much of a problem cutting most of these out–wheat, however, seems a bit tricky. To prepare for the week of crazy healthy eating, I resumed my easy meal planning strategy, which I've been slacking on for awhile, and gathered some recipes that will help me stay on track. Definitely stocked up on the produce for this week!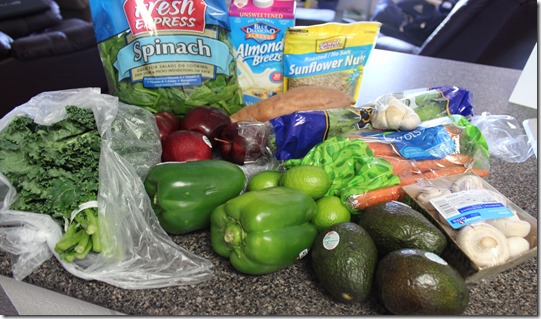 P.S. Don't ask me what sunflower nuts are. I needed sunflower seeds and saw these.
The plan is to have Peanut Butter Banana Oatmeal or another oatmeal variation for breakfast every day (using almond milk) and leftovers or a salad for lunch everyday. I made my Nut & Seed Granola Bars recipe for my mid-morning snack throughout the week. I also made some Kale Chips, but it turns out accidentally setting the oven to 375 degrees instead of 275 degrees doesn't work out too well—as seen below in the right side of the picture. Oops.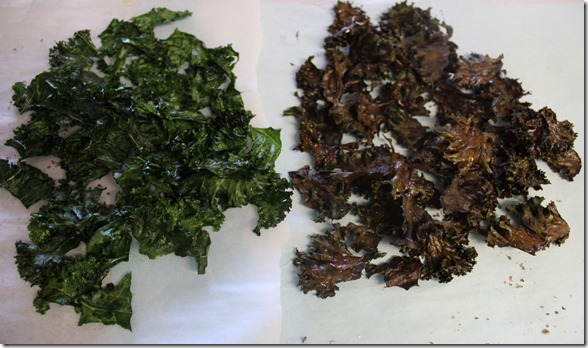 Breakfast, snacks, and lunch shouldn't be too much of a problem. Dinner was the main meal I really had to sit down and plan for the week. Here's the schedule:
Monday: Matt has a soccer game, which means I can make something weird since it's just me eating it. I'm just planning to make a sweet potato and throw who-knows-what in it for my dinner.
Tuesday: A dish inspired by this Taco Chicken Bowls recipe.
Wednesday: My Southwest Chicken Barley Soup recipe.
Thursday: Chicken and wild rice soup, using this recipe.
Friday: Unless I can think of something more adventurous, I'm thinking I'll just make a massive salad.
Saturday: Veggie-packed omelets.
Sunday: Might try out the cauliflower pizza crust thing to make a healthier pizza.
It should be an interesting week.
Since I'm doing this detox for me, I don't want to force it on Matt with the food I make every night. Therefore, I have found recipes that I can either add or omit meat in. I've found that boys don't think it's a meal unless some sort of meat is involved, so I figured he would appreciate this. We often have different ideas of what a good meal is, as seen below by our lunch today (his Spaghettios and meatballs on the left and my cranberry chia smoothie on the right).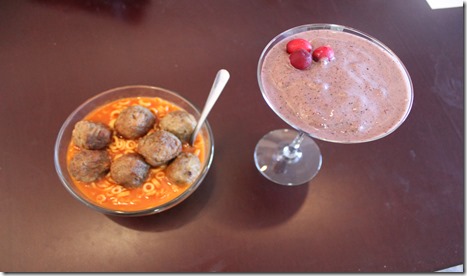 Yes, my smoothie is in a martini glass—stay tuned for the recipe Tuesday!
Aaaaand those are the detox details for the first week.
Have you ever done a healthy eating detox before? What were your thoughts on it?
What helps you eat healthier and avoid the junk?