Themed workouts are so fun to me. They break up the norm and make exercise slightly more interesting. I'm pretty pumped to share today's themed circuit workout because it's 1. travel-friendly due to having no equipment and 2. it's unlike any routine I've ever done before.
Matt actually introduced me to this "Deck of Cards" workout. We've already done it at least once a week for the past month or so because it's surprisingly fun to do with a partner.
All you need is a deck of basic playing cards, and you're set! Each suit has its own designated exercise that you perform:
Hearts = Pushups
Spades = Pike Pushups
Diamonds = V-ups
Clovers = Squats (I like to add weights to mine)
Jokers = Burpees (Matt voted we do a half marathon for each joker 😐 but I decided on burpees…you're welcome)
And then based on the number on the card, that's how many reps you do of the exercise in question. For face cards, you just keep counting up, so…
Jacks = 11
Queens = 12
Kings = 13
Aces = 14
Jokers = 15
You never know what you're going to draw next, so there's a lot of mystery in the game—it's highly unlikely you'll ever do the same workout twice.
The last time Matt and I completed this workout, we ended with 14 pushups. Oy vey! Despite the sometimes unfortunate order of cards, I've definitely realized that I can do way more pushups than I ever thought—I just need them broken up into a bunch of small rep counts. It's pretty cool.
Here's a cheat sheet to use if you want to try this out: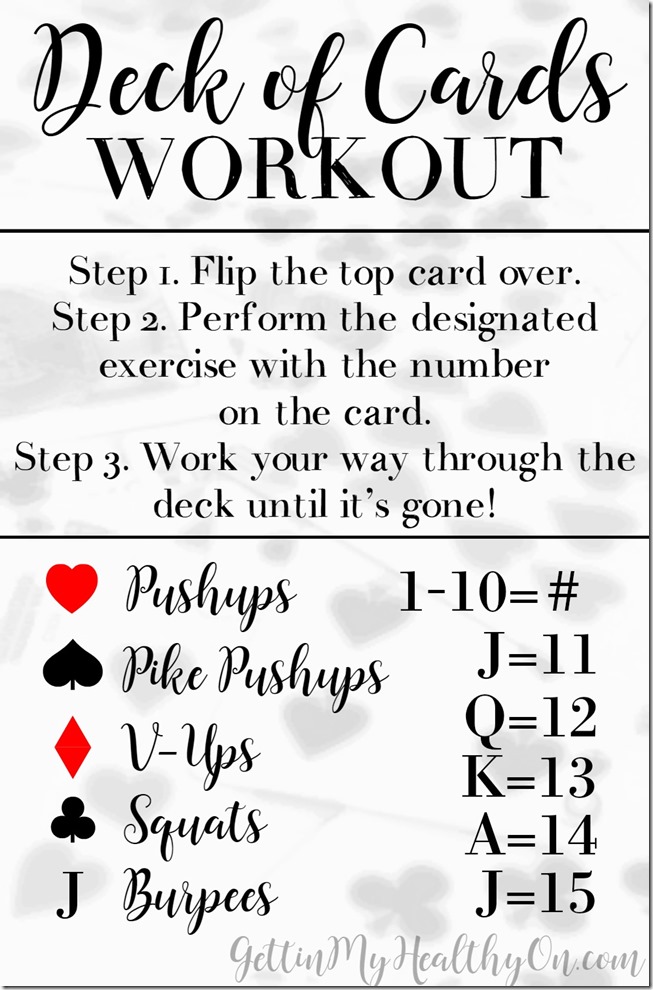 All the exercises are pretty basic, and I've shared them all on my exercise guide, except for Pike Pushups, which are KILLER after awhile. Oof!
If you do the math, you're actually doing 120 reps of everything. Hopefully that doesn't scare you away from doing this because it definitely doesn't feel that crazy. It feels pretty good to say that after you've completed it though!
Have you ever done any sort of themed workout before?