Today is the second day of my two-week healthy eating challenge, so I figured I'd get the ball rolling with a healthy dinner recipe. It's a fresh, protein-packed dish that's pretty simple to throw together. What I love about it is the refreshing blend of ingredients and the variety of textures it has.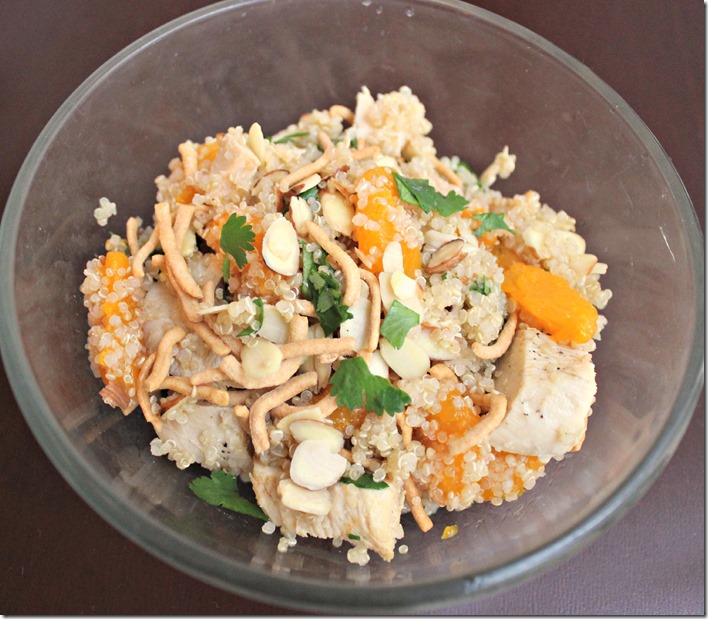 It's a combination of quinoa, chicken, orange slices, cilantro, and crunchiness in the form of sliced almonds and chow  mein noodles.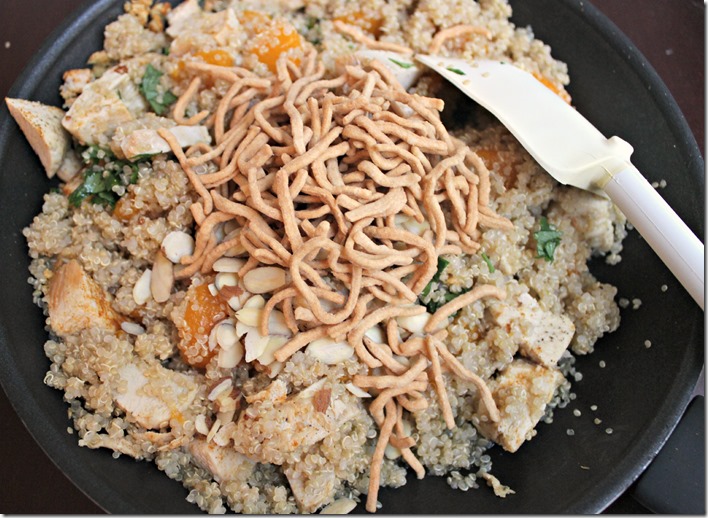 Mix all those together, and add the citrusy sauce, which is just olive oil, lime juice, orange juice, cilantro, and honey.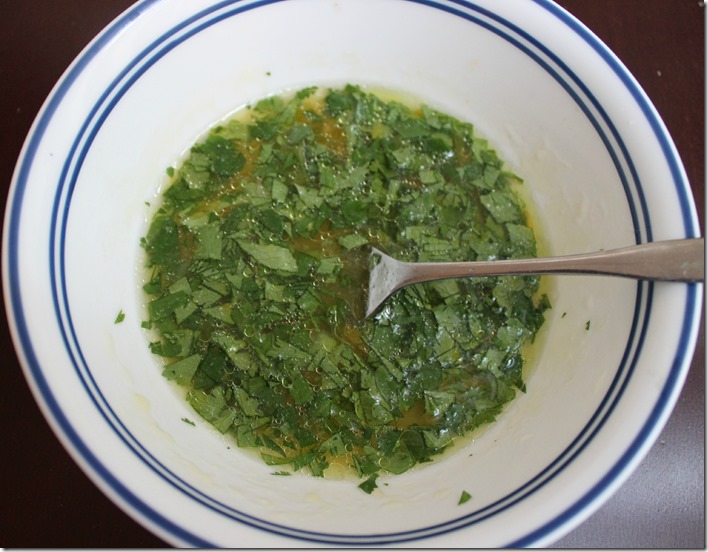 It made enough for the two of us to have leftovers. If you'll be saving some of this, I recommend not adding the almonds or chow mein until you're about to eat it. The sauce soaks into them, taking away the divine crunchiness.
Adapted from Sally's Baking Addiction.
Crunchy Orange Chicken Quinoa Salad
Ingredients:
Salad:

1 1/2 c quinoa, cooked (about 1/2 c uncooked)
2 Tbs olive oil
1 large chicken breast, diced
2-3 garlic cloves, minced
1/2 tsp paprika
1/2 tsp salt
3/4 c mandarin oranges
1/2 c raw chow mein noodles
1/4 c sliced almonds

Dressing:

1/4 c fresh lime juice
1/4 c fresh cilantro, chopped
1 Tbs orange juice
1 Tbs olive oil
1 Tbs honey
Instructions:
Heat olive oil in skillet on medium heat. Add garlic and chicken, cooking until chicken is done. Remove from heat.
Stir in paprika, salt, mandarin oranges, and quinoa. Then add dressing.
Combine the almonds and chow mein into the quinoa mixture, or put on top of the individually dished food.
Serve!
Recipe from GettinMyHealthyOn.com
Enjoy!