If you're a fan of the slow cooker, and maybe plan to use one as you make recipes for the Super Bowl this weekend, this post is for you.
I've always been a big fan of crock pot meals because they're easy to put together, often require minimal effort during the busier part of the day, and tend to create the most amazing meals. That is…if you don't mess it up.
I am the queen of messing up slow cooker recipes. I swear, the easier the cooking method, the more issues I have. Due to having so many problems with crock pot meals, I was scared off for a few years there. Too many overcooked or bland dinners—it just wasn't worth it anymore.
Over the past couple years, though, I've discovered that I was making very preventable mistakes, which were sabotaging the end result of my efforts. If you've ever had beef with how your slow cooker was working, then you probably feel my pain.
In an effort to save the magic of slow cooker recipes, I'm sharing a bunch of common mistakes that people make when using crock pots.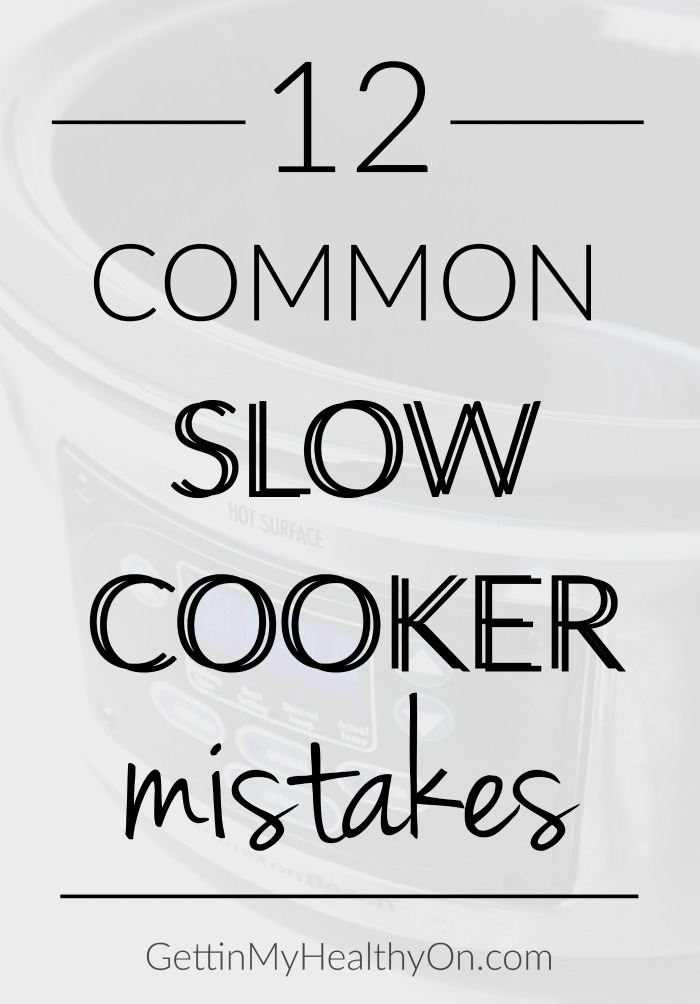 1. Lifting the lid to check the food. Slow cookers take awhile to heat up. So every time you lift the lid, you're letting out a lot of heat that will take awhile to build back up (not to mention you're letting moisture escape). They say for every time you lift the lid, add about 20 minutes to the cook time. (If you need to check your food to gauge done-ness, always check towards the end.)
2. Using the wrong size slow cooker. Always strive to fill your slow cooker to about 1/2 to 3/4 full. If you're using a huge crock for minimal food, your food will end up overcooked. If you're using a small crock for a lot of food, you may end up under-cooking your food (or, depending on what it is, cause it to bubble over).
3. Cooking lean meats. Use cuts of meat that have some marbling or fat. This will keep the meat juicier and give it more flavor. Avoid overly lean cuts of meat, because it'll get tough when cooked for a long time.
4. Adding quick-cook ingredients in the beginning. Pay attention to ingredients that cook quickly. Items like rice, pasta, and even shrimp should be added much farther into the cooking process.
5. Using too much alcohol. When cooking with wine on the stovetop, the alcohol content cooks off. If you're trying to cook the same recipe in a crock pot, however, use less wine. This is because cooking in the slow cooker doesn't allow much evaporation, so your food will taste much more like alcohol than it would normally.
6. Mixing in dairy too early. Milk, cream, cheese, etc—if you cook dairy in the slow cooker for too long, it can curdle or burn. When in doubt, always mix it in during the last 30 minutes of cooking.
7. Adding fresh herbs too soon. Herbs begin to lose their flavor the longer they've been cooking. As a result, it's best to add freshly chopped herbs towards the end of the slow cooking process.
8. Cooking chicken with the skin on. If you like eating the crispy skin from meats like chicken, the slow cooker might not be for you. When cooked in the slow cooker, chicken skin turns rubbery, which isn't the most appetizing.
9. Always using the same slow cooker settings and times. A lot of recipes call for 3-4 hours on high or 7-8 hours on low. While this often works well, it's not appropriate for every recipe.
10. Not layering your ingredients properly. If you're cooking soup or another recipe that calls for all ingredients to be mixed, you're probably safe to throw everything in in any order. However, if you're layering your ingredients, make sure items that take longer to cook (like root vegetables) are on the way bottom. Slow cookers don't usually cook evenly; the bottom typically cooks foods faster.
11. Cutting ingredients into different-sized pieces. This applies to slow cooking and all other forms of cooking—if you want ingredients like vegetables or meat to cook evenly, make sure they're consistently prepared. Having small and large carrot chunks is just asking for either under-cooking or over-cooking half of them. Same goes with meat.
12. Assuming all slow cookers are created equal. From different brands to how old or new the appliance is, some slow cookers cook faster than others. If you've noticed your food has been overcooked every time you follow a recipe, there's a good chance your slow cooker runs at a hotter temperature. (This also applies to the "warm" setting.)
*And just for good measure, I'm going to recommend unplugging your crock pot once you're done with it, because the depressing yet addicting show This Is Us has taught us all a valuable lesson about fire safety recently…
Have you learned any of these the hard way like I have? 
Do you watch This Is Us? Do you cry at every episode like I do?