Let's just get right into things.
Workout
Today was a weights day, so I chose my Full Body Circuit and did it 3x. It actually had a lot of cardio in it as well. Unlike yesterday, I did not almost faint. Woo!
Next order of business: healthy food!
CORE Foods Review
As a Sweat Pink Ambassador, I was given the opportunity to sample CORE Foods meal samples.
The company offers both Warrior Meals and Defender Meals. The difference?
Warrior Meals: the high protein option that is great for intense activity and post-workout recovery.
Defender Meals: the high fiber option that is great for toning and weight management.
I was sent their 3 Defender Meals: Raw Almond Raisin, Raw Walnut Banana, and Raw Cashew Cacao.
My favorite was the Raw Cashew Cacao. Why? Because there were cacao chips in them. Win!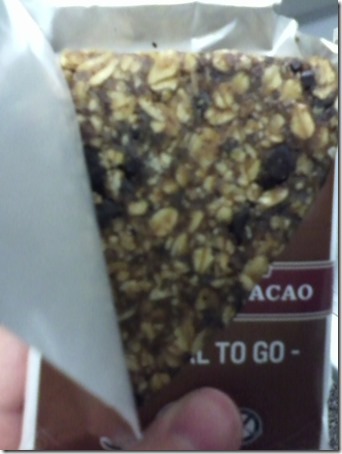 It basically tasted like a super healthy granola bar. I actually really enjoyed them. They definitely tasted healthy (aka they weren't super sugary and candy bar-like), but I liked that about them. It's so nice to start the day out knowing you're eating food so clean.
The bars are organic, raw, and gluten-free. You can check out their ingredient list here. It's extremely basic. I don't know about you, but it's nice to know exactly what you're consuming sometimes. The rest of the time…I choose denial for the questionable (and obviously unhealthy) ingredients.
I ended up eating the bars as breakfast before long runs. Why? Because they're advertised as a full bowl of oatmeal to go. It just made sense to eat one instead of the normal morning oatmeal. 'Twas a nice change of pace!
I don't know if I'd want to eat these everyday in place of breakfast, but they'd definitely work well if you don't have enough time for a meal or need a quick burst of pre- or post-workout fuel.
If you're interested, check out their products page! They run for $39.99 for 10 meals—aka they're $3.99 per meal. That's the only downside in my opinion. I like my canister of cheap oats, BUT I know I'd definitely appreciate having these babies lying around for when I'm on the go and want some healthy food.
Feels good to make healthy decisions sometimes! And by sometimes, I mean always. It doesn't always taste as good though. I recommend the CORE meals though. Despite they're super healthy ingredients, they still have a bit of flava!
Disclaimer: I was sent the CORE Foods meal samples for free to review. All opinions are my own.
Ever tried CORE Foods before?
What's your favorite pre-/post-workout food?
I try to eat a meal an hour or two before I do an intense workout, so the fuel is still in me but digested. Post-workout, I like my protein spinach and berry spinach smoothies. Or chocolate milk. Or a meal. That's always convenient when a workout is right before a major meal time.