Everyone's always raving about their favorite tools they use in the kitchen for food prep and whatnot. Fun fact about me? I have a million of these types of gadgets—and I wasn't even the one who bought most of them.
My family knows I like to cook, so all the crazy little kitchen tools out there designed to make life easier tend to be no-brainer foodie gifts for me. And I'm totally okay with that. But weird fact about me? I don't even use that many because I'm a bit of a kitchen tool purist, I guess, though this is completely unintentional.
I find most fancy kitchen tools to be annoying to clean, so I usually just use a good ol' knife or other simple tools instead. Maybe someday I'll go into more detail about the various gadgets I think are overrated, but today I want to focus on some of the ones I don't want to live without.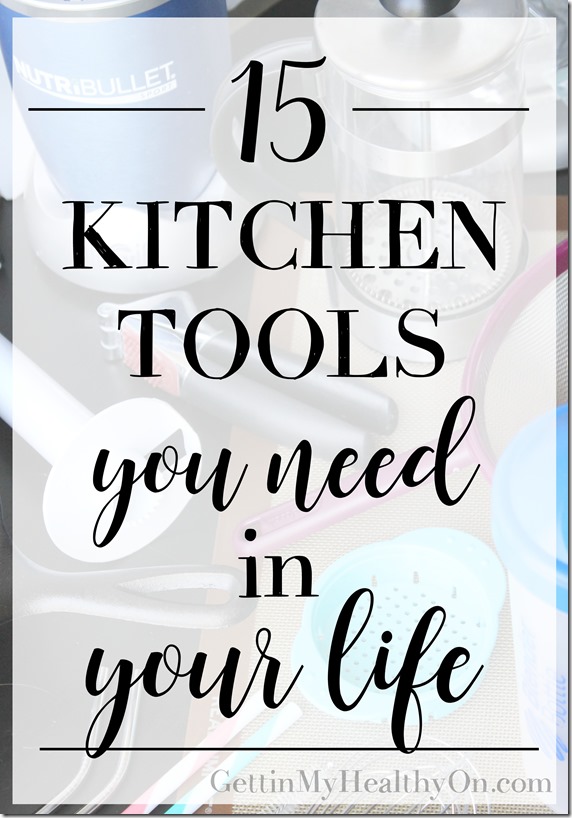 For the most part, I'm focusing on extra items a lot of people might not already have in their kitchen. However, there are a few basic tools I couldn't not add to this list.
The picture below is numbered to show my list of must-have tools. The list is in no particular order.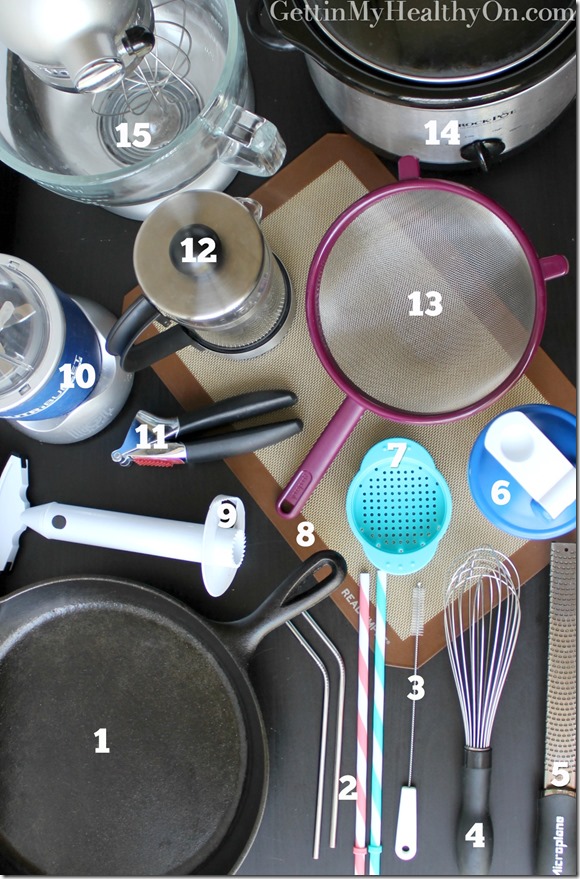 Cast Iron Skillet: I've always been intrigued by cast iron skillets and was stoked when I finally got one of my own. Although it's more work to clean, I really love being able to transfer food from the stove to the oven, as well as make dishes like skillet pancakes or one-pan meals in it. A major benefit is it holds heat really well, too, so it's great for adding a crust to foods, like steak and deep dish pizza.
Reusable Straws: First of all, I love straws…a lot. So remembering that I used to use disposable plastic ones frequently is painful. We now have metal straws as well as hard plastic straws. Both make drinks somehow taste better, and they're dishwasher safe so they're easy to clean.
Straw Cleaner Brush: These pipe cleaner-esque brushes are necessary for cleaning small nooks and crannies. I actually used to use a legit pipe cleaner; then I discovered someone invented an improved version designed for actual cleaning. They make cleaning not only straws, but tight spaces in travel mug lids and such actually possible.
Wire Whisk: Pretty basic, but I've learned that my wire whisk is an absolute MUST. From mixing dry ingredients to getting lumps out of batter, I can't seem to keep my wire whisk clean long enough before I need it again.
Microplane: Sure, you can zest citrus with the small part of a cheese grater, but since getting this microplane a year or two ago, I am all about how easy it is to use. The long tool allows me to get a significant amount of peel in no time.
Blender Bottle: I never used to be much of a protein powder person, but over the past five years, I have definitely become one. Blender Bottles are straight-up necessary if you don't want to blend your protein shakes or have chunks all up n there. (Also, I've heard you can make homemade whipped cream with one of these as well.)
Can Strainer: This is another strange device that most people probably have never even heard of. My dad threw this in my sister's and my stockings last Christmas, and I never thought I'd use it much. But alas! I use it almost anytime I need to quickly strain a can of beans (and this one's actually way easier to clean than a regular strainer).
Silicone Mat: Also called Silpats, these mats make cleanup from baking a breeze, especially since you don't need to spray them with non-stick cooking spray. Plus, they save you from wasting so much parchment paper and aluminum foil.
Pineapple Corer: This is one of those random tools that is 100% worth your money. We actually got this for free from a friend, but we don't cut pineapple without it anymore. It takes like two minutes to cut a pineapple now. Game. Changer.
NutriBullet: I was actually given this as a VIP of the ASICS LA Marathon in 2015. We had a Ninja blender on our wedding registry, but I rarely even use it because the NutriBullet is so convenient and blends so well.
Garlic Press: We love garlic in our household, so I'm always busting out my garlic press to easily mash it into fine bits for various recipes. It makes life so much better.
French Press: I've only used my French press to make hot coffee about three times in my life, but when I discovered how effortless making cold brew coffee with it was, my morning drinking habits were forever changed.
Mesh Strainer: I didn't know I needed one of these until I created my Watermelon Champagne Cocktail. Now I use it all the time to catch seeds when I carelessly juice fruit (so I don't lose another lemon seed in a final baked product like I may or may not have done before). It's also really helpful for rinsing quinoa, which…not gonna lie…is more work than I usually do.
Crock Pot: I haven't used my slow cooker in ages, but there are certain dishes I refuse to make any other way. Soups? Roasts? Stews? Italian Beef? The crock pot is a must for making (not-lean) meat tender and making the cooking process a piece of cake. Plus, it doesn't heat up the house like the stove or oven do!
Kitchen Aid Mixer: If you know anything about Kitchen Aid Mixers, you probably know they have quite the hefty price tag, which is why I didn't even consider getting one until we got married (#TreatMyself…errr…Ourselves). Although I think they're hyped up a bit too much, I also really love mine because 1. it makes me feel fancy, 2. I like to turn it on and walk away while I multitask, and 3. I don't knead dough by hand much anymore and that makes me so happy.
Based on this list, I guess it's safe to say I believe an extremely wide variety of gadgets are amazing. Whether you spend $4 (#7) or $500 (#15), there are certain items you might be missing out on. But to each his own! Tell me…
What's a kitchen gadget you can't live without?