Disclaimer: I was sent Sun Basket meals for free to review; all opinions are my own.
I have a love-hate relationship with cooking. It's something I do constantly because 1. it helps me eat healthier 2. I like to try new recipes and 3. because I simply enjoy it. Then again, it's also a lot of work and I'm lazy, so that sometimes clashes, as you can imagine. With all of this in mind, I was excited to try this concept called Sun Basket.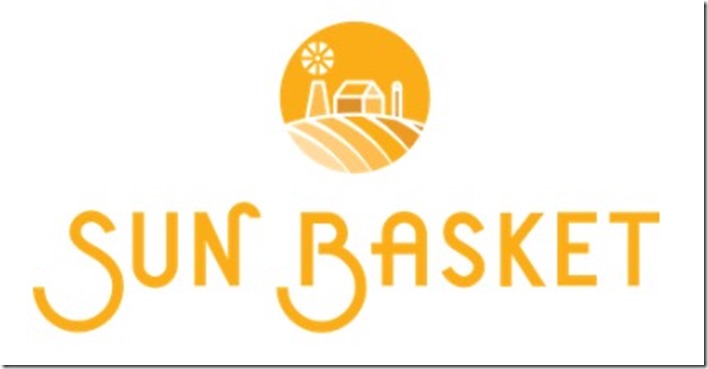 From the test kitchen in San Francisco comes this healthy cooking service that ships organic ingredients to you along with diverse recipes for you to try in your own kitchen. I thought the idea was really interesting because it's not like a premade meal you're getting in a box—you're simply being set up to make your own delicious food.
Each week, a new menu gets posted to their website, from which you can choose the meals that strike your fancy. I chose the following:
Curried red lentil soup with goji berries and naan
Spicy chorizo chili
Cold soba noodle salad
I chose these recipes based on one thought: they were dishes I probably would never make on my own. To be honest, this Sun Basket situation was much cooler than I had originally thought. The first night, I tried the Cold Soba Noodle Salad, which had a plethora of fresh ingredients. Like every Sun Basket dish, it was enough to feed two people (though we definitely had a lot leftover).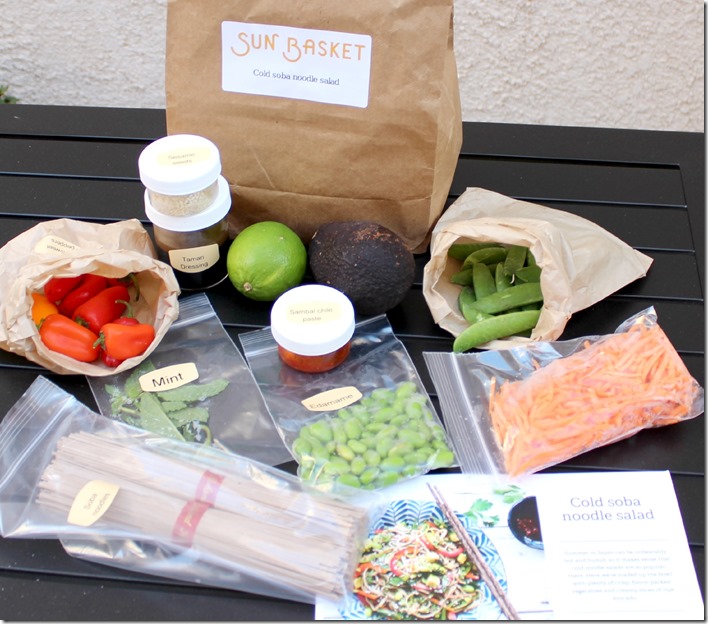 For each recipe you choose, you get a brown paper bag filled with the exact amount of each ingredient needed to make the dish. This was surprisingly nice because it took out a lot of the thought that cooking requires. I simply followed the directions of the recipe and ended up with a gourmet meal. Here's a look inside all three recipe cards—front and back—that I received: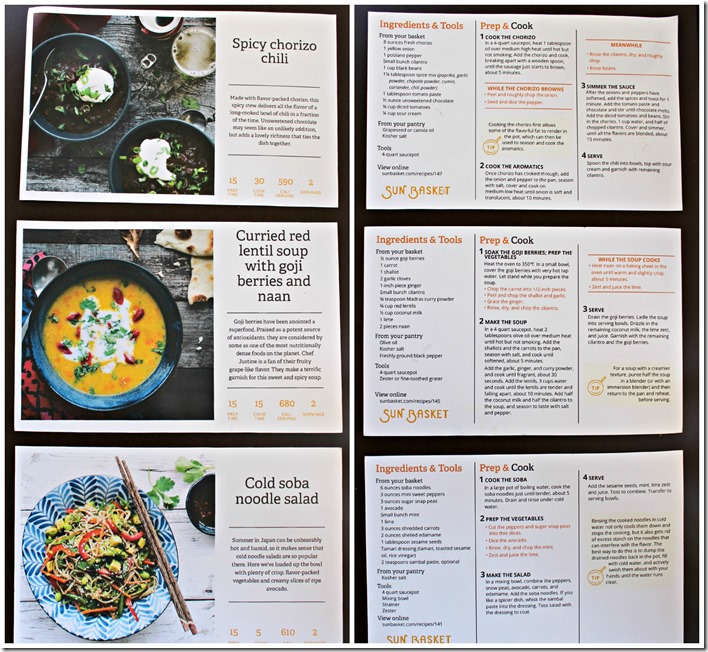 And if you especially love one of the recipes, you can obviously keep the cards for later use on your own. While my food wasn't quite as pretty as the professional pictures, I'm quite proud with how it turned out.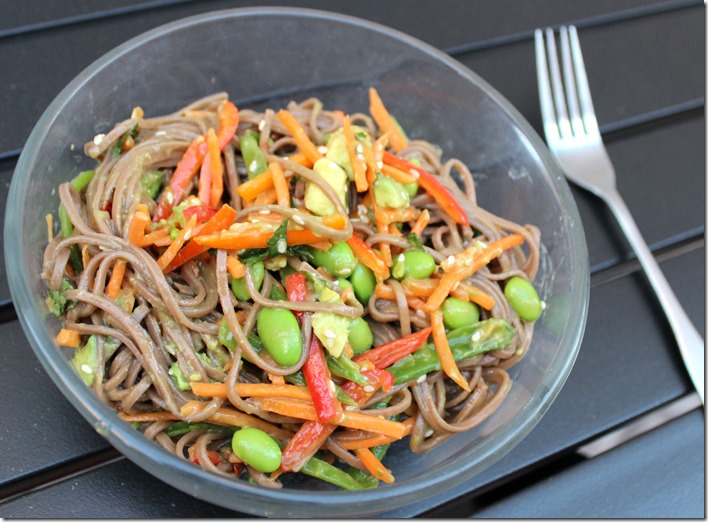 Another thing I appreciated was the shipping, as bizarre as that sounds. A large box showed up on my doorstep that was well-insulated and cooled with ice packs. I didn't even realize it until later in the week, but you're given a shipping label to return all of these materials. So I ended up doing that and felt like a better person because yay recycling and the earth and stuff!
Sun Basket Giveaway
If you haven't caught on by now, I highly enjoyed my experience with Sun Basket and would definitely recommend it to anyone who wants some extra motivation (and creativity) in the kitchen. Considering my experience with the service, I'm happy to host a giveaway on their behalf! You can enter for the chance to win 1 week of free Sun Basket meals, which entails 3 meals that feed 2—worth $60.
Keep in mind this is only available to residents of California, Arizona, Oregon, Washington, Colorado, Utah, Idaho, and Nevada. Good luck! And if you'd like to sign up for Sun Basket, follow this link to get $20 off!
Disclaimer: I was sent Sun Basket meals for free to review; all opinions are my own.