Weekends are the perfect time to make delicious breakfasts, whether it's pancakes, eggs and bacon, or leftover cold pizza…I mean…what? Well I don't know about you, but I like trying out new recipes on weekend mornings when I'm feeling motivated. Yesterday, I made baked oatmeal for the first time, and it tasted like dessert—a quality I prefer in my breakfasts. I used coconut and almonds for the overarching flavor combo, and for a garnish, I added chocolate chips. That's when it hit me: I just made an almond joy oatmeal concoction. Mwahahaha. Candy for breakfast? I think yes.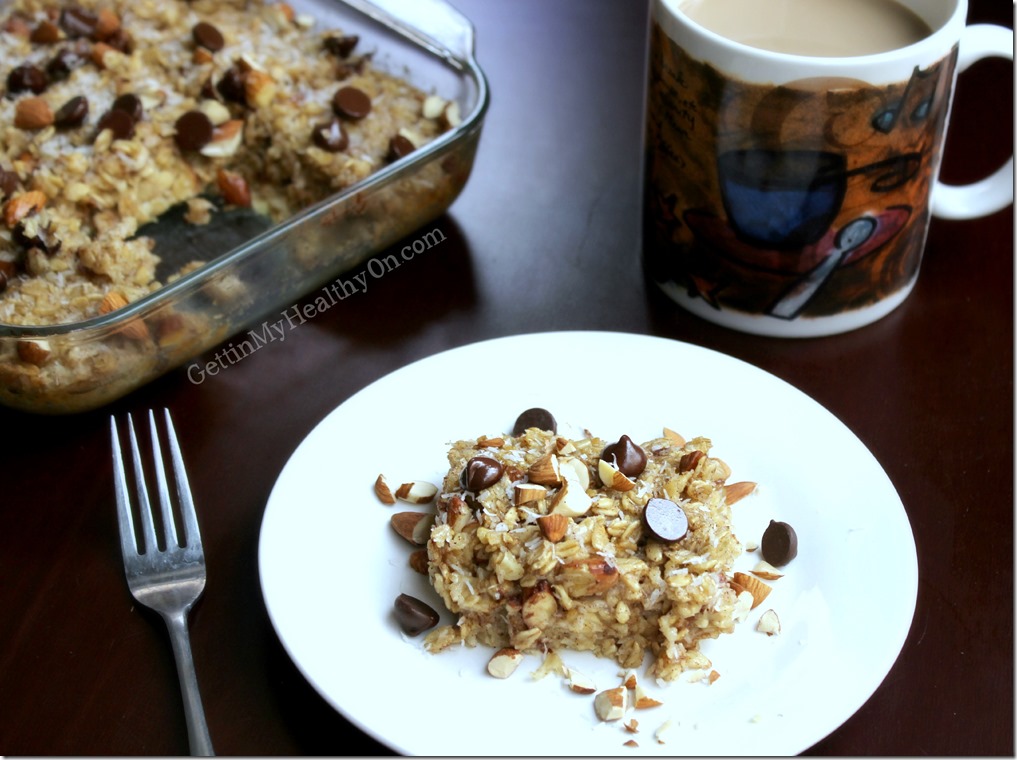 Baked oatmeal is something I plan to make more of in the future, especially this recipe specifically. Plus, this baked oatmeal was quite tasty without the chocolate chips if you want to keep it healthier. I made this Saturday night, so I could just pop it in the oven Sunday morning, which worked beautifully.
This was pretty quick to throw together—another quality I enjoy in my breakfasts. In a large bowl, I combined 2 cups old fashioned oats, 1/3 cup chopped raw almonds, 1/3 c unsweetened coconut flakes (shredded works too), 1 teaspoon baking powder, 1/2 teaspoon cinnamon, and 1/4 teaspoon salt. Then in a separate medium bowl, I whisked together 1 1/2 cups milk (I used 2% because dat creaminess), 2 eggs, 1/4 cup pure maple syrup, 1/2 teaspoon vanilla extract, 1/2 teaspoon almond extract (aka one of my favorite baking ingredients), and then 1/4 cup melted coconut oil. Since I used cold milk and eggs, the coconut oil solidified into little chunks in the mixture, which I didn't see as a problem, but if you heat the milk to a lukewarm temperature and let the eggs come to room temperature, the coconut oil should stay liquid. It's up to you.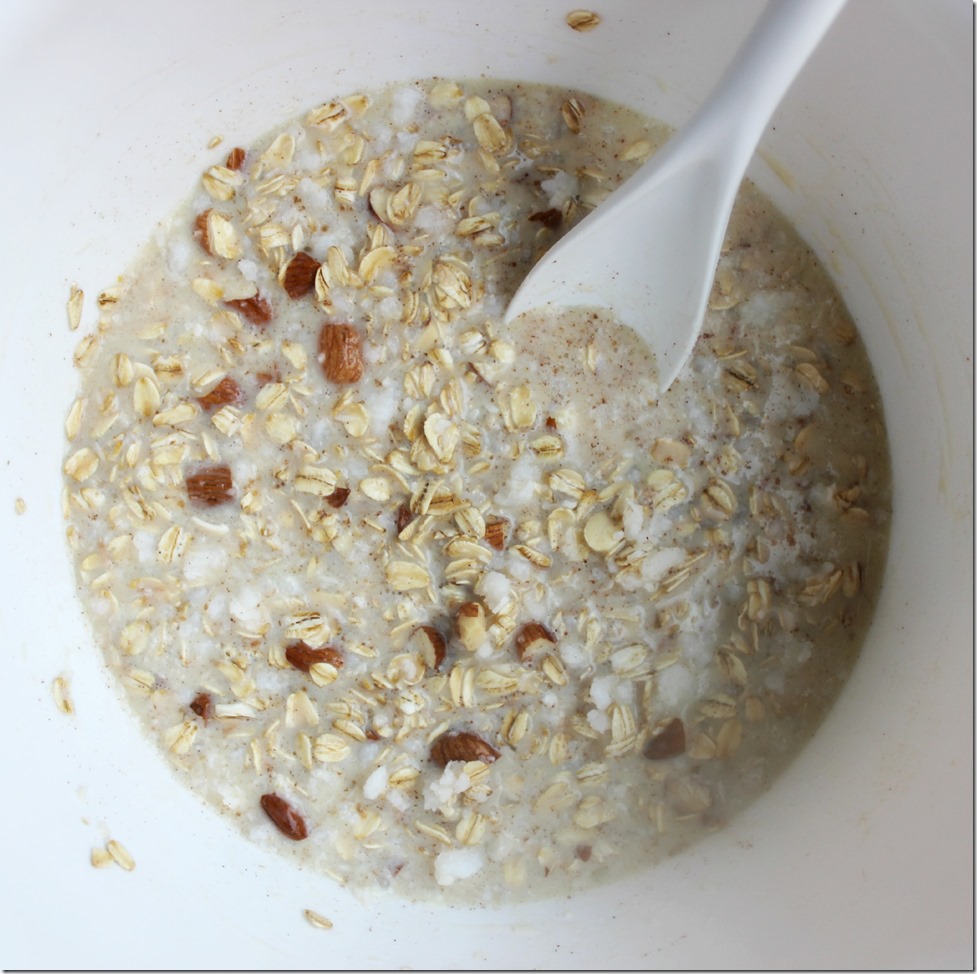 I then poured the wet ingredients into the large bowl and mixed it all together. Pour this all in to an 8×8 baking dish that has been sprayed with non-stick cooking spray. Either cover and refrigerate overnight for the next morning, or bake right away. You'll need the oven at 350 degrees, and I found 30-35 minutes was the perfect range of time for this to get slightly golden and perfectly cooked.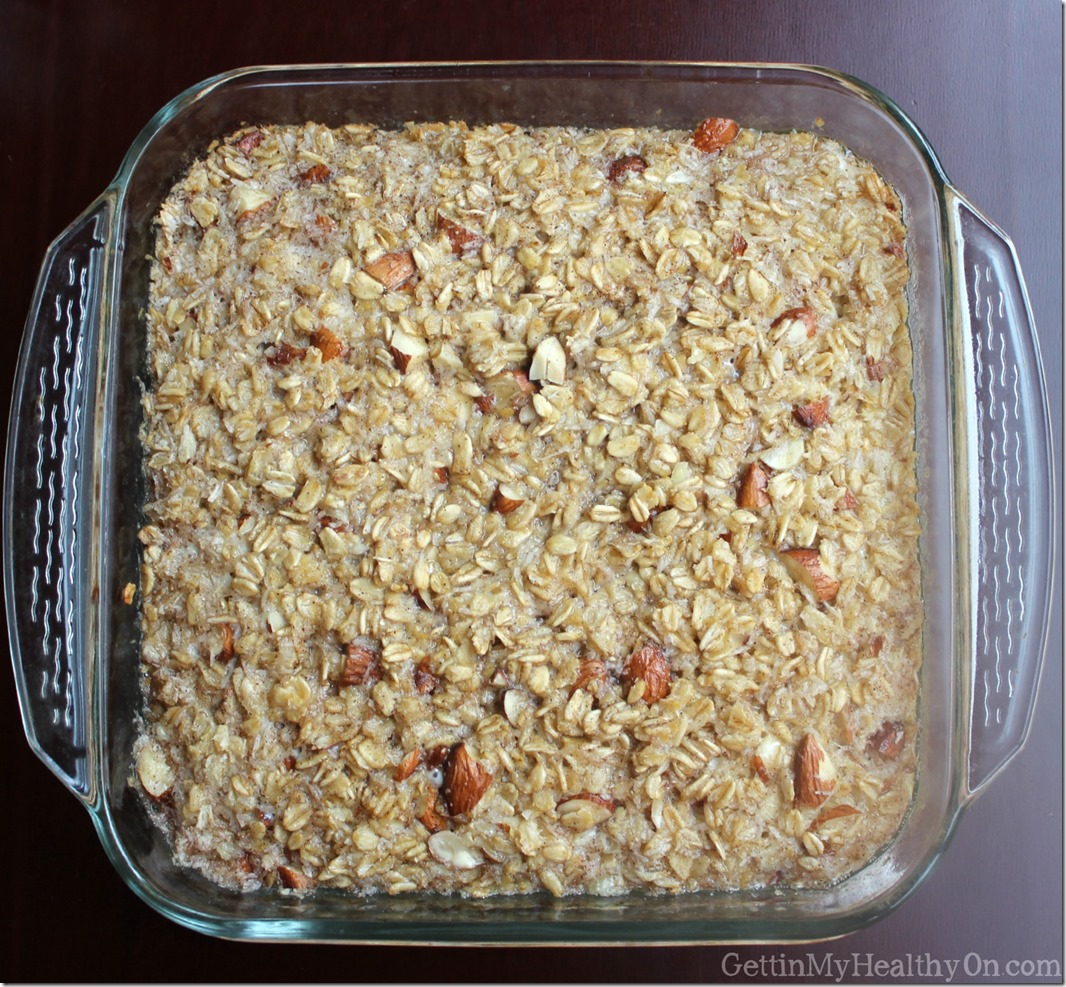 You can eat it as is, or you can pretty it up with some more coconut flakes and chopped almonds. Bonus: add about 1/2 cup chocolate chips (I used dark chocolate) to make this a divine almond joy-inspired dish. Wait for this to cool about 5 to 10 minutes before serving. I barely met the 5-minute mark, so it's a bit messy in the below picture.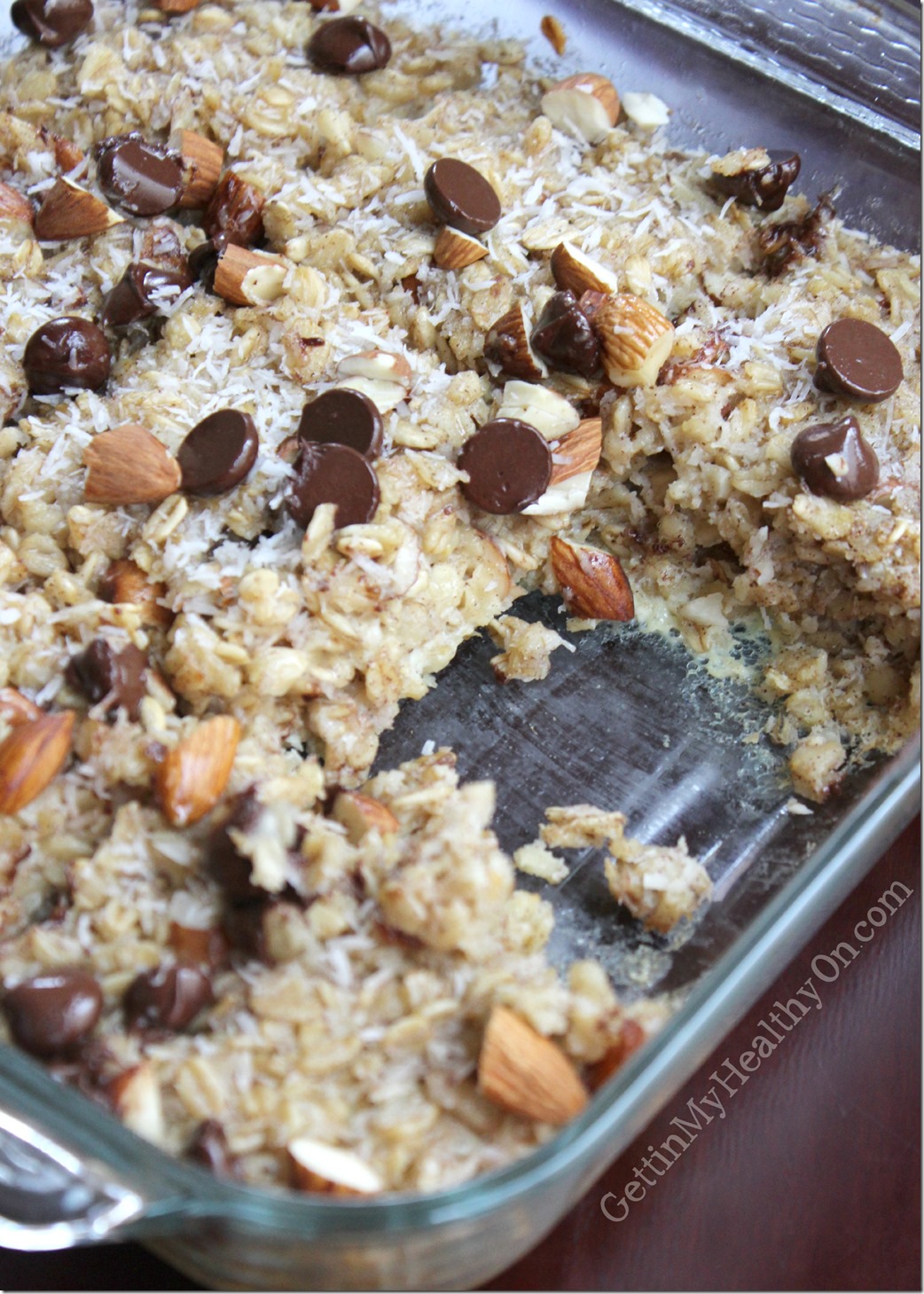 I can't believe it's taken me so long to try this baked oatmeal concept. This makes about 9 squares, so I'm pumped to start my mornings this week with the leftovers.
Adapted from Kim's Cravings.
Coconut Almond Baked Oatmeal
Ingredients:
2 cups old fashioned oats
1/3 cup chopped almonds
1/3 cup unsweetened coconut flakes
1 tsp baking powder
1/2 tsp cinnamon
1/4 tsp salt
1 1/2 cups milk
2 eggs
1/4 cup maple syrup
1/2 tsp vanilla extract
1/2 tsp almond extract
1/4 cup coconut oil (melted)
Garnish: chopped almonds, coconut flakes, and chocolate chips
Instructions:
In a large bowl, mix together oats, almonds, coconut, baking powder, cinnamon, and salt.
In a separate medium bowl, whisk together milk, eggs, syrup, extracts, and coconut oil.
Combe wet ingredients into dry until well incorporated.
Pour into 8x8 baking dish that has been sprayed with non-stick cooking spray.
Bake at 350 degrees for 30-35 minutes.
Let cool for 5-10 min before serving.
Garnish with chocolate chips and additional almonds and coconut flakes.
Recipe from GettinMyHealthyOn.com
You can enjoy this straight up on a plate, or put it in a bowl and top with some milk (coconut milk if you're feeling crazy).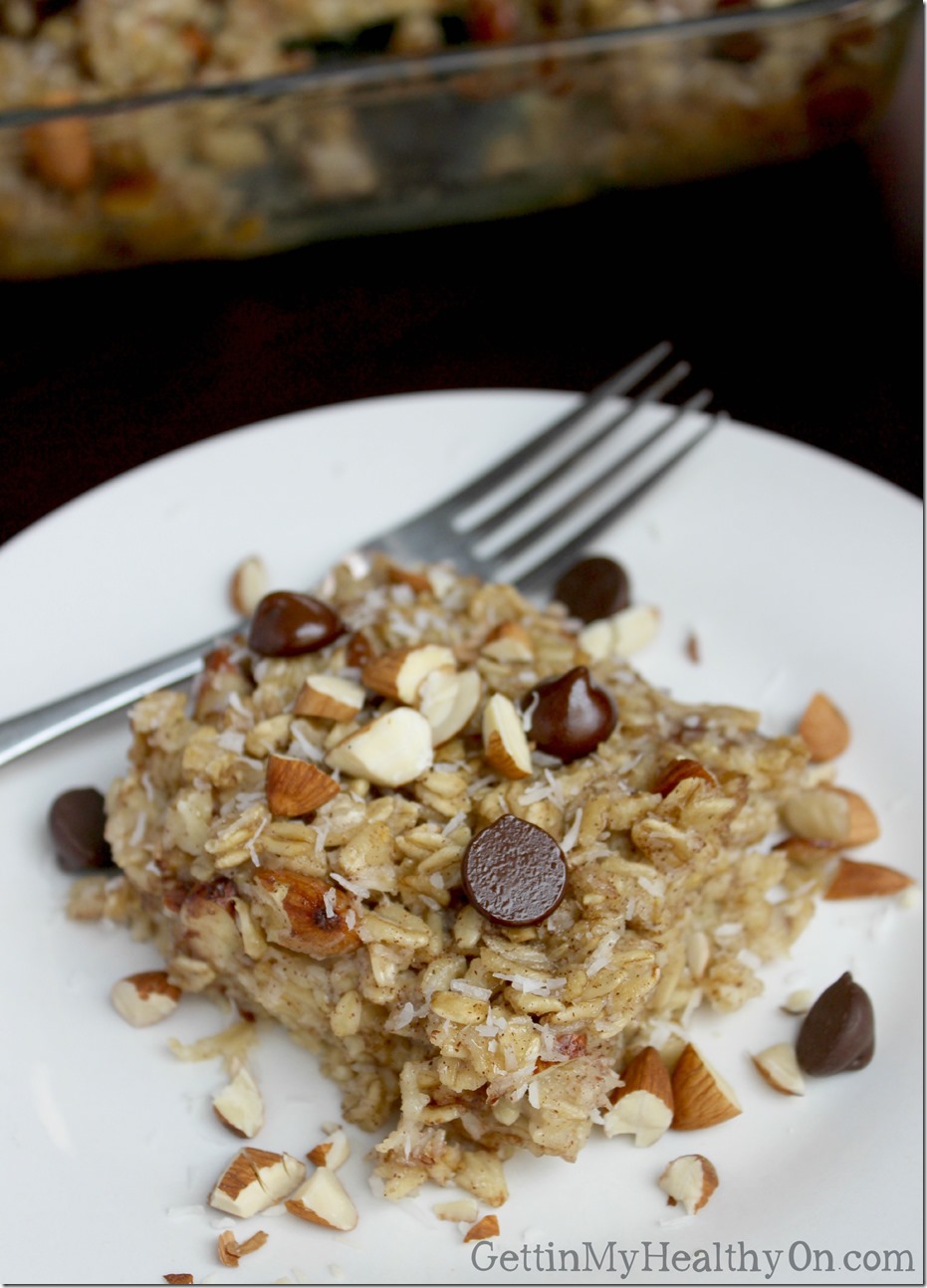 Enjoy!
This post is part of the Meatless Monday linkup (hosted by Deborah and Tina) and Fit Dish linkup (hosted by Jill Conyers and Jessica Joy).