The number of recipes I have yet to share on this blog is getting ridiculous. I have at least four others in addition to today's post I've been wanting to share, so I'm thinking I might need to just dedicated one whole week to posting delicious food. Anyone into this? Okay, cool.
Today, I have decided to share a little chi pudding action.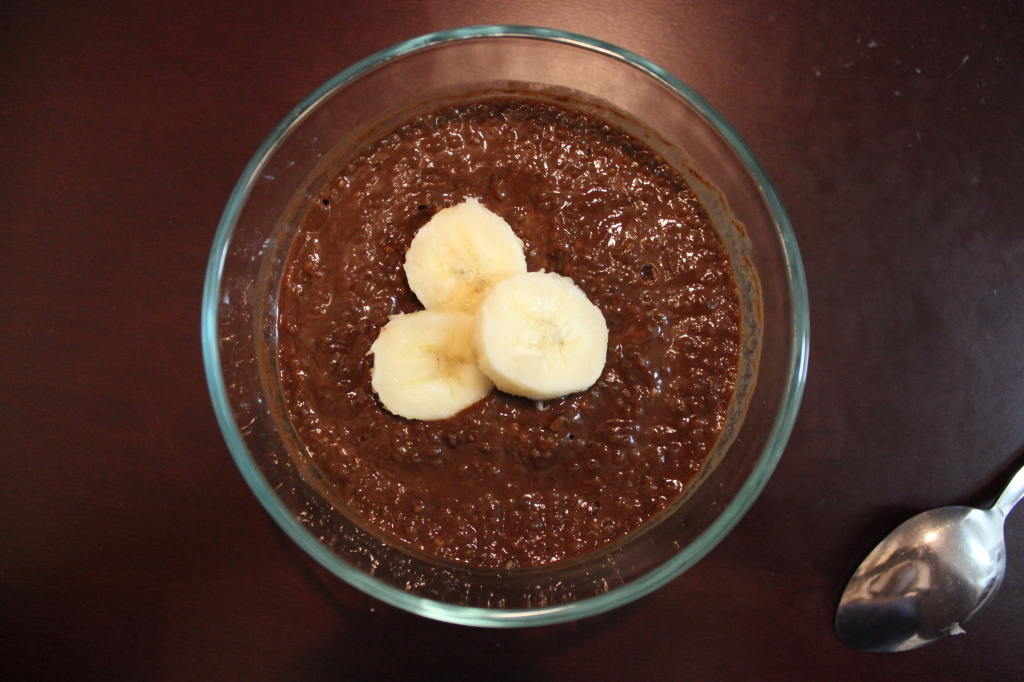 If you weren't aware, chia seeds expand when they're in liquid, which causes the liquid to seemingly thicken, like pudding. I've made chia pudding before, and it reminds me of tapioca. After making it the first time, I was thinking…how could I make this better: chocolate – always chocolate. So I threw some cocoa powder in it, and it was surprisingly delicious.
I encourage you try this or another recipe out for a nice snack or dessert because chia seeds are full of omega-3's, calcium, protein, fiber, and antioxidants. Plus, you can customize it in fun ways, and I've found chia pudding to be a nice change of pace.
Cocoa Banana Chia Pudding
Ingredients:
1 ripe banana
1/2 c unsweetened vanilla almond milk
2 Tbs chia seeds
1 Tbs unsweetened cocoa powder
1/4 tsp vanilla extract
Instructions:
Mix all ingredients in a blender.
Refrigerate for at least an hour.
Serve!
Recipe from GettinMyHealthyOn.com
I find the banana to be an awesome addition to chia pudding because it sweetens up the mix without the addition of sugar. Yay healthiness!
Let me know if you try this out; I'd love to hear what you think!
Have you ever made chia pudding before? What did you think?