In honor of the fifth goal on my wedding fitness plan—be smarter about snacking—I decided to attempt making protein bars yesterday. I'm pretty pumped because after messing around with a recipe for a bit, I came up with the perfect combination of ingredients. I whipped up these Chocolate Coconut Protein Bars with the help of my handy dandy food processor, and I think they'll make a wonderful protein-packed snack for mid-workday hunger this week.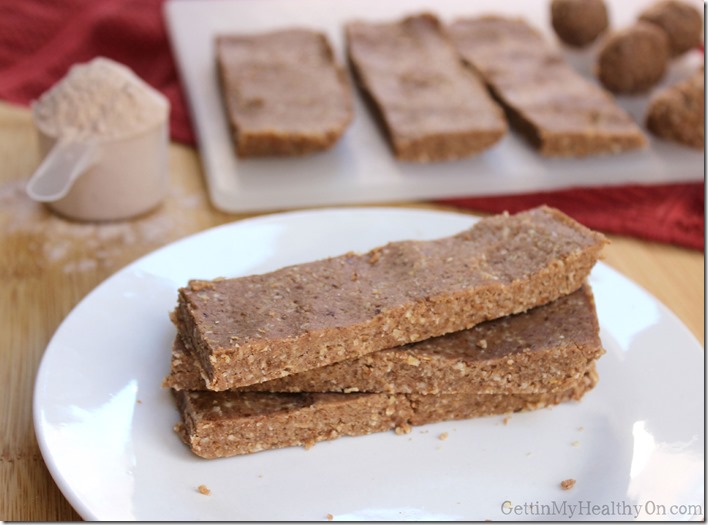 To make them, I threw 1 cup dates (pitted) and 1/2 cup almonds (raw and unsalted) into the food processor, turned it on, and let it work its magic for a couple minutes. Once everything was sufficiently chopped up, I added 1/2 cup quick cooking oats, 1/2 cup unsweetened coconut flakes, 3/4 cup chocolate whey protein powder (I used EAS brand), 1/4 teaspoon sea salt, and 3 tablespoons coconut butter (not oil). I turned the food processor back on until it was thoroughly combined, then added 1 teaspoon vanilla and 4 tablespoons water.
You may need to use a spoon to get the mixture off the sides so it'll incorporate better—or if you're me, you just shake the food processor until all the goods are off the sides. Once all the ingredients are thoroughly mixed, pour it into an 8×8 baking dish covered in parchment paper. (I used a weird rectangular glass dish, and I honestly don't know what the dimensions are; but I know it holds as much as an 8×8, so I'd recommend just sticking to that.) Then smash it down with a spoon or spatula of sorts until it's all evenly distributed and fairly flat on top.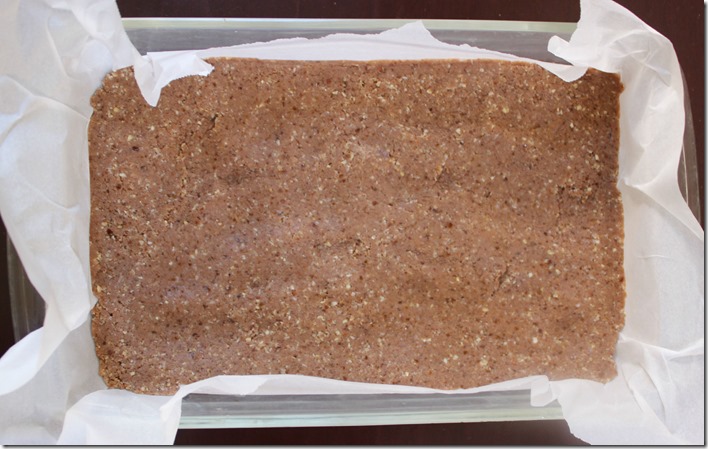 Refrigerate for an hour or so—this should make them hold their shape better, making them easier to cut. I ended up with 6 bars and then made 6 balls because it just seemed like a good thing to do. But if I was making these all uniform with an 8×8 dish, I'd probably end up with 8 or so bars. Or you can roll them all into balls with the palms of your hands. Follow your heart.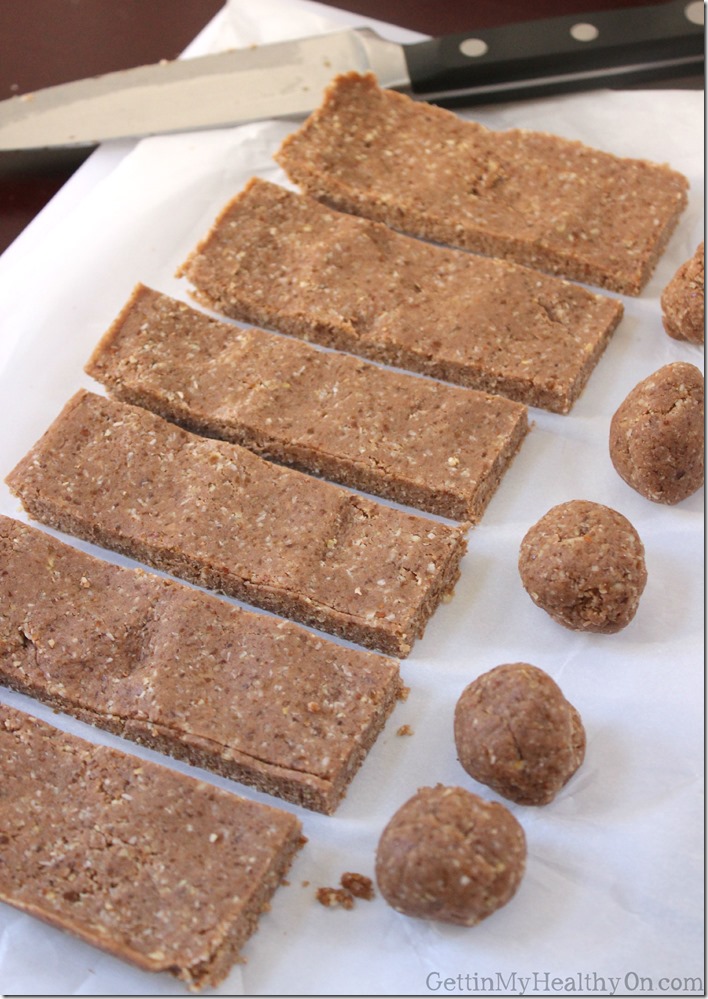 It was really hard not to put chocolate chips in these, but I figured I'd keep these a wee bit healthier and just eat the chocolate chips straight-up.
I'm quite happy with how these turned out. Depending on the protein powder you use, these can be vegan; or if you want them to be gluten-free, just pick your oats and protein powder accordingly.
Chocolate Coconut Protein Bars
Ingredients:
1 c pitted dates
1/2 c raw almonds
1/2 c quick cooking oats
1/2 c unsweetened coconut flakes
3/4 c chocolate whey protein powder
1/4 tsp sea salt
3 Tbs coconut butter
1 tsp vanilla
4 Tbs water
Instructions:
Combine dates and almonds in food processor, mixing for a couple minutes (until a somewhat fine consistency).
Add oats, coconut, protein powder, and sea salt. Process until incorporated.
Mix in coconut butter, vanilla, and water.
Pour into 8x8 baking dish covered in parchment paper. Flatten with spoon or spatula until evenly distributed and even on top.
Refrigerate for at least an hour. Then cut into 8 bars.
Store in the fridge, and grab for an on-the-go snack!
Recipe from GettinMyHealthyOn.com
Coconut and chocolate are such a great pair—I might have to make a new cookie recipe soon with this duo. Until then, I'll be trying my best not to eat a bunch of these every day.
Hope you like!
This recipe is included in The Fit Dish linkup hosted by Jill Conyers and Jessica Joy, as well as the Meatless Monday linkup hosted by Deborah and Tiny Muir.